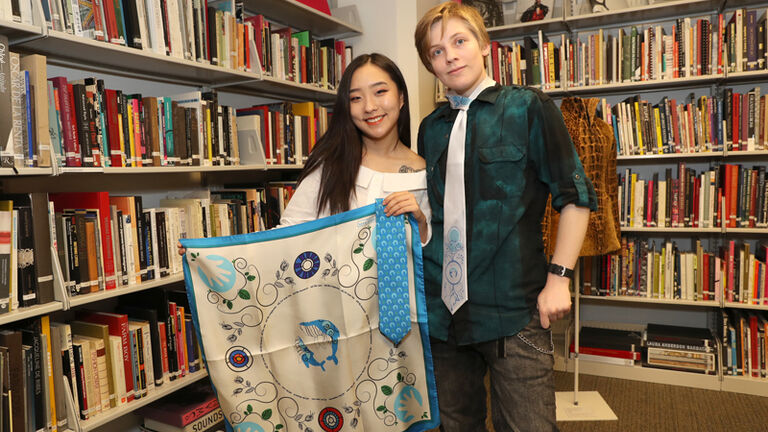 Unique Collaboration Showcases Students' Accessory Designs
A recent collaboration with the Ann & Robert H. Lurie Children's Hospital of Chicago and Fashion Design faculty Tommy Walton's Accessory Design course offered students a unique opportunity to design custom neckwear accessories capturing the identity of the hospital. The designs of two SAIC students were chosen to create limited-edition accessories: Sue Bin Yeo's (BFA 2019) design was chosen to appear on an edition of 100 scarves and 50 ties. Jack River Geyer's (BFA 2018) design was selected as a runner up and produced as a sample.
The accessories, which were given as a limited-edition gift to select donors and board members at Lurie Children's Hospital, were influenced by many areas in the hospital—from the whales that welcome families in the lobby to the chapel and garden that comfort them. The luxurious handmade silk scarves and ties were made using the same silk as supplied to the bespoke tailors of Savile Row, London. The collaboration allowed students to not only ameliorate their design skills but to learn about the business side of being an artist. "Work is art, making is art, business is also an art, and delivering your product to the client is the ultimate goal," said Walton.