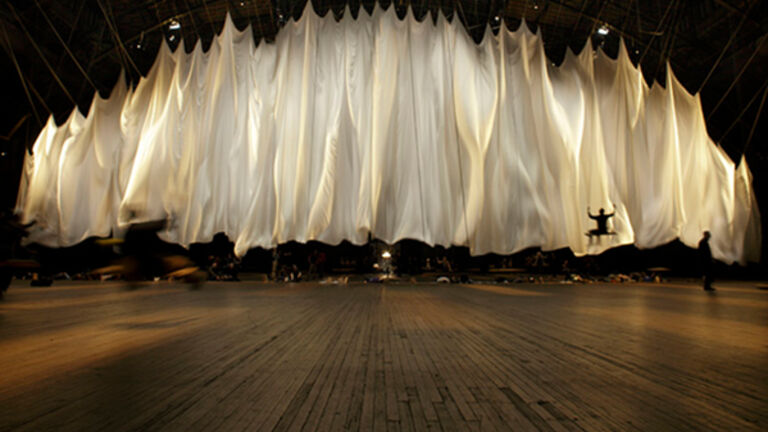 Ann Hamilton Named the 2016–17 Bill and Stephanie Sick Distinguished Visiting Professor
Ann Hamilton is known for her site-responsive, large-scale installations, public projects, and performance collaborations. Her ephemeral projects are based on her career-long interest in felt experience as the basis for recognition and knowledge and in the relationships between written language and tactile experience, cloth and body, and motion and stillness.
Her major museum installations include the Solomon R. Guggenheim Museum, New York; Contemporary Art Museum, Kumamoto, Japan; MASS MoCA, North Adams, Massachusetts; Wanås Foundation, Sweden; Musée d'art Contemporain, Lyon, France; Stedelijk Van Abbemuseum, The Netherlands; Wexner Center for the Arts, Columbus, Ohio; Museum of Modern Art, New York; Tate Gallery, Liverpool, England; Dia Center for the Arts, New York; Hirshhorn Museum and Sculpture Garden, Washington, DC; and the Museum of Contemporary Art, Los Angeles. Hamilton has received the National Medal of Arts, a MacArthur Fellowship, Guggenheim Fellowship, NEA Visual Arts Fellowship, United States Artists Fellowship, and Heinz Award. She was selected to represent the United States at the 1991 São Paulo Biennial and as the US representative for the 48th Venice Biennale. Hamilton is a Distinguished University Professor of Art at Ohio State University.
As SAIC's 2016–17 Bill and Stephanie Sick Distinguished Visiting Professor, Hamilton will co-teach a course within the Departments of Performance and Writing titled The Spaces of Reading —object, image, word, event with SAIC faculty members Lin Hixson (Performance) and Matthew Goulish (Writing). The course will be an interdisciplinary seminar investigating the relationships between reading, writing, and making. Working with the faculty, students will engage in creative responses to curated objects, archival research, material studies, and explorations of time structures and contribute to a collaborative publication.
As part of her professorship, Hamilton will participate in SAIC's spring 2017 Visiting Artists Program (VAP) lecture series. On Tuesday, February 7 at 6pm in the Art Institute of Chicago's Rubloff Auditorium at 230 South Columbus Drive, Hamilton will give a free lecture open to the public.
Established in 2006 by a generous gift from Bill and Stephanie Sick of Winnetka, Illinois, the Bill and Stephanie Sick Distinguished Visiting Professorship enables internationally renowned artists and designers to visit and teach at SAIC. Previous Bill and Stephanie Sick Distinguished Visiting Professors include Bruce Mau, Jaume Plensa, Bill Fontana, Catherine Opie, Andrea Zittel, Theaster Gates, and most recently Chris Ware.