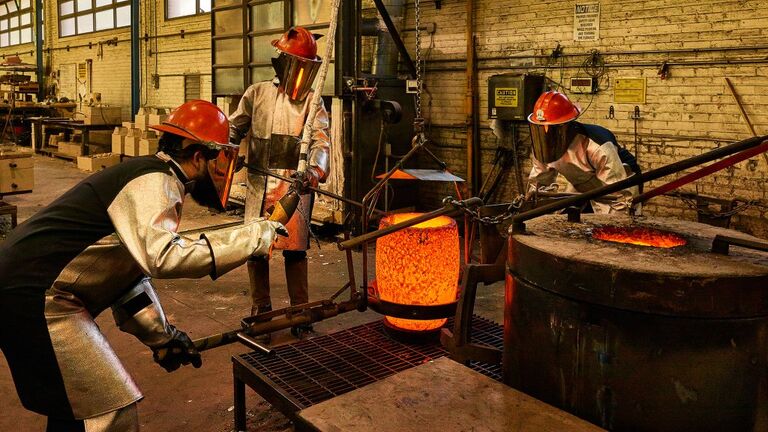 Local Foundry Hires SAIC Designed Objects Alumni
West Supply Company, located in the Northwest Side Hermosa neighborhood, has become a shop and studio hiring specifically SAIC alumni to create designed objects. The company, which specializes in hand making glass and cast metal components for high-end home décor and furniture, seeks alumni from SAIC due to the exceptional Designed Objects program founded by Helen Maria Nugent. Nugent explained to Newcity in its recent designed objects issue, "We've tried to create a unique program where there are opportunities to get invested in processes of making and examination." Nugent, who is also a Professor of Designed Objects, believes that much of today's design education "has enriched potential for designers but isn't training them to make anything." Her program emphasizes handwork and specific processes to create designers who are capable of critical thinking and creation.
Steven Haulenbeek (MDes 2006) is an alum of SAIC's Designed Objects program as well as a client and tenant of West Supply Company. He rents a studio in their building and has many of his metal designs fabricated in the shop. In line with Nugent, he agrees there is value in the handmade and process oriented. As he explains to Newcity, "There's a million foundries who make stuff in Chicago but very few people who understand the importance of non-standard atypical work." SAIC's Designed Objects program emphasizes this idea with it's "whatnot" studio, where students are able to realize their designs as products and exhibit them at the annual Salone Del Mobile in Milan. This year several students are collaborating with West Supply's artisans to create their designs. Read more about West Supply Company on Newcity.