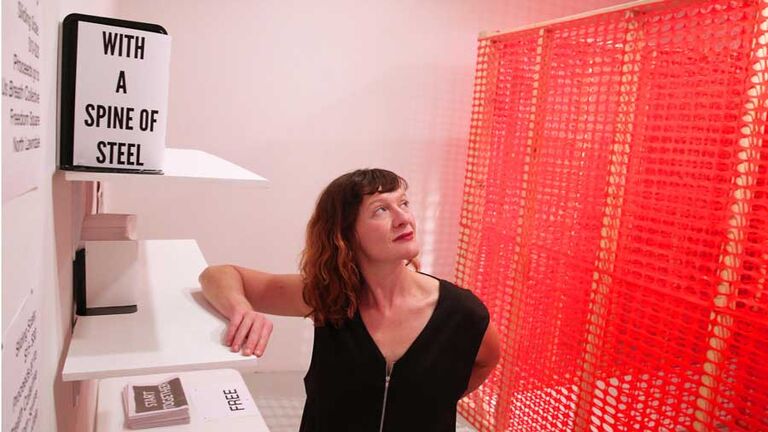 SAIC's Jaclyn Jacunski Profiled in the Chicago Tribune
SAIC might be located in one of the most recognizable skylines in the world, but staff member and alum Jaclyn Jacunski (MFA 2007) is thinking about place in a different way. Her show at the Chicago Artists Coalition (CAC), which recently concluded, unpacked the increasing sense of gentrification in the Fulton Market, the neighborhood directly west of the Loop that restaurants like the Girl and the Goat call home. The Chicago Tribune profiled Jacunski during the run of her show, the center of which was maze made of construction materials.
"As an artist, I think a lot about place," Jacunski told the paper. "I look at landscape as a kind of psychological reflection of us. And this neighborhood? It's become a hot mess in terms of structure, in terms of how you navigate a neighborhood. It's changing so much, it's hard to know where you can and can't be. In fact, when I was preparing this new show, the CAC had told me they might not even be on Carpenter Street by the time it opened."
Jacunski serves as a research associate for SAIC's Shapiro Center for Research and Collaboration, which oversees the School's programming at Homan Square in North Lawndale.