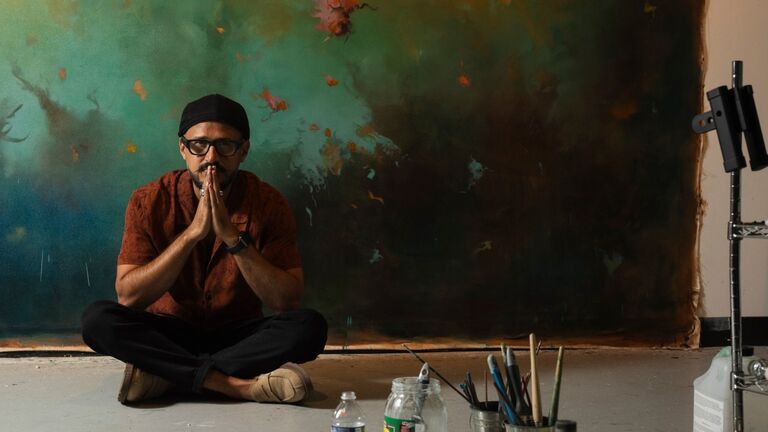 WBEZ Profiles Alum Bassim Al-Shaker in Light of the Artist's Show Four Minutes at Rhona Hoffman Gallery
WBEZ Chicago spotlights Bassim Al-Shaker's (MFA 2021) debut solo exhibition Four Minutes, open to the public at Chicago's Rhona Hoffman Gallery through October 21. The monumental,  abstract paintings of purple, green, and orange halos confront the viewer with the artist's terrorizing memories of bomb detonations, echoing his troubled upbringing in Baghdad.
Born in Iraq into a family of long artistic lineage, Al-Shaker was destined to create–an activity of particular risk under an authoritarian regime. At the age of 15, he was accused of producing pornographic content for drawing an etude of Venus de Milo, kidnapped, tortured, and abandoned unconscious by the Mahdi Army militia.
Since miraculously surviving the attack, Al-Shaker has represented Iraq at the Venice Biennale. The artist joined the School of the Art Institute of Chicago (SAIC) as an established artist in search of a new voice capable of expressing his trauma. Al-Shaker's time at SAIC resulted in a major stylistic reconfiguration from nuanced surrealism to monumental abstraction. Despite remarkable artistic achievements, Al-Shaker still cannot return to Iraq, maintaining a deep connection with his homeland through painting his memories.