Trevor Paglen: The Art of Invisibility
Image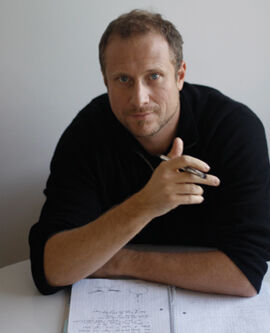 by Evangeline Politis (MA 2013)
Nearly 24,000 miles from Earth float the longest lasting objects that humans have ever made. They are geosynchronous (also known as geostationary) spacecraft—satellites that have a lifespan of billions of years drifting in Earth's orbit.

These hidden, indefinite objects fascinated Trevor Paglen (MFA 2002), Distinguished Alumni Lecturer for SAIC's Visiting Artists Program in the spring. From researching astronomical technology to photographing off-limits United States military bases, Paglen aims to uncover the often unnoticed or unseen.

"These spacecraft are a kind of metaphor," he explains. "We're living in a moment in history when the effects of what we do have very far reaching consequences that we are unable to comprehend. Climate change is a fantastic example of that, nuclear waste too."

In making these relatively invisible things visible, Paglen hopes his art will lead "us to see who we are now." His project The Last Pictures meditates on elucidating our identity by transforming one of these spacecraft into what he calls a "cave painting" for the distant future. After micro-etching an ultra-archival disc with 100 black-and-white images representing a broad swath of human culture and experience, Paglen sent the photographic time capsule into space on board the EchoStar XVI communications satellite on November 20, 2012. For five years he interviewed scientists, engineers, artists, curators, anthropologists, and philosophers about these culture-laden pictures—ultimately, a record of our history that might outlive the human race.

This lengthy research process is familiar to Paglen. "It's a much different kind of practice than going in the studio and coming out with something at the end of the day," he said. "I go into something and assume it's going to take years to truly understand it."

While he mostly identifies as an artist, Paglen recognizes that his practice is transdisciplinary, heavily integrating science and research methodologies into his investigations. His transition toward this kind of practice began when he decided to return to graduate school, enrolling in the master's program at SAIC and focusing his work in the Art and Technology Studies department.

With an already established studio practice, he focused his studies on more theoretical work: "It was much more about taking classes about how to think about what I was doing." He also used his graduate studies as an opportunity to experiment with different materials, media, and ideas.

He then pursued a PhD in geography at University of California, Berkeley. It was there he further fortified the scientific side of his practice. "If I'm going to do some cross-disciplinary research, I want it to be as good as somebody who was doing that in the field [of geography]," he notes. "I didn't want to do a degraded version."

During his doctorate studies, he started developing the fundamentals of "experimental geography," a term he coined. Exploring the differences between the worldviews of geographical study and art and where the two intersect, experimental geography finds unconventional ways of illustrating humanity's engagement with the earth's surface—ranging from performers scaling the sides of buildings to photographs of top-secret military bases.

He argues that experimental geography accounts for cultural production by expanding traditional art criticism and the tools of visual studies. "Art theory is more about images; it came from comparative literature," he explains. "Instead of using the theoretical underpinnings of comparative literature, let's use the theoretical underpinnings from geography. It's about undirecting ourselves."

Much of Paglen's work is about undirecting and rethinking the way things are seen or unseen, from classified, covert military installations to capsules floating thousands of miles away in space. He says, "It's about learning how to see and understanding how the world around us is changing in some very significant ways—but largely it's invisible."

Trevor Paglen's Visiting Artists Program Distinguished Alumni Lecture is on Monday, March 3, 6:00 p.m. in the Art Institute of Chicago's Rubloff Auditorium, 230 South Columbus Drive.