Image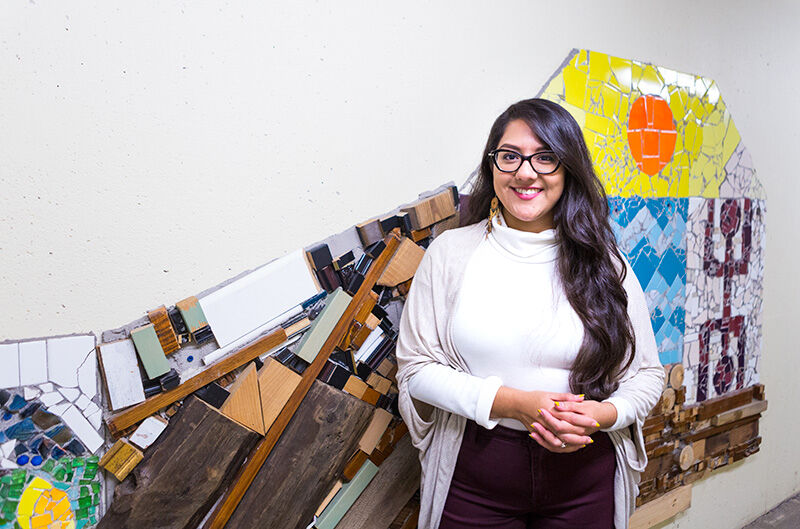 by Zoya Brumberg (MA 2015)
Chicago-based Xicana artist and educator Patsy Diaz (MA 2015) brings activism, art, and social emotional development together in her work at the Chicago Park District, transforming Piotrowski Park and Cultural Center into a site of artistic exploration for youths and families in Chicago's Little Village neighborhood. A recent graduate of the School of the Art Institute of Chicago's Art Education program, Diaz transformed her passion for teaching self-love and empowerment into a full-time career.
"Alternative spaces saved my life in undergrad," Diaz says, as she explains her experience as a womxn of color studying graphic design at the University of Illinois-Champaign. As first-generation college student, Diaz at times felt alienated from the worlds of academia and design. It was through her engagement with activist projects at college that she began to explore and embrace her identity as a Xicana womxn. Through building community, recognizing the value of her experiences, and speaking out for herself, Diaz uncovered a process of self-love that inspired her community engagement projects years later in Chicago. 
At first Diaz was ambivalent about pursuing a graduate degree in Art Education at SAIC, which seemed to be another one of the academic institutions that, in her words, "weren't made to serve people like me." However, the program's focus on social justice intrigued her, and she applied after speaking with some of the students and faculty in the department. During the program, Diaz found the faculty support for activist art that she wished she had during her undergraduate years. The value that faculty and fellow students placed on personal experiences and creative ways of thinking established space within an institution for her to thrive. Drawing from the positive experiences that Diaz had at SAIC and within activist spaces, she sought to use her role as an arts educator to try to recreate an environment of support and validation for youth in their own schools.
"We undermine our capability of being able to apply our lived experiences into art or a deeper understanding of self. But we're capable of it if we have a space and someone who can help guide us through it," Diaz says, describing the impetus behind her MA thesis, "Unearthing Self-Love: A Journey of Self-Determination for Young Womxn of Color." It was through this project that Diaz developed a weekly program in the 2014–15 academic year for a group of eighth-grade young womxn to hold healing circles—"a space for storytelling and art making." Diaz went on to work with students of all genders through the city parks service as an Arts XIII counselor, drawing from her methods that foster social emotional development through arts.
As an alum who had such a positive experience exploring identities through art, Diaz looks forward to the ways that SAIC's devotion to diversity and support systems can perpetuate "what it was that made SAIC so enjoyable" for her, and "continue to reinforce that type of support for other students."