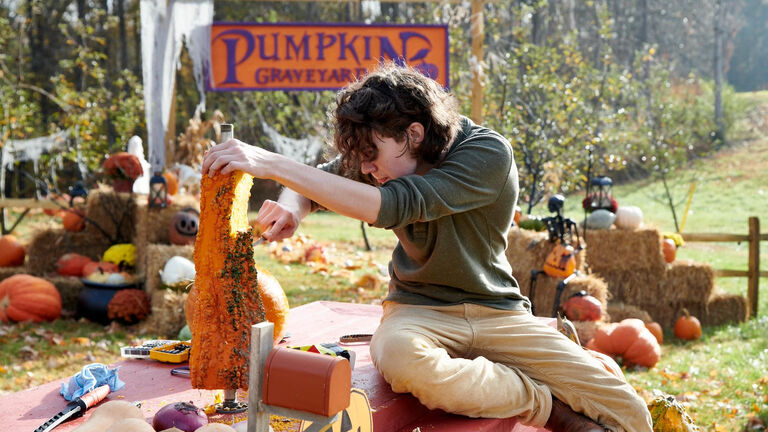 Student Ethan Anderson Carves Up Success on Food Network Reality Show
Cozy up in your favorite sweater with a mug of pumpkin spice drink, and watch student Ethan Anderson (BFA 2023) compete on season four of Food Network's Outrageous Pumpkins this fall.
Yearly, the show harvests carving talent across the nation to create the ultimate autumnal display of organic masterpieces. For Anderson, Outrageous Pumpkins became more than just a quest for the grand prize of $25,000 and the title of Outrageous Pumpkins Champion. A long-term devoted fan, Anderson admits that the opportunity to meet his heroes and forge lasting personal and artistic bonds with his fellow competitors became the biggest reward.
Now, Anderson is considered somewhat of a pumpkin carving expert. He was even featured on WGN News, giving some carving tips for the Halloween season. Here, Anderson discusses his experiences on the set of the largest TV pumpkin-carving competition.

What type of art do you make at SAIC?
I started off in painting and drawing, gradually shifting to mostly making sculptures and stop-motion animations. Now I am working on an eight-minute-long animated short for the Gene Siskel Film Festival, which combines elements of creature feature and musical. Working on the project requires me to utilize all the skills I have built up my entire artistic career—it combines physical sculpture, animation, and cinematography.
How did the idea of trying out for Outrageous Pumpkins come along?
I have been watching Food Network pumpkin carving shows since 2010, following the trailblazing careers of people I now get to compete against. It is definitely not a commercial medium since carved pumpkins rot away in a couple of days, but making something figurative out of an organic material opens up so many possibilities and lets you let go of perfectionism.
What skills have you acquired at SAIC that came in the handiest during the competition?
I have utilized my technical knowledge of armature (a framework supporting a sculptural piece) and figurative sculpture principles that I picked up in my sculpture classes. My solid background in traditional sculpting was really helpful, even if these skills are applied to a new medium.
How does getting critiqued by a panel of judges on Outrageous Pumpkins differ from being critiqued at an art school?
The panel consisted of a host, Damaris Phillips, a permanent judge, Terri Harden, one of the biggest names in stop-motion and puppet animation, and a secret judge who changes for each season. This season, it was Ralph Attanasia, a master cake sculptor whom I have been obsessed with since I was a child—I was freaking out when I saw his face on the call sheet. Being evaluated on the show felt like a semester-worth of critique condensed into a 20-minute, in-depth commentary on how you can improve technically and conceptually. Many good points were cut out due to the time constraints. So, you always have to remember that it is a TV show, and some plot points or cliffhangers are there to enhance the dramatic tension.
What is your biggest outcome after participating in the show?
Above all, I learned all sorts of advanced skills from other participants. The people I was competing against had been doing pumpkin, ice, or wood carving for over 15 years. From episode to episode, I grew massively in understanding how pumpkins act technically, how to carve without tearing through, and how to utilize supporting structures.
Another major outcome was learning time management since we only had six hours to create five-foot-tall displays with over 20 pumpkins. If participants went home because their piece did not compare to the rest, it was often not because they were less skilled or talented—usually, they simply ran out of time. That is where you either win or go home.
Where can people watch your season of Outrageous Pumpkins and root for you?
The show broadcasts on Food Network every Sunday at 9:00 p.m. CT with reruns on Mondays Thursdays. It is also streaming on Max and Discovery+. Besides showcasing amazing artists, it is also great TV, so make sure to tune in!