SAIC Fulbright Winner Builds a Home in the Philippines
Image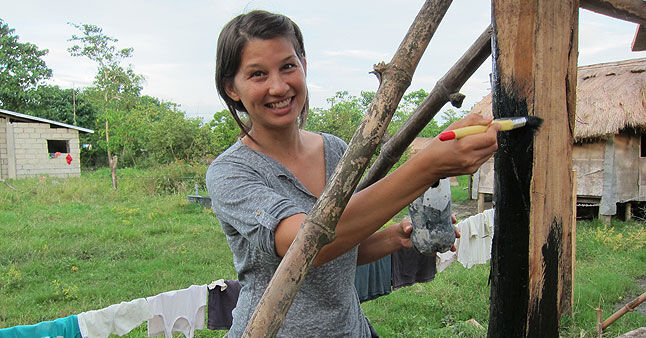 Stephanie J. Victa (MFA 2010) won a 2011–12 Fulbright award for a two-part project in the Philippines, in which she first documented the transition of the native nipa hut to the modern concrete house and is now building a home for a family in need. 
During Victa's fieldwork, she visited areas with different types of housing, drew interior floor plans of homes, and noted the surrounding environment—investigating how Filipinos use space as a culture, whether they live in multi- or single-family homes, whether kitchens are located inside or outside, how many people live in a home, and what their occupations are. 
"During all of the fieldwork, I was also looking for a low-income family for whom I could build a native house," said Victa. "But the transition to the modern concrete house has gained momentum for being the model home, and most people who still have a native house seem embarrassed to live in it, or 'ashamed' as they say." 
Victa quickly revised her plans. Instead of a native house that was seen as outmoded, she would combine materials and architectural styles from her observations and build a small, modern home. In the farming town of Warat Piat, she found the right conditions for her project: space for building and a supportive community. She visited 19 families and settled on Enting and Evelyn Bagaua and their three children as the recipients of the home she would build.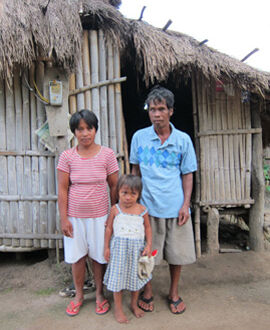 The house is small with two rooms: one for the kitchen and the other for a bedroom that converts to a living room when the bed is folded up. It has concrete floors and two concrete-block walls to support the bed. The rest of the house is made of sawali, a common rural building material of woven bamboo slits, and a corrugated galvanized iron roof. 
"I believe it's important to encourage the values of responsibility and accountability and have set some conditions for the Bagaua family to accept before building," said Victa. "Though Enting may feel indebted and thankful toward me, I ask that he redirect it to the community. After all, they are with him long-term and I am merely a visitor." 
Victa is one of four recent SAIC alumni to win a Fulbright scholarship this year—the largest number of Fulbright recipients from a single US college of art and design. Other winners include: Alexandra Dietz (BFA 2010) for a photography project in India, Liliya Lifanova (MFA 2010) for a performance piece in Russia, and Ania Szremski (MA 2011) for art historical research in Egypt.