A recap of the highlights of the fall semester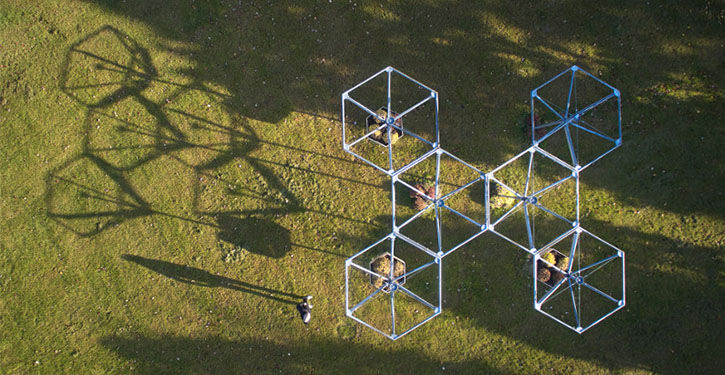 Fall 2016 marks the addition of new voices and the continued expansion of projects in the Department of Architecture, Interior Architecture, and Designed Objects. We welcomed one of our largest classes ever of graduate students who have brought fresh energy to our studios and workshops. This has been seen particularly in our MFA studios, where new students in Design for Emerging Technologies have joined our cohort.
Three additional tenure-track faculty and two Visiting Artists joined the program and Stuart Candy, our Mitchell Visiting Professor, is teaching classes on design and futurism. The Mitchell Lecture Series hosted eight events, bringing leaders in the field and emerging voices to our students. At the same time, our collaborative approach to teaching continued with opportunities such as our bLUMEN pavilion, which opened this summer, as well as our partnership with West Supply for our Whatnot course.
AIADO was particularly proud this fall to see the work of the students, faculty and alumni of the Department featured in Newcity's Designed Objects issue! The work in our Department and the conversations we have around it are a source of continual inspiration.
The Spring semester promises more inspiring moments: from the Mitchell lecture series featuring Chicago's Studio Gang to the artist lead think tank, the Center for Genomic Gastronomy.  We will also be featuring several new courses including  Contemporary Issues in Design: Safety in Numbers, Narrative Proximities: Art, Design, Politics of Maps, a new External Partnership: Kikkerland and Paper Source and Stuart Candy's Contemporary Issues in Design: Future Documentary.  All of this plus much more will culminate with our 2017 Design Show/Public Critiques in which we will be hosting several international, national and local critics.  Please check in with us periodically to learn more about these events.