Q&A with Işil Eğrikavuk (MA 2005, MFA 2008)
Distinguished Alumni Lecturer, Visiting Artists Program
by Doug Kubek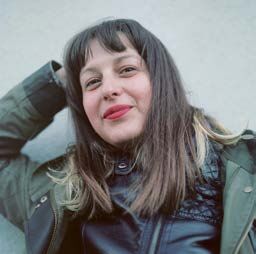 Işil Eğrikavuk (MA 2005, MFA 2008) blends social and political events with fictional components in her work, often weaving in a fantastical or absurd element that challenges the viewer's ability to believe it. On March 6, she returns to SAIC as the Distinguished Alumni Lecturer for the Visiting Artists Program.
What were you like at SAIC?
I was a hungry student. I was taking and auditing nine classes at a time and going to lectures and talks. Such feeding also turned into a creative practice. At SAIC I started to bring journalism together with creative writing.
Your undergraduate degree is in literature. What inspired your move from liberal to fine arts?
My artistic practice is rooted in writing. I am a storyteller first, in my heart. The stories I write sometimes turn into performances or videos, or sometimes I keep them as pieces of writing. I don't see much of a gap between literature and art, but art school enabled me to expand the borders of my creative writing practice and taught me how to bring it together with the visual world.
How does absurdity figure into your work?
Art opens a space for imagination where we can split from the seriousness of our daily experiences. I like to take it further. I like humor, fantasy, magic, witchcraft, and children's stories. These influences show in my work.
What is the role of art in politics?
Although I am inspired by political events, I keep my sanity by not getting attached to hard politics. I don't know if I can directly link art into politics, but I can say that the more we include art in our daily experiences, whether it be an action or a way of looking at the world, the more possibility we create to make this harshness go away.
Having been censored by the Turkish government, what lessons can you offer other artists?
My advice, and where I feel myself much more empowered, is giving a response through art. Artists can use their power to respond with new strategies to power hierarchies, to confuse them, to teach them, and to grow out of these experiences by sharing them.
Attend Işil Eğrikavuk's Distinguished Alumni Lecture presented by the Visiting Artists Program and the Office of Alumni Relations on Tuesday, March 6, 6:00 p.m., at the Art Institute of Chicago, Rubloff Auditorium, 230 South Columbus Drive. Visit saic.edu/vap to learn more.