Q&A with Corbett vs. Dempsey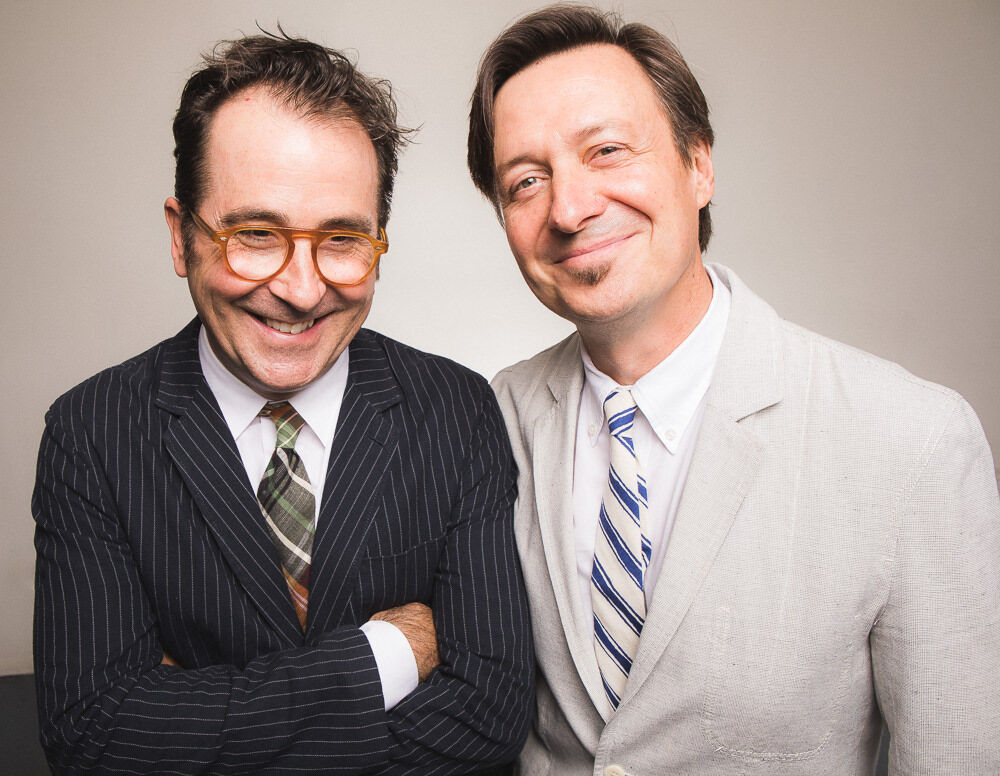 John Corbett and Jim Dempsey (BFA 1991) are the duo behind one of Chicago's foremost art galleries, Corbett vs. Dempsey. Both the gallery and its founders are deeply entwined with the School of the Art Institute of Chicago (SAIC): Corbett is a former part-time faculty member, having taught for nearly 30 years in the Sound and Liberal Arts departments, and Dempsey is an alum. Begun in 2004, their gallery is vital to Chicago's art world, showcasing the work of close to 40 artists, many of whom are SAIC alums. We spoke with them about their connection to the School, their upcoming involvement in EXPO CHICAGO, and what drives their work.

How did your time at SAIC influence the work you do today?
Jim Dempsey: Today, I might keep an eye on what the artists are up to, try to get to know what motivates them, maybe occasionally step in and question what's happening, but really trust the artist. I think what I learned at SAIC is to trust the artist.
John Corbett: I was invited to be chair of the [Department of Exhibitions and Exhibition Studies] for a year, and that got me into the curatorial sphere.

How do you choose the artists you represent?
Dempsey: We show what we love, and it doesn't get more complicated than that.
Corbett: The main driving force is the love of the work. We are a painting-friendly gallery, but there isn't a specific thematic. Our loves are many and different from one another, so we follow our heart when it comes to programming.

You represent many SAIC alums, can you speak to that?
Corbett: I think it's natural because it's an incredible school, and there are great people coming out of it.

What does EXPO CHICAGO mean to your gallery and to Chicago?
Dempsey: It's a great way to reconnect with our colleagues from around the world and keep those relationships fresh.
Corbett: It's also one of the main community-building events in Chicago with all of these institutions coming together to support EXPO.

How do you choose who you will show at your booth during EXPO?
Dempsey: We want the booth to represent the scope of what we do.
Corbett: It's imperative that we make something that will compel people to want to see it. Productive juxtaposition is one of the main things, putting things next to each other that are going to generate energy.

Which SAIC alums will you be showing at EXPO?
Dempsey: We'll have a diverse group of people from Karl Wirsum (BFA 1962, HON 2016) to Diane Simpson (BFA 1971, MFA 1978) and Phillip Hanson (BFA 1969). We'll also show Omar Velazquez (MFA 2016), a recent addition to our roster, along with Celeste Rapone (MFA 2013), Magalie Guérin (MFA 2011), Brian Calvin (MFA 1994), and Rebecca Morris (MFA 1994).*

What do you enjoy most about your work?
Dempsey: My favorite thing about this gallery is just talking about the art and talking with artists.
Corbett: I love the collaborative nature of our work. We're fortunate to have colleagues who are a valuable part of the collaborative process for us.

Advice for aspiring gallery owners?
Dempsey: Be confident with what you believe in and be patient.

*Editor's note: Check out all the artists featured by Corbett vs. Dempsey at this year's EXPO CHICAGO at their booth 111 and be sure to stop by SAIC's booth 441 and pick up a map to see the work of alums throughout the fair. Read more about SAIC's presence at EXPO CHICAGO here.