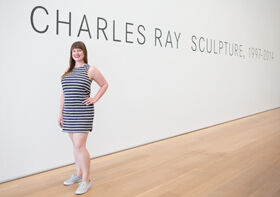 SAIC alum talks about Regional, her unique magazine covering American food.
SAIC alum Cassie Tompkins (BFA 2010) works as a senior graphic designer at the Art Institute of Chicago, and has published eight issues of Regional, a fold-out publication that examines the history and culture of American cuisine. Tompkins's zine combines her love of cooking with her education in visual communication design to produce something that pleases the eye and the palate.
You work as a graphic designer and also create Regional, a mini magazine that examines American food. How did you first become interested in writing about food, and what prompted you to combine graphic design and food?
Being a graphic designer at the Art Institute of Chicago and an avid home cook, I always wanted to combine my enjoyment of food and design. I came across a special insert in an issue of the now defunct magazine, Meatpaper, that was an ode to sandwiches around the world. I was intrigued by the idea of exploring culinary differences and similarities through the history of food. At the time, I was in the offset class in the Printmedia department at SAIC, and it gave me an opportunity to start self-publishing a food zine.
The format of Regional is different from most magazines. How did you arrive at the fold-out format with a poster on the back?
I wanted to make the zine a piece of ephemera that people would want to keep and not throw away. The one-page format that folds out to a poster seemed like an ideal solution because, once you've finished reading it, you can slide it into your recipe folder or put it on your wall. This configuration also keeps the content manageable since I do most of the writing, artwork, and packaging myself.
You earned a BFA from SAIC in 2010 and concentrated your studies in Visual Communication Design. How did you choose your course of study?
I actually have two BFAs. I received my first in 2001 from the Milwaukee Institute of Art & Design (MIAD). I majored in photography and wanted to minor in Visual Communication, but wasn't able due to scheduling conflicts. After graduation I worked at a few professional photography labs that were struggling, and I was laid off three times by the time I turned 30. I was obviously unhappy with the direction my career was headed, so I made a big change and went back to school to pursue my interest in design at SAIC. I attended part time for eight semesters and full time for one, while working full time at a boutique culinary shop.
How did your education at SAIC influence who you are and what you do now? Was there a pivotal experience or relationship that led you down your path?
Aside from teaching me about the technical aspects of design and typography, SAIC taught me how to approach design as a way of solving problems, especially my Package Design class with Frank Debose. It also helped regain a lot of confidence I had lost in my 20s and lifted me out of my career and creativity rut. A very pivotal experience was the time I spent as a student designer in the Marketing and Graphic Design department at SAIC. During that time I learned how to apply my design thinking to real projects, coordinated with actual clients and vendors, and worked on projects from conception to completion. This in-house, hands-on experience gave me the skills I needed to land my current position at the museum.
From your perspective, what is the relationship between food and design?
Both are processes that start with an idea or a problem to solve. When I graduated from MIAD, I no longer had access to the space and tools that college provides, so teaching myself how to cook in my tiny apartment kitchen became my creative outlet. Cooking, art, and design all satisfy my inclination to make things.
How many issues of Regional have you done, and how do you distribute the magazine?
Currently there are eight issues of Regional with subjects ranging from BBQ sauce to cocktails. When I started the zine I had no plans to distribute each issue, but they quickly began to pile up. To fix that problem I opened an Etsy shop and put them on consignment at Quimby's, a Chicago bookstore specializing in unusual publications and independent zines. I began participating in the Chicago Zine Fest in 2012, where I met other makers and fans of my zine. I continue to table at different events like Sauced Night Market, the Revolution Craft Show, and the first SAIC Alumni Market. Regional is also available locally at Uncharted Books, Paperish Mess, and Gallerie F. It's amazing how many opportunities have arisen from the zine. For example, last year I was invited to participate in the Martha Stewart American Made collection on eBay. What started as a class project has become an on-going lesson in entrepreneurship.
What's next on the horizon for you?
Professionally, I also freelance and am working on the launch of a new visual identity with the Illinois Humanities, a nonprofit that provides programming focused on public policy, media and journalism, business, and art.
Creatively, aside from the next issue of Regional, I have been taking classes in the Fiber and Material Studies department. I am interested in textile design, including weaving and pattern making, and hope to add a line of textile-based products to my Etsy shop in the next year.