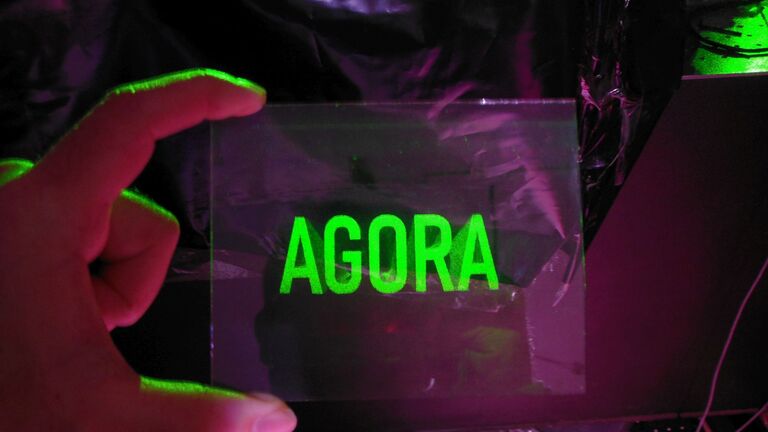 Eduardo Kac, Ágora, space artwork, 5/16 x 5/16" [0.8x 0.8 cm], hologram in a 1.5-cm-diameter titanium capsule, moving through interplanetary space in perpetuity aboard the Centaur V spacecraft, 1986–2023. Shown here is the full 4 x 5" (10 x 12.5 cm) plate, prior to trimming.
Professor Eduardo Kac's "Agora" to be Launched into Space
School of the Art Institute of Chicago alum and faculty member Eduardo Kac's (MFA 1990) hologram Ágora will be sent on a rocket heading for deep space. He first conceived of the artwork in 1986 and always had the intention of sending it into space, and now this dream has become reality. Kac's artwork will be accompanied by the cremated remains of Star Trek creator Gene Roddenberry and the DNA of three US presidents.
Kac is known for his holopoems, which use holography to create poems that float in the air and change their configurations according to the relative position of the observer. Ágora is not the first piece of art Kac has sent to space. He has worked with NASA and SpaceX to send other pieces containing messages in multiple languages.
"My vision for this work is that, throughout its trajectory in space, it will function as a 'potential star': in the future, should it ever be found, whenever laser light strikes it at approximately 45 degrees, it will diffract the incoming light and output a wavefront that will be visible to the naked eye as the word AGORA. As it moves through the darkness of the cosmos, it will always encode the urgency of its message: 'now'," Kac states on his website.