Matt Morris on His Process
by Jason Foumberg (MA 2006)
Image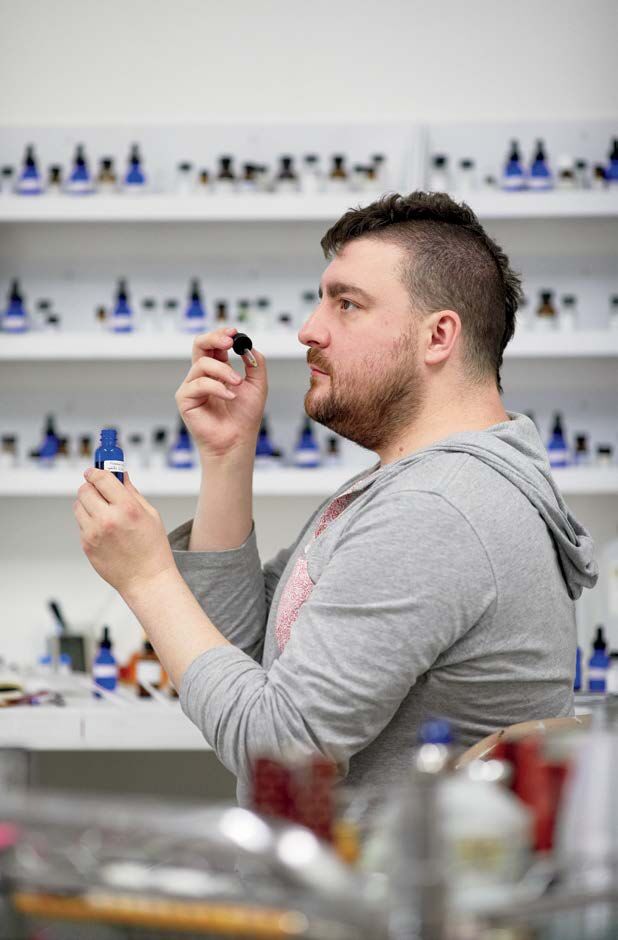 Artist and Painting and Drawing Lecturer Matt Morris makes custom perfumes to conjure olfactory memories of family, friends, and personal events. Although his perfumes can be worn on the body, Morris prefers to place his scents within exhibitions that comprise atmospheric installation art. His intention of creating an "invisible art," says Morris, is to evoke the experience of people who recently left a room, so their smell lingers. He says the perfumes can conjure identities "that often fail to be represented in other ways," a similar approach Morris takes as an abstract painter.
In a corner of his painting studio is a perfume organ, the historic term for an arrangement of essential oils, tinctures, and other aroma chemicals on shelves within easy reach of the perfumer. Morris sits among a hundred or more small bottles, what he calls "an elaborate palette of materials to work from," and blends small amounts of the concentrated liquids using a pipette and scale, precisely measuring his mixtures in grams. "I work on these in much shorter bursts than I do paintings," says Morris, because the nose gets easily exhausted, and it can take hours for the mixtures to develop in the bottle. Meanwhile, he researches the symbolism of certain scents across world cultures.
A particularly stirring perfume is Copycat Killer (A16), which Morris presented at Julius Caesar Gallery in Chicago in 2017, one of four fragrances "based on my memories of fragrances worn by me, my sibling, my mother, and my father," he writes in the smelling notes. Its bouquet is a subtly sweet mix of food, like apricot and milk on a warm bed of sandalwood. The fragrance is boldly gorgeous, especially considering Morris uses it as a container of his own memories. "How do we imbue something with meaning?" he reflects.