Garland Martin Taylor on the Making of Phantom
Before Garland Martin Taylor (BA 2005, MA 2007) welds metal scrap together or clips the hair from his head, he thinks, researches, and finds—but does not purchase—materials. "I see the idea in my mind, and it goes back to the constraints of the materials I have. The two have to come together. The idea and the research have to come along, and the materials also have to be there," he says.
At SAIC, Taylor earned a Bachelor and Master of Arts in Visual and Critical Studies. His politically charged sculptures are inspired by his research and scholarship on 19th-century black political cartoons, especially the work of Henry Jackson Lewis, a former slave who rose to fame as the first black political cartoonist. As part of his ongoing Black Death Project, Taylor recently exhibited a piece called Phantom. Here is a look into the making of that piece.
Image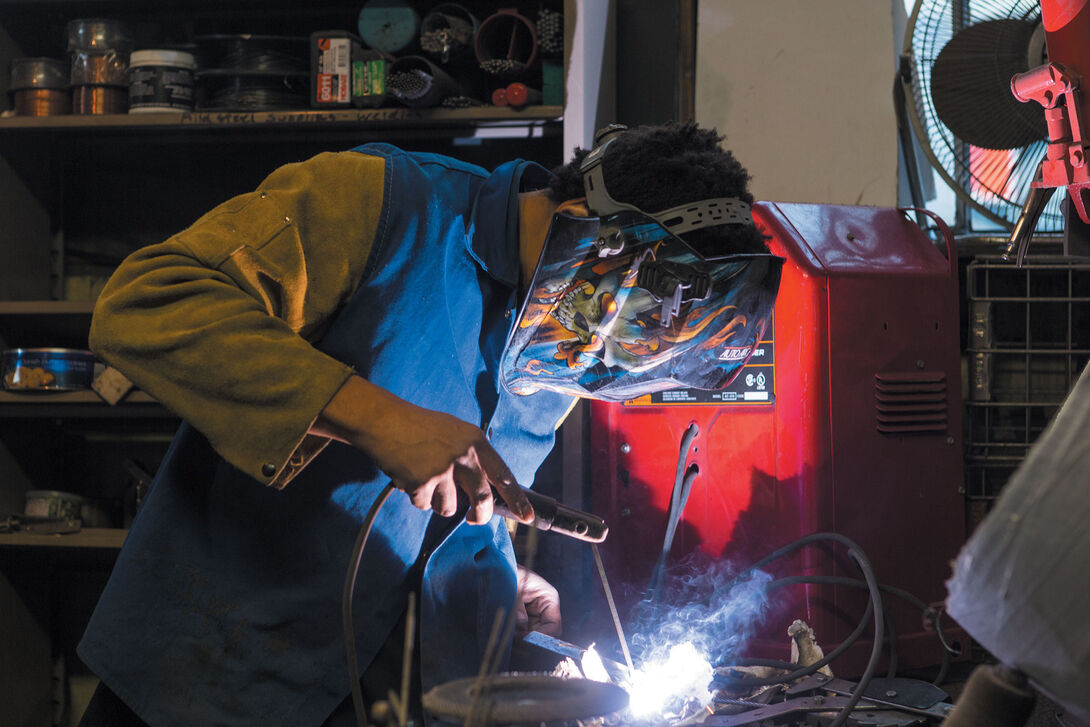 To start, Taylor welded scrap into the form of a Harry Bertoia chair; that was the sketch. He then cut it up and remade it into a rocking chair. It still wasn't quite right, so he cut it up again and refined it. "This chair had three manifestations before it became what it is now," he says.
One of those manifestations included his face, but after looking at it for two days, he removed it. "One can never make out a face in a dream. You think it's someone with you in a dream, but it's really not, or you don't know. As it is, it's just enough likeness to spark your imagination," explains Taylor. To him the phantom chair represents an ancestor thinking about or mourning a victim of gun violence.
Image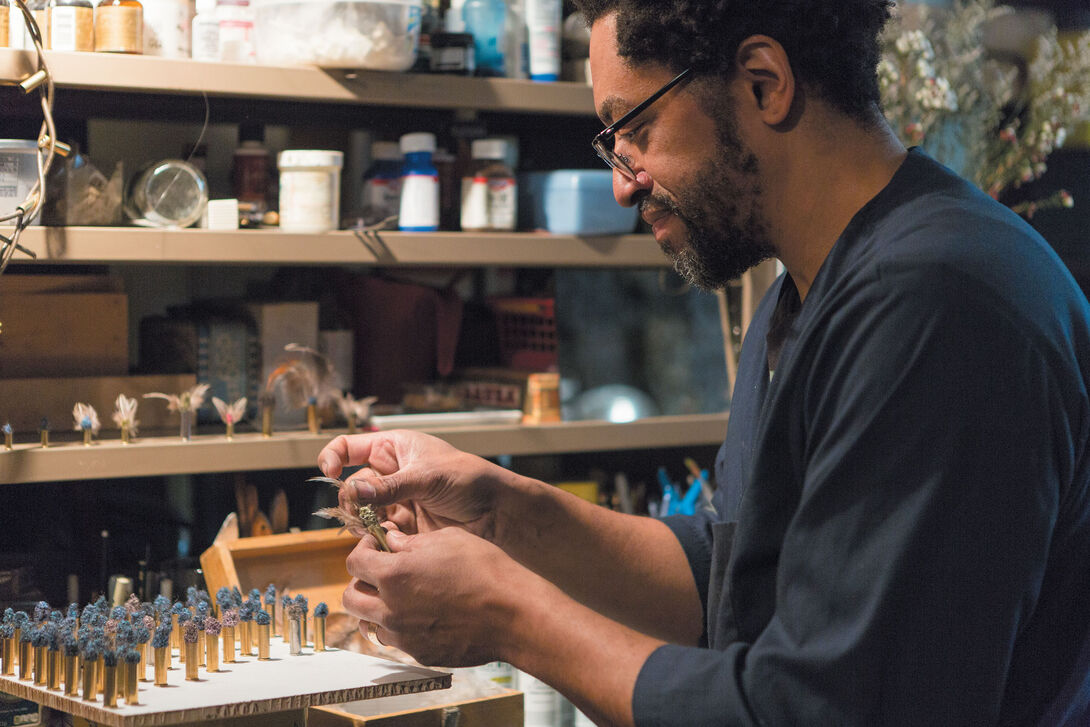 Next he cut his hair, dipped it in acrylic pigment, and filled empty bullet shells he collected from a shooting range with his hair and feathers from different birds. He says the wings add a layer of meaning to the bullets, giving them an almost angelic quality.
Image
Image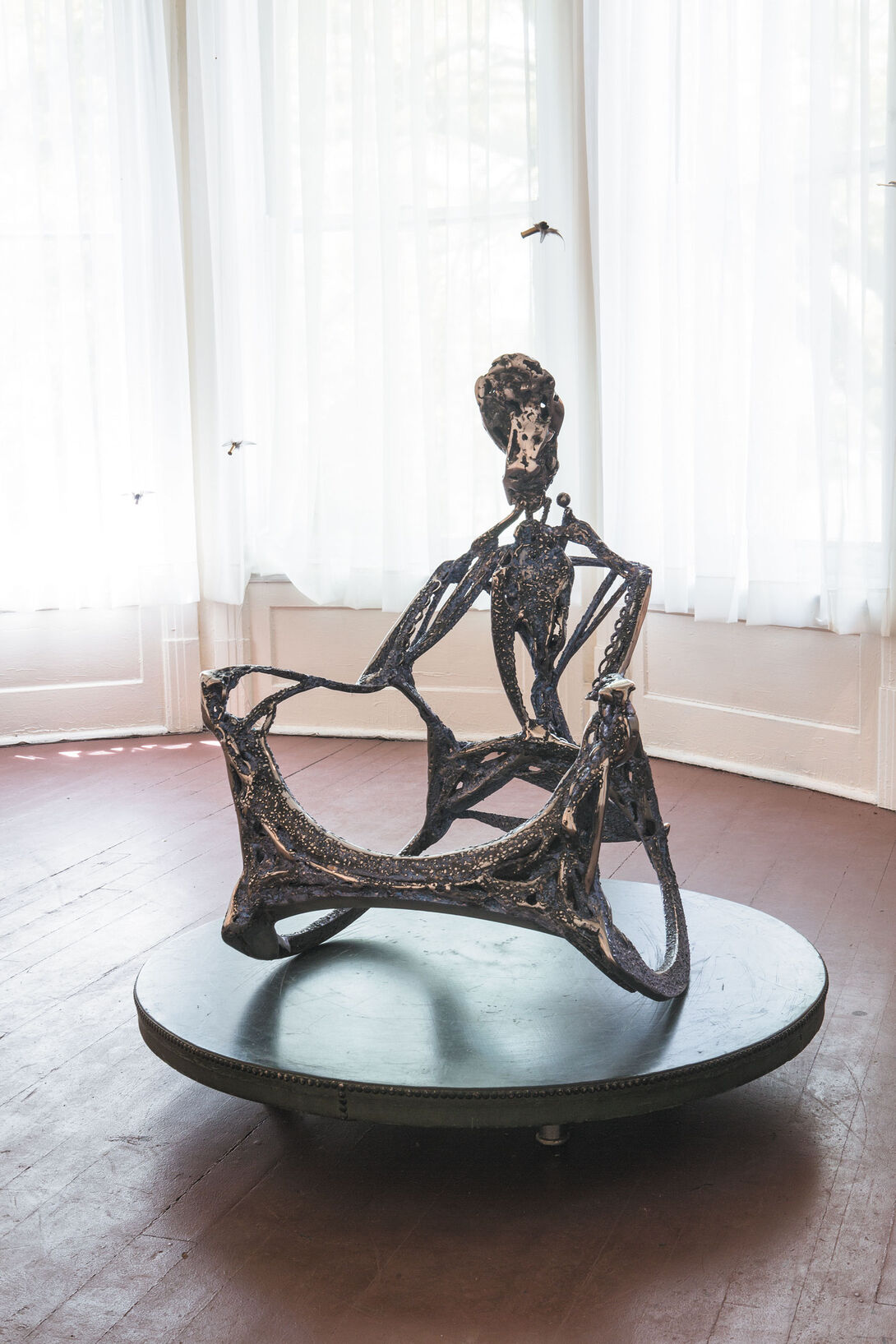 In the final installation, the metal rocking chair sits on a platform in the middle of the room. Suspended by guitar strings hanging from the ceiling, the winged bullets trace the trajectory of a stray bullet that enters through the window, flies over the chair, and embeds in the wall.
"The whole idea of Phantom is sharing in the metaphor of the phantom bullet. The bullet that comes through the window and kills someone—the stray bullet," says Taylor.