Prepared for the Pressures
Studio Potluck wins first place at Make48
by Micco Caporale (MA 2018)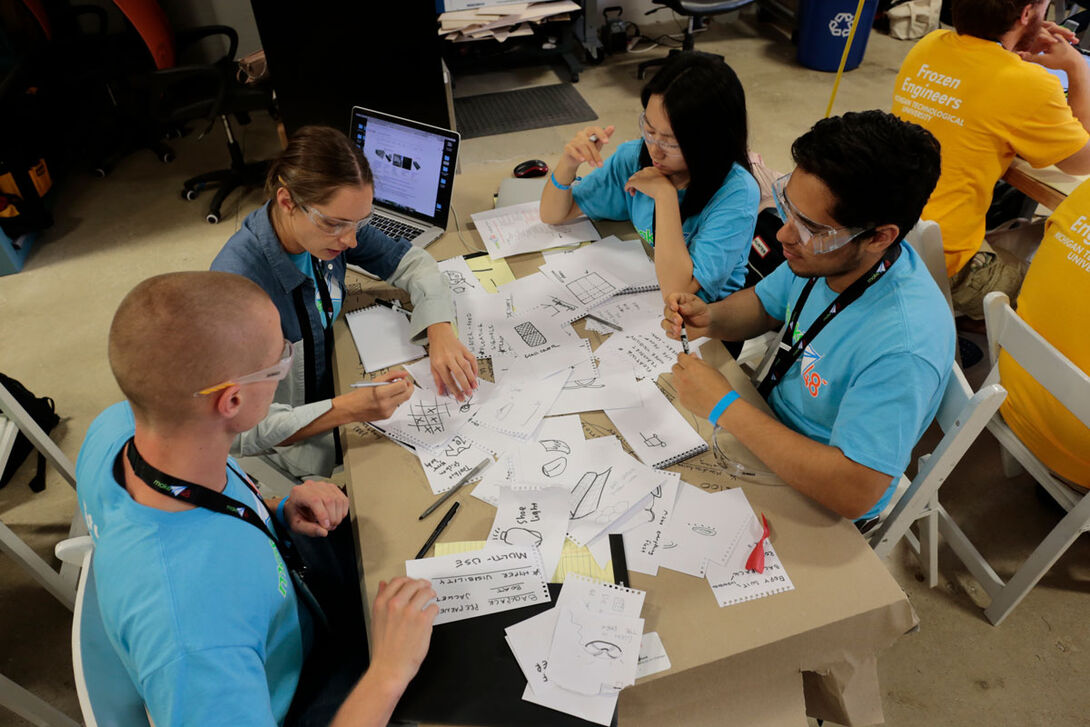 Taking first place on Make48 was hardly a surprise for Studio Potluck, SAIC's team of four recent alums who participated in season three of PBS' design competition show. Make48 gives participants 48 hours to design and manufacture a product. At the conclusion of five episodes, groups pitch their products to a panel of experts who select first-, second-, and third-place winners. Objects selected are then licensed, further developed, and taken to market in the remaining five episodes.
The latest installment of the show brought together teams from 12 colleges across the United States. Studio Potluck consisted of Ramon Jimenez Cardenas (BFA 2018), Amber Cao (BFA 2019), Chelsea Lombardo (BFA 2019), and Liam Wilson (BFA 2018). When mentor and Make48 advisor Jim TerMeer, associate professor in the Department of Architecture, Interior Architecture, and Designed Objects, who had worked with the students throughout their time at SAIC, heard the show was looking for school teams, he encouraged them to apply.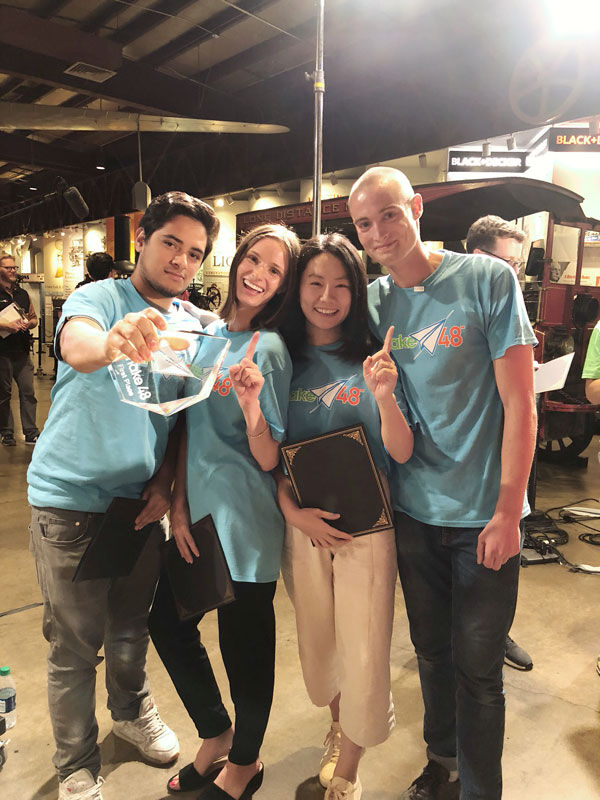 "Our team had worked together in a very intense one-year class where we designed and showed works for the Milan Design Show," explains Amber Cao. "We knew each other's strengths and weaknesses. We are very honest with each other, and we truly enjoy working together."
Studio Potluck's winning idea was an elegant bird-shaped carbon monoxide detector that chirps when levels become dangerous—a "canary in the coal mine" for the modern era. While brainstorming and creating the product was a feat, it was only a small part of their time on the show. Every episode saw teams learning skills such as creating sales sheets, calculating manufacturing costs, developing marketing strategies, and absorbing constant feedback from industry professionals. But Studio Potluck came prepared for the pressures.
Image
"Being a design student gives us an advantage … because we do critiques multiple times a day, in every conversation we have with peers or faculty members," says Liam Wilson in the season's first episode. "We're always trying to get to the heart of the concept so we have our strongest idea. We're trained to take critique well and move through that in a positive way."
While Studio Potluck had known for some time that they had won the design competition, an SAIC audience was able to join in celebrating their success on Friday, October 18, at a viewing party held at the LeRoy Neiman Center. Make48 streams on PBS' website and is licensed to more than 300 PBS affiliates. To see their hard work nationally recognized is an honor. But for Studio Potluck, their success is just an inevitability of being a thoughtful designer.
"I ask first, Who? then, What?" says Cao. "That gave me confidence [in the competition]."
Make48 airs on Fridays at 6:30 p.m. on WTTW Prime.