The Past, Present, and Future of Design
by Jac Kuntz (MA 2016)
"The designer, if successful, has the unusual opportunity of seeing a product widely distributed and in daily use, and there is no reason for the product to be artistically inferior to that of the painter or sculptor."
—Description within the course catalog of SAIC's School of Industrial Art, 1929
Design history is as complex as the history of fine art. It encompasses architecture, designed objects, visual communication, textiles, craft, interiors, and decorative design, each including many movements and schools of thought. The School of the Art Institute of Chicago's (SAIC) own relationship with design parallels this greater history—negotiating, challenging, and often bridging the complicated territory between art and design.
While SAIC's Department of Architecture, Interior Architecture, and Designed Objects (AIADO) is only a decade young (it was introduced in 2006 and accredited in 2014), architecture and design have always been integral to SAIC's academics. Now, a new specialization in Design History within the Department of Art History, Theory, and Criticism will provide a platform to examine design's past and, in turn, SAIC's own history of design education.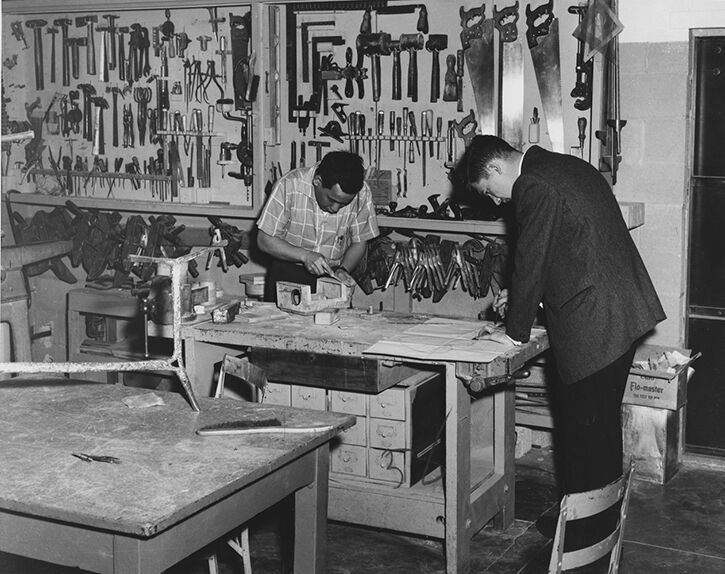 In the past 10 years, Art History students have shown an increased interest in design-related research and courses in the context of contemporary art. It is a continually relevant field as more artistic practices use the forms, processes, and materials of design. Though design history and theory have been embedded in the Visual Communication Design and AIADO curricula, the new master's concentration within the Department of Art History, Theory, and Criticism will offer greater breadth. Students will study and examine the "theories and practices of conception, production, interpretation, and consumption of design."
According to Michael Golec, Associate Professor of Art History, Theory, and Criticism, design history as a field in the humanities and the academic realm has grown considerably in the past 25 years. Peer institutions, such as the Royal College of Art, Cooper Hewitt Parsons, and Bard Graduate Center have programs that focus on the legacy of design. But none of these is nested within an art history graduate program. SAIC's program structure is unique: the track is not a separate master's degree or insular program, but offered within the Master of Arts in Modern and Contemporary Art History. Students can choose to focus in design history for their thesis and courses—a structure that reflects the interdisciplinary mission of SAIC.
Golec says, "The program will introduce alternative methodologies of research—alternative historiographies—in which art, architecture, and design have intersected historically, not just within our contemporary situation, but the long-going and existing dialogue between art and design."
Through the Design History track, SAIC is placing itself at the forefront of an era, while venerating its rich past of teaching both fine art and design—150 years of it. Here's a look back:
1866: Founded as the Chicago Academy of Design, SAIC's initial charter notes: "The objects of the Chicago Academy of Design are the founding and maintenance of Schools of art, for the cultivation of the Arts of Drawing, Painting, Sculpture, Architecture, Engraving and Design, and for the formation of a Gallery of objects of art."
1868: SAIC offers lectures in "architecture, perspective, and illustrative geometry."
1880s: Students take architecture courses under the instruction of practicing masters like Louis Millet and William Otis, who stress the practical application of artistic concepts.
1890: The Department of Decorative Design is established. The academic curriculum consists of two years in theory and drawing courses and one in the shop, where students can actualize their designs. Students explore materials such as stained glass and plaster and model techniques like mosaic and fresco to prepare for professional work in the manufacturing and mercantile industries.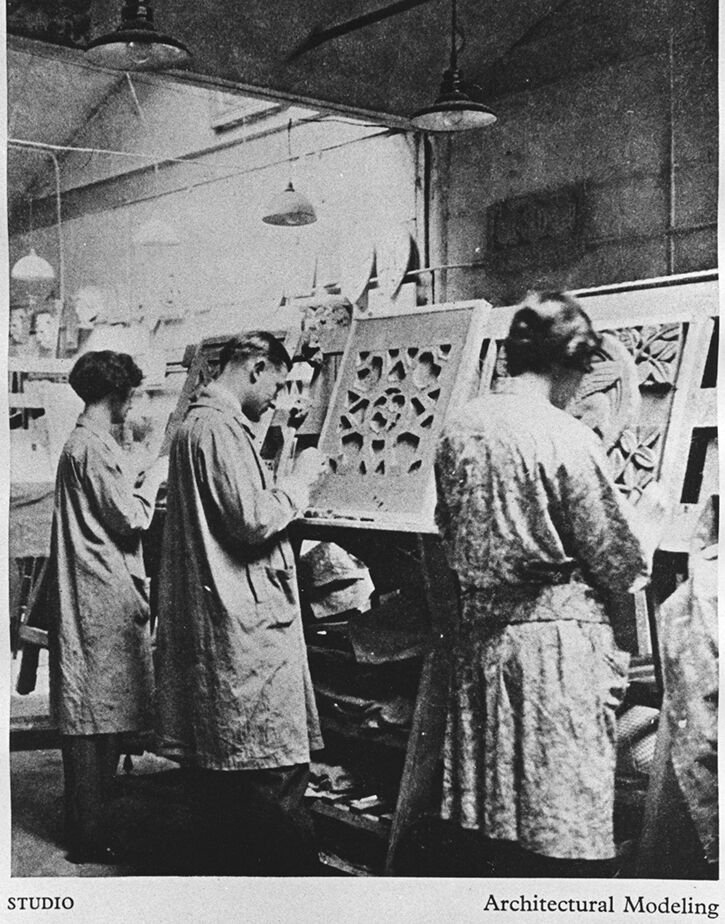 1900: In response to the heralded arts and craft movement, SAIC offers classes in basketry, metalwork, and ceramics. The debate of the day at SAIC and other art schools across the United States is over the balance between "applied art" and " fine art."
1902: The School's Director William M.R. French discusses "applied art" versus " fine art" in the Annual Report: "…the reciprocal influence of academic art and applied art is undoubtedly excellent; in the best periods of art the artist, the designer, and the artisan have been identical; there is a plain drift toward art-crafts at the present moment and the demand must be met in some way."
1914: World War I causes a shortage of goods that necessitates more trained artisans. The School seizes this opportunity by offering more pragmatic design courses and preparing students to be skilled in their crafts.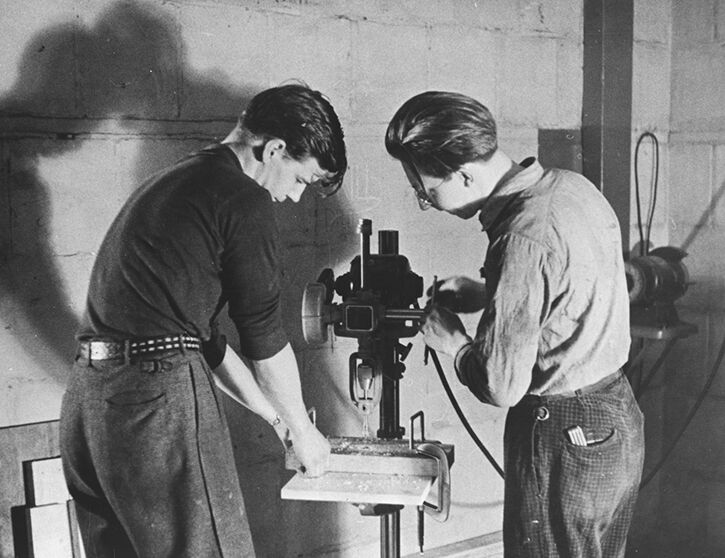 1929: SAIC establishes an Industrial Art School, offering majors in general industrial design, ceramics, stage design, dress design, interior architecture, architectural sculpture, advertising and printing design, and fashion illustration.
1934: SAIC formally reorganizes into a School of Fine Art and a School of Industrial Art. First-year students in both the School of Fine Art and School of Industrial Art take the same basic introductory sequence of courses, but then follow a rigid curriculum within their respective departments, with little opportunity to explore other areas of interest through electives.
1950: In the post-World War II decades, SAIC experiences a marked drift away from the "applied arts." According to the observations of former SAIC Dean Roger Gilmore, "Students are more interested in personal growth than pragmatic career preparation."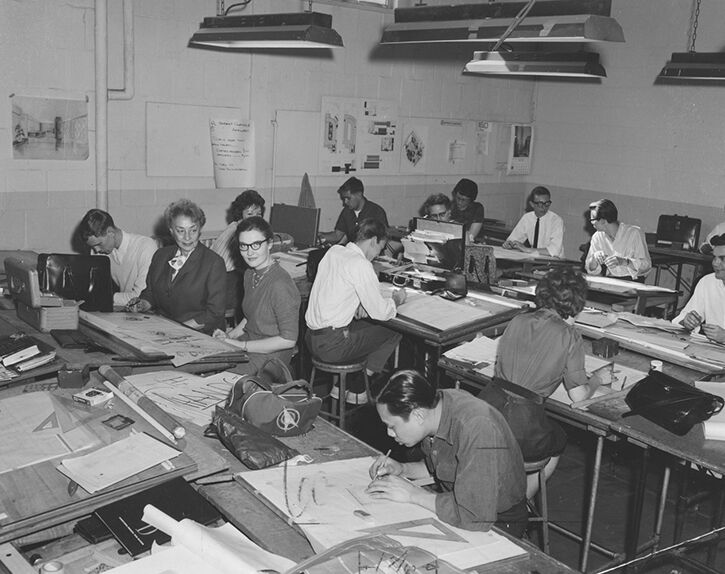 1969: SAIC drops majors in favor of a more open, interdisciplinary curriculum and self-directed study.
1972: According to a self-study: "The School is still in the process of a gradual transformation from a Beaux-Arts professional school with a distinct product orientation to a school utilizing visual disciplines, art history, and the humanities as a referential core from which students may draw the quality of experience they need to become creative human beings."
1973: The underutilized Departments of Industrial Design, Interior Design, and Advertising Design are transformed into a newly energized Department of Design and Communications.
1998: The School launches its "Design Initiative," a concerted effort to transition SAIC from solely an art school to an art and design school.
2006: The Department of Architecture, Interior Architecture, and Designed Objects (AIADO) is established and the School implements a curriculum that brings together designers and artists.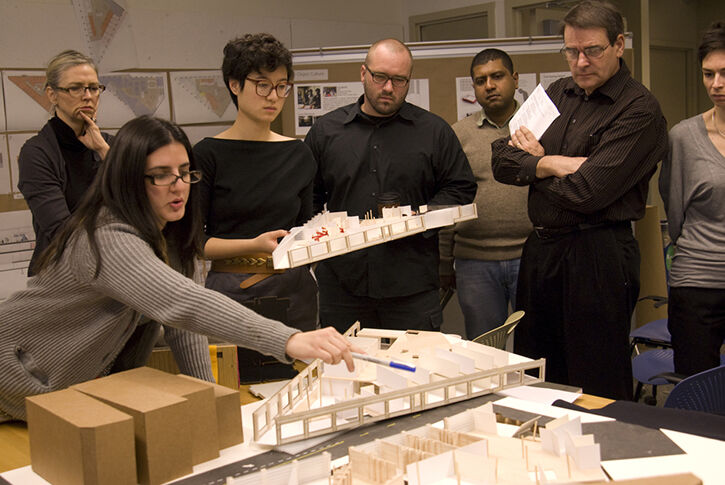 2013: "Art and Design Nexus" courses, in which designers team-teach contemporary topics with different artists, enable students to explore the commonalities and tensions between art and design. One example is The Collectible Object, a course that pairs art and design students to create meaningful and practical objects that question and illuminate the boundaries of the two disciplines.
2014: The Master of Architecture degree program is granted an eight-year term of accreditation by the National Architectural Accrediting Board.
2015: SAIC introduces the Specialization in Design History within the Master of Arts in Modern and Contemporary Art History program.