Painting Black History
SAIC and DuSable Museum of African American History Help Students Paint Their Respect
by KT Hawbaker (MA 2017)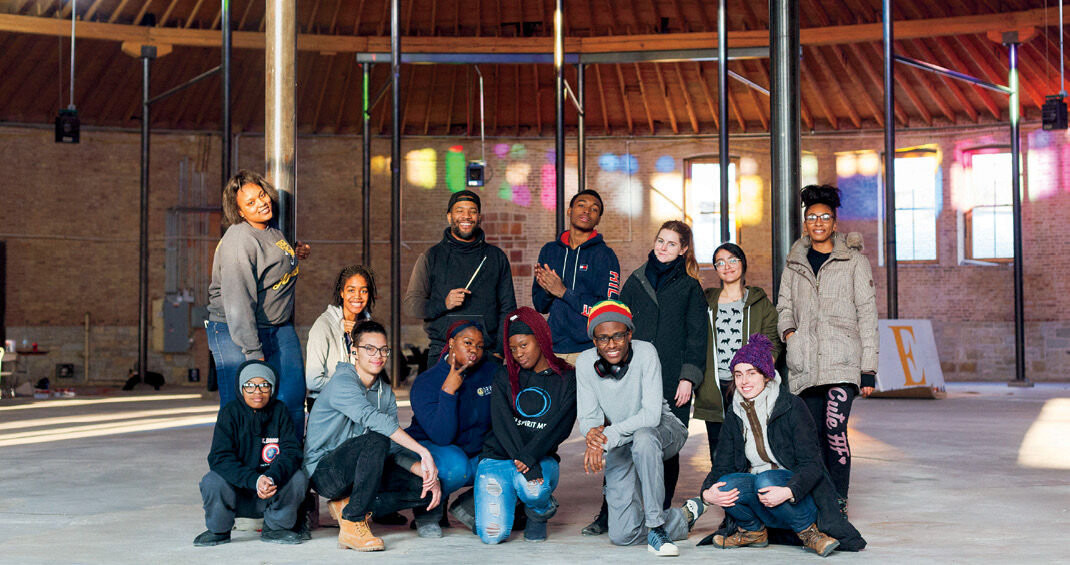 You could call it Chicago's Great Wall. From 1967–71, the Wall of Respect stood on 43rd Street and Langley Avenue, a mural portraying images of inspiring Black leaders.
In the same spirit, Chicago high schoolers painted a new mural at the DuSable Museum of African American History's Roundhouse.
"We spelled out 'DuSable,' with each panel receiving a letter," says Asha Edwards, a Whitney M. Young Magnet High School student enrolled in SAIC's Continuing Studies Early College Program course. "For example, the 'U' represents World War I, along with the violence Black soldiers faced returning home. The 'S' panel represents the first period of the Chicago Renaissance; there's a jazz scene, but we also have Richard Wright's Black Boy."
SAIC instructors and DuSable staff worked with a group of Chicago Public Schools (CPS) students from the South, West, and Northwest Sides on the mural project. Over the course of 10 weeks, the teens met every Saturday. For the first five weeks, the group discussed painting techniques and learned each other's style. Then, it was time to make art.
"The most enjoyable parts were applying the history we learned from our studies and the professional artists who worked with us," Edwards continues.
While the mural's creation made an individual impact on each of the students, it also conjured the collective energy of the early Black Arts Movement, which flourished in the spirit of collaboration and respect.
"I try to create a safe space where students are protected and supported. We had students from all over the city who didn't know each other, who hadn't worked on murals before—in order for them to work together, they had to feel safe," Haman Cross III, the SAIC Continuing Studies instructor leading the class, says. "Regardless of whether we had students who were better painters or better illustrators, it was more important they worked together."
Learn more about Continuing Studies courses for youth, teens, and adults at saic.edu/cs.