Image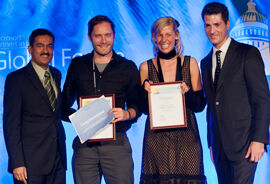 by Bridget Esangga
SAIC alum Margaret Noble (MFA 2007) won a 2011 Microsoft Global Forum Educator Award for her innovative work with students at High Tech High Media Arts School in San Diego. Noble and teaching partner David Stahnke were among 18 educators selected from 200,000 applicants across the globe and honored at a November award ceremony in Washington, DC. 
Noble and Stahnke took first place in the knowledge building and critical thinking category for Illuminated Mathematics, an interdisciplinary class project and exhibition. Students researched mathematical theories, produced digital art projects that developed their perspective on how real-world math applications impact their lives, and presented them in a curated digital art exhibition. Student projects ranged from a video about Leonardo Da Vinci and the mathematics of flight, to calculations of the reverberation produced by musical performances in various locations.
Teaching Math for the Real World
"We both noticed that students didn't understand why they study math," Noble said in a recent phone interview with SAIC. "They didn't see it in the world. It's a shame. Together we came up with this project to find the math hidden in this world using the lens of creativity in the arts."
Noble and Stahnke set high standards for their students. They had to choose an approved research topic; gather, process, and edit all media; participate in several in-class critiques; revise projects based on feedback; and prepare final, professional-level digital presentations for an exhibition open to the community.
The assignment required all photographic and video images to be sharp, in-focus, and well composed with proper lighting and color balance. Animation and graphic design had to look professional, with no pixilated or blurry footage. And projects were required to clearly communicate for a general audience the concepts behind the math topic.
"I've done projects with professional artists, and they have a clear vision," said Noble. "This was a project with teenagers who are just figuring themselves out and applying to college. It's always a challenge to get students excited to make their best work." 
Art as a Lens
Noble used her experience with her own artistic practice as a model; the students brought their projects from concept to product with classroom critiques, dialogues about how the work can be improved, and rounds of revisions. She also taught students about the model of a curated exhibition. "All of these are normal art processes that you experience at SAIC," she said.
After earning a BA in philosophy from the University of California in San Diego, Noble moved to Chicago to explore her lifelong passion for dance and music as a House DJ. She had been a dancer as a child, and one day came to the realization that the "ultimate way to be creative with dance is to design the sounds connected with dance." When she had gone as far as she could with her DJ practice, she enrolled in SAIC's Master of Fine Arts program, concentrating in Sound.
"It was huge to go through the graduate program in Sound," Noble said of her education. "It's a building block that got me here."
The diversity of thinking she encountered within her department, and the technical training she received have found applications in her own work and that of her students. 
After graduation, Noble moved to Vienna on an artist residency, where she had another formative experience that shaped the project for which she won her award. She visited an art exhibition about mathematics, but was disappointed to find that it dealt solely with geometry. "It was less exploratory than I was hoping for," she said. It helped lay the groundwork for an art project that would give her students the freedom to explore the concepts of mathematics from any conceivable angle.
Media Artist and Award-winning Educator
Noble returned to San Diego and began working at High Tech High Media Arts School, a charter school opened in 2000 by a coalition of San Diego business leaders and educators with a project-based curriculum. The school also has an interdisciplinary focus—requiring Noble and her class to collaborate with another class every semester to complete a project. 
Illuminated Mathematics is the result of such a partnership—it was conceived as part of the curriculum and entered into the award process later—but even after the project was completed, winning the award was no easy task. 
Noble and Stahnke first entered a written summary of their project and were invited to a national competition in Seattle. They prepared a booth with artifacts from Illuminated Mathematic, and presented their work to a panel of education experts. They were chosen as finalists for the international competition in Washington, DC, where they again presented the project to judges from around the world.
Now that she has her award, Noble plans to continue teaching and practicing art. She is currently preparing for an August 2012 exhibition at the Museum of Contemporary Art in San Diego funded by a Creative Catalyst fellowship. She will show a multichannel sound and paper doll installation pairing the 1980s with Victorianism. 
"Art is a lens to see things in multiple ways, and I think that's critical, she said. "Art and creativity are a call to action to do better in the world and to get people asking questions. It shocks me that they're cutting arts funding for schools. It applies to every other discipline. It could be the reason why kids are coming to school every day. And it makes the world a more beautiful place."