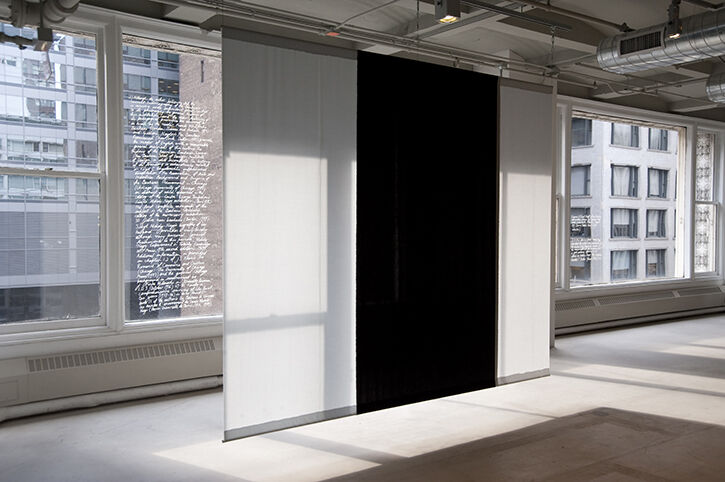 Citywide Collaboration: Living Modern Chicago
Living Modern Chicago (May 2009 – May 2010) was a yearlong collaboration of SAIC and the Mies van der Rohe Society at the Illinois Institute of Technology (IIT), in partnership with multiple cultural institutions in Chicago. Building on the legacy of László Moholy-Nagy and Ludwig Mies van der Rohe, who carried Bauhaus principles to Chicago, SAIC and the Mies van der Rohe Society organized this series of exhibitions and programs that considered the presence of the Modern today. Marking the Bauhaus at 90 years, it coincided with the Burnham Plan Centennial and the opening of the Art Institute of Chicago museum's Modern Wing. The exhibitions and events told the Chicago chapter in the international story of modernism at a time of the modern's reappraisal, looking at modernism's continuing ideals of innovative interdisciplinary work intended to make a better world, and the legacy of the modern as a way of teaching and learning in both the academic and public realms. Such programs included the "Bauhaus to Green Haus" series, which brought to the Chicago leading European architects and designers whose practices draw on the Bauhaus tradition and address contemporary issues of sustainability and environmental responsibility. Living Modern Chicago partners included: Chicago Architecture Foundation, Chicago Bauhaus and Beyond, Chicago Cultural Center, Consulate General of Italy in Chicago, Consulate General of the Kingdom of the Netherlands, Consulate General of Switzerland, Frank Lloyd Wright Preservation Trust, Gene Siskel Film Center, Goethe-Institut Chicago, Loyola University Art Museum, Museum of Contemporary Art, Chicago, and the Terra Foundation for American Art.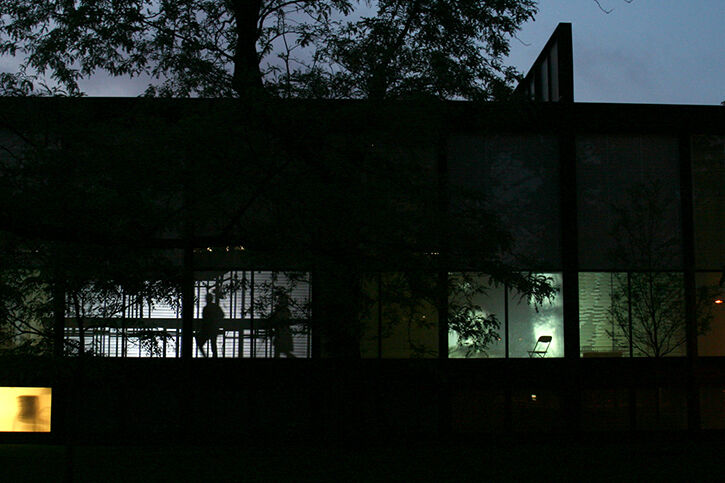 International Course: Bauhaus Labs
Organized with the Mies van der Rohe Society at IIT, this course (May – August 2009) revisited the intensive summer sessions initiated by visionary artist and educator László Moholy-Nagy, where he brought together a collective of teachers possessing broad, multidisciplinary views to work directly with students. Held in Mies's S.R. Crown Hall on IIT's campus, students from SAIC were joined by those from the Bauhaus-Universität, Weimar and Bezalel, Tel Aviv. During the first week, students completed perceptual investigations based on the "Visual Training" foundation course developed by German émigré Walther Pederhans. Over the course of the second and third weeks, faculty and students took up the Bauhaus mode of working in teams as they undertook five innovative projects, including the Lighting Crown Hall project, which turned Mies's iconic building into a site-specific art installation.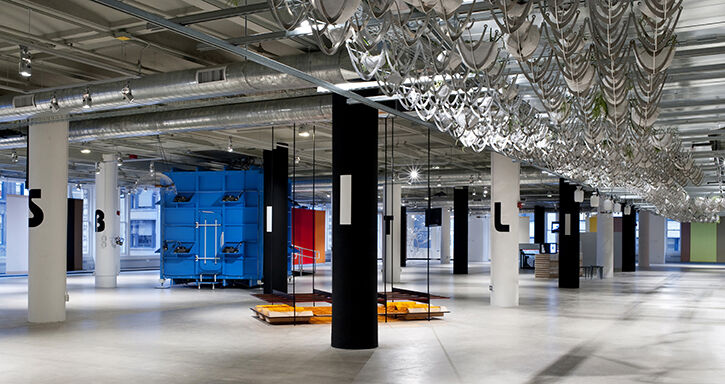 Exhibition: Learning Modern
The Learning Modern exhibition (September 2009 – January 2010) turned SAIC's Sullivan Galleries into a laboratory for exploration, with projects by artists, architects, and designers who continued the modern vision and the legacy of László Moholy-Nagy and Ludwig Mies van der Rohe. Moholy-Nagy and Mies carried Bauhaus principles from Germany to Chicago in the late 1930s, furthering the role of experiential education, and--working with students—sought to change our perception of the world, while changing the world itself. Learning Modern included work by local and internationally known artists and designers, including: BlackBox Studio research arm of SOM, Thom Faulders Berkeley, Angela Ferreira Lisbon, Portugal, Andrea Fraser, Charles Harrison, Walter Hood, Ken Isaacs, Narelle Jubelin, Carole Frances Lung, Iñigo Manglano-Ovalle, Mark-Mark-and Matt Collaboration, Helen-Maria Nugent and Jan Tichy, Liisa Roberts, Kay Rosen, Staffan Schmidt, Arturo Vittori, and Catherine Yass. Areas of the exhibition also changed throughout the duration of the show, as it invited further investigations and subsequently presented responses from students and visitors.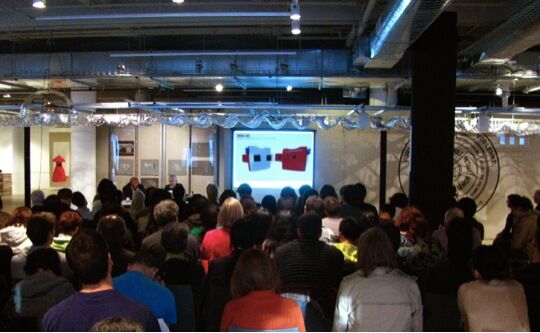 Related Programs at SAIC
Additional programs and projects were organized to further the dialogue surrounding the ideas and questions raised as part of Living Modern Chicago, and were presented in conjunction with the exhibition Learning Modern, including: "Modern Mondays," a series of gallery talks held every Monday afternoon that featured artists, architects, designers, curators, and scholars who discussed the artworks and salient themes presented in Learning Modern; the "Visiting Artist Program Modern Lectures," a series of presentations by artists and scholars that considered the presence of the modern today and its vital role in education in the mid-20th century; "Vision in Motion: Filmmaking at the Institute of Design, 1944-70," a film series, organized by SAIC faculty Amy Beste, which reflected on Moholy-Nagy's groundbreaking Institute of Design founded in 1937, now part of IIT, and its experimental art-film program, and was presented in collaboration with the Chicago History Museum and the Gene Siskel Film Center; among others.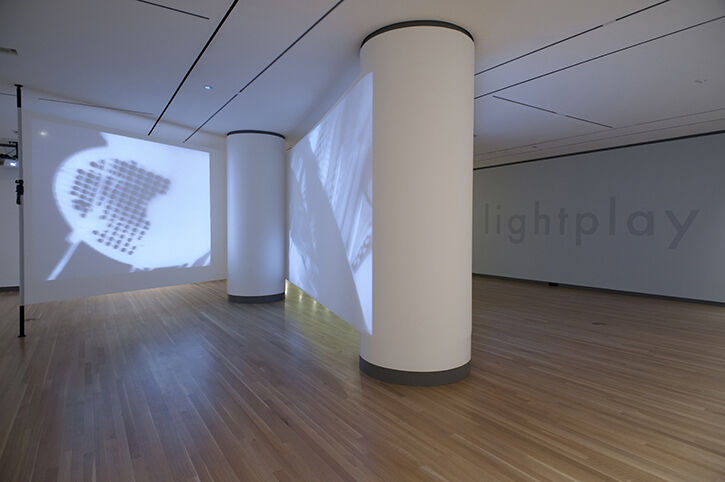 Exhibition: Moholy: An Education of the Senses
Through this exhibition (February – May 2010 at the Loyola University Museum of Art), the research process took focus on the work of artist László Moholy-Nagy, a pivotal figure in the dissemination of modernism in the US. Coming to Chicago among a wave of European artists and architect to teach and promote the pedagogy of the Bauhaus, Moholy-Nagy worked in many disciplines, but is chiefly know for his innovative approach to photography and film. Curated by Carol Ehlers, with exhibition design by artist Jan Tichy and designer Helen Maria Nugent, Moholy: An Education of the Senses celebrated Moholy-Nagy's vision, bringing to life his art and ideas, which were a revolutionary response to his time in the community that was his last home—Chicago. This show highlighted Moholy-Nagy's tools—art, design, modern technology, and most importantly, light—and set the stage for visitors to experience his transformative vision. The show was organized by SAIC in collaboration with the Loyola University Museum of Art and the Mies van der Rohe Society at IIT, and was sponsored in part by a grant from the Terra Foundation for American Art.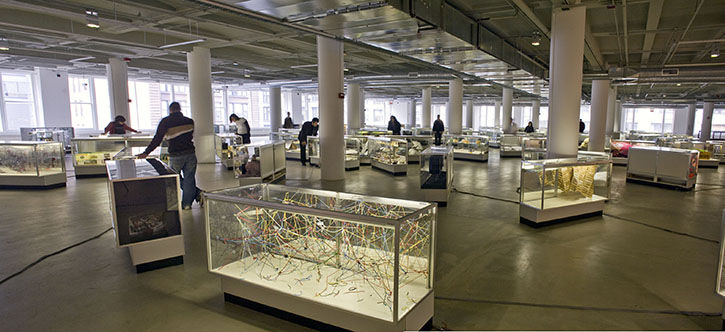 Exhibition: Department (Store)
Department (Store): A Collaboration of all Departments (Programs, Collections…) of the School of the Art Institute of Chicago with J. Morgan Puett (August – December 2008) was a research project of artist J. Morgan Puett, and an inaugural solo show for SAIC Sullivan Galleries located in the historic Carson Pirie Scott department store building designed by Louis Sullivan. The project was a response to the contemporary exhibitions in New York and Chicago on the history of Modernism. The seventh floor galleries became the site of a new kind department store, where Puett presented over 100 display cases, and developed a series of algorithms for their interaction based on the building, gallery visitors, Louis Sullivan, and the history of the department store. Puett presented a query, what is important, as an open invitation to the SAIC community, Chicago residents, and exhibition visitors, to present a response in one of the cases. Over a period of several months, the cases were moved at every lunar phase, and participants arranged the cases accordingly until the space was full of literal case studies, hundreds of individuals, things and manifestations of conflict and resolution, and the room in a state of flux. An archive of the Department (Store), its cases and interactions can be found on the exhibition's blog developed by J. Morgan Puett with alumni and graduate curatorial assistants.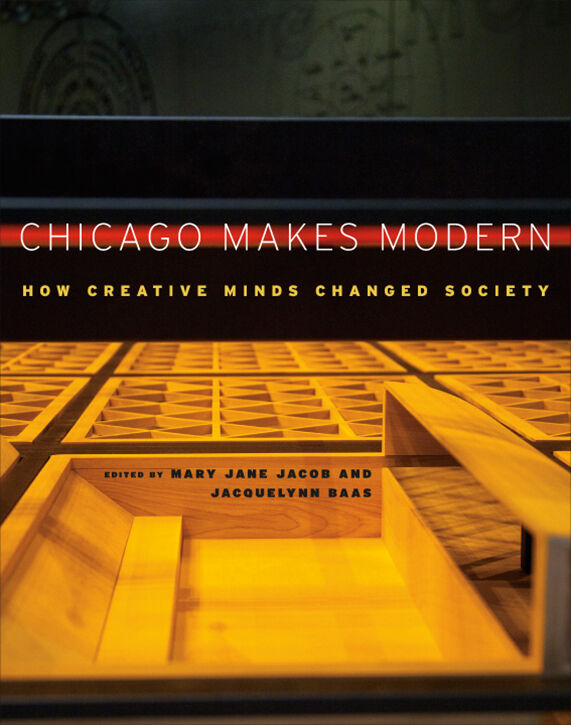 Publication: Chicago Makes Modern
As a result of this research through collaborations, exhibitions, and programs, the anthology Chicago Makes Modern: How Creative Minds Changed Society (2012) was created. The publication brought together scholarship from various stages of the process, research that both led to the development of the various aspects of the modern program, as well as new knowledge that was cultivated in response. With contributions from an acclaimed roster of contemporary artists, critics, and scholars, Chicago Makes Modern remapped twentieth-century modernism from our new-century perspective by asking an imperative question: How did the modern mind—deeply reflective, yet simultaneously directed—help to dramatically alter our perspectives on the world and make it new?