Image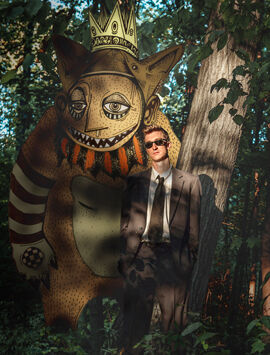 by Lucia Anaya (MA 2014) 
The music video to Colin Grimm's (MFA 2014) recent track, "LSD," has—as its title suggests—psychedelic swirls of vibrating color. Giant detached eyeballs float along pulsating text, as Grimm, who goes by the pseudonym ProbCause, swiftly raps over the track's fitful beat.
A rapper and visual artist, Grimm incorporates his signature sound and visual kaleidoscope into all aspects of his music—from writing lyrics to creating animations for his music videos. This style has pushed the Evanston-born rapper to the forefront of the Chicago hip-hop scene, where he's worked with notable emcees such as Chance the Rapper, Action Bronson, and Psalm One.
Growing up, Grimm was entranced by the hip-hop on constant rotation in his brother's studio. Originally a graffiti artist, Grimm switched roles to become an emcee. "I'm the youngest child, and I like people to know my presence," he jokes. "So, I decided I wanted to be in the forefront and rap."
Though he switched focus, Grimm still maintains a visual arts practice, incorporating his work into the cover art of his mixtapes. His latest, The Recipe Volume 2, has garnered local and national attention—both for its music and its visuals. Complex magazine featured The Recipe on its website, calling some of his tracks, "certified fresh," while XXL magazine says, "Chicago continues to show the talent pool is growing with ProbCause."
The Recipe Volume 2's success is due to Grimm's production approach, which he describes as a curatorial one. "I looked at it as a gallery, and all the songs were paintings for the gallery," he says. As curator, Grimm brings together different styles and backgrounds—through lyrics, beats, and collaborations with other featured artists. He says, "I felt like I could bridge all these different gaps—just different sounds and styles and backgrounds and be kind of a meeting in between." The result is a melting pot of ingredients, thus the name The Recipe.
Balancing his music career with academics has not been easy. In his last year as a graduate student at SAIC, Grimm has to schedule all of his classes on one single weekday to free up the rest of the week for his national tour. "I'll do two-week runs and then come back for a few days, and go back out," he explains. "When I'm on tour, I'm in the car or airplane reading; and when I'm in school, I'm in the animation studio or painting studio."
His hard work has paid off—Grimm will headline his first Chicago show at Lincoln Hall on November 14. "It's so much fun," he says. "How many people get to go to grad school at the place they always wanted to go to school at and tour with artists they always wanted to tour with? It's a blessing."
Check out ProbCause on November 13 at Northwestern University for a conversation with music critics Jim Derogatis and Greg Kot, from the WBEZ radio show Sound Opinions and at Lincoln Hall on November 14 for his first headlining show in Chicago.
Listen to a composition [MP3]