Q&A with Apichatpong Weerasethakul (MFA 1998, HON 2011)
Distinguished Alumni Lecturer, Visiting Artists Program
Image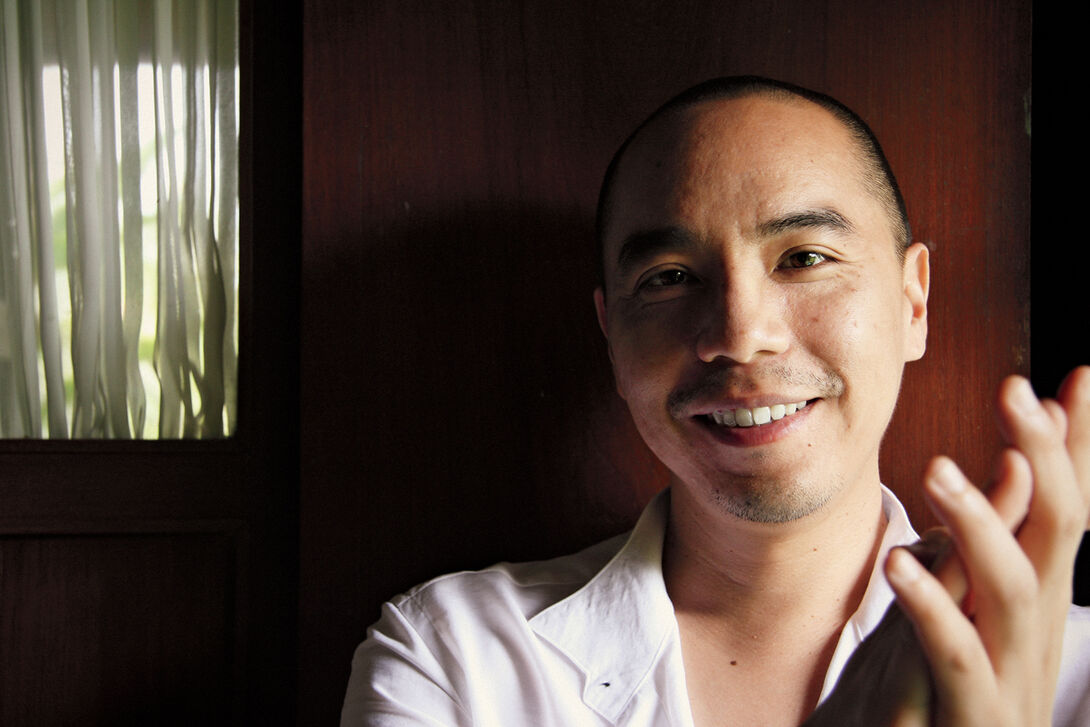 Apichatpong Weerasethakul's (MFA 1998, HON 2011) work reveals stories often excluded in history in and out of Thailand: voices of the poor and the ill, marginalized beings, and those silenced and censored for personal and political reasons. His films and art projects have won him international acclaim, including the Palme d'Or Prize at the 63rd Cannes Film Festival in 2010 for his feature film Uncle Boonmee Who Can Recall His Past Lives. On September 16, he returns to SAIC for the US premiere of his exhibition, The Serenity of Madness.
What was it like to study at SAIC in the late '90s?
I focused on film, and the School offered two formats: super 8 and 16 mm. It was the first time I had touched celluloid. To me its simplicity was magic. It's only light and chemical.
Which professors made an impact on you as a student?
My first teacher was Zack Stiglicz, who arrived to class in shorts and a red bandana. Where I came from was conservative and still is. The way the teachers dressed was an introduction to something related to freedom. Then there was Shellie Fleming, who reminded me there was no right or wrong—who remains a guiding spirit. Another person was Dan Eisenberg, whom I respect deeply. In retrospect, I had learned a lot about experimental cinema, but what I got most out of that time was the teachers' attitudes and worldviews.
How does your art speak to the larger concerns of society?
Any art manifests the concerns of life. We need to get ourselves used to many waves and ideologies. It is important to be aware of the [global] and local narratives. Even though you cannot do much about certain issues, at least you know that you are lied to, and that you won't do the same to others, for example. Sometimes just simply being aware can be a powerful tool.
What role do you see art playing in talking about social and political issues?
I can only speak to my wishes for where I live. Art fosters more platforms for different voices. Political debates have to be part of everyday life, like art. We grow up in a media culture. We should use it to reflect more freedom, less obedience.
What advice do you have for current students?
Art questions. Art is a gesture of dream and intellect. Therefore, you need to synchronize yourself with it, make it as layer-less as much as possible. Too much intellectualization can cloud the child in you.
Apichatpong Weerasethakul's exhibition The Serenity of Madness is on view from September 16 to December 8 at the Sullivan Galleries, 33 South State Street, 7th floor. On Tuesday, September 19, SAIC's Visiting Artists Program presents Weerasethakul as part of its Distinguished Alumni Lecture Series. Visit saic.edu to learn more.
This exhibition is produced by Independent Curators International (ICI) with SAIC's Sullivan Galleries. curatorsintl.org/exhibitions