Making Art on the High Plains
Students experience the culture and ecosystems of the American West.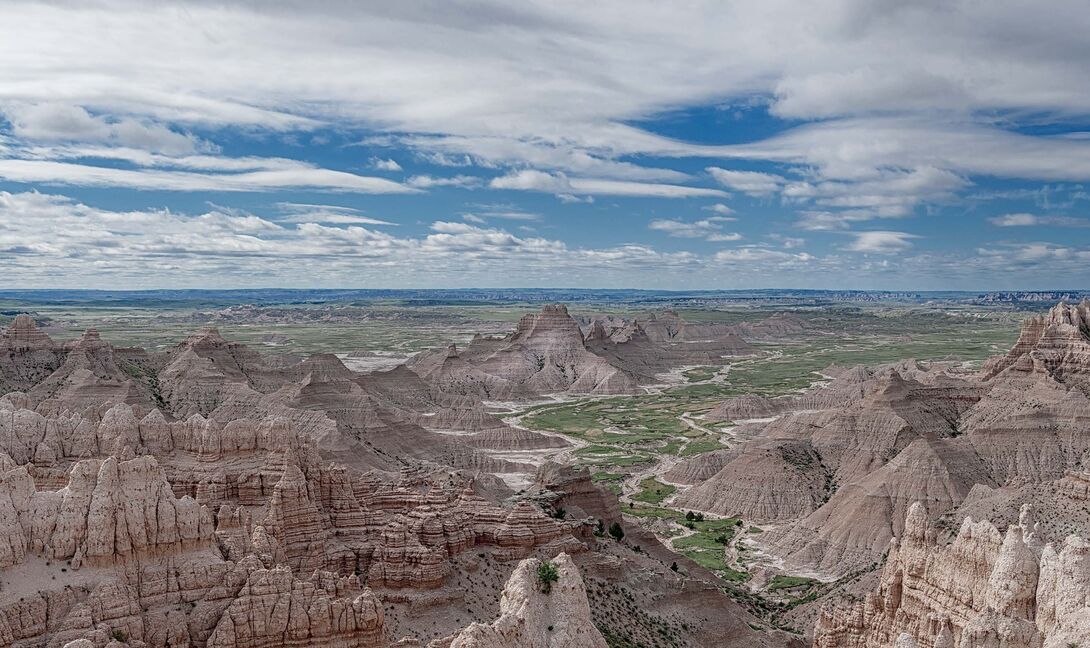 by Kaycie Surrell (MFA 2019)
On one of the last days of the summer 2018 American High Plains: Corps of Discovery study trip led by Associate Professor Beth Wright and Professor William Harper, students awoke to the sight of more than 400 horseback riders outside their cabins. That morning, they were camping in northwestern Nebraska, near the Pine Ridge Reservation, where the Oglala Lakota Sioux culture intersects with nonnative American culture.
"We were all surprised to wake up in our cabins at Fort Robinson and see hundreds of people celebrating a trek called the Crazy Horse Memorial Ride," said student Sam Smith. "We ate the food we had cooked for breakfast and sat outside watching all the beautiful horses ride off in groups to start their journey."
Wright and Harper guided students through the American High Plains, a subregion of the Great Plains, known for its rich geological history and cultural diversity. "There's a lot of exposure to the ancient history of our country right in front of you," says Harper. He led students in documenting their trip for studio credit while Wright offered guidance for students seeking science credit.
Students who chose studio credit used devices like aerial drones connected to goggles that showed the drones' view as they flew overhead. Students simply tapped their goggles to capture stunning images of the colorful and layered mountain ranges from above. The high plains are also home to short-grass prairies—an ecosystem that spans most of the plains—and animals like the American bison, pronghorn antelope, and many species of birds, like the ruffed grouse and western tanager. Students spent time sketching the plants and animals.
"Watching wildlife running around, seeing the landscapes without much interference from humans, and experiencing the outdoors was a big part of the study," says Harper.
Prior to the trip, most of the students had little to no experience with camping. They learned how to set up a tent and cook meals with help from one another. From their campsites they experienced storms rolling across the big, open sky followed by giant rainbows, and for one student in particular, her first moonrise. 
In addition to a deeper experience of nature, the students were able to experiment with new modes of artmaking. "I was really interested in light and how it is affected by nature," said Smith. "It was certainly a good way to start learning more about [photography and video production] and seeing what type of work I could make."
Learn more about the High Plains study trip here.