Image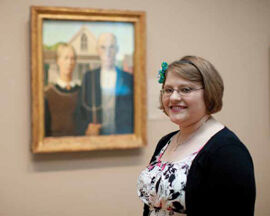 Gallery 289D—Find this playful sculpture courtesy of an SAIC alum in the contemporary company of a striped Johns and a Rauschenberg combine. 
In the spring of 2010, armed with a set of clues and a museum map, thirty-five SAIC students combed the collections of the Art Institute in search of works by SAIC alumni. The visual scavenger hunt, titled Looking for Ourselves, brought students face-to-face with their SAIC forerunners, and as they zigzagged through the museum they encountered a myriad of works by former students, from Georgia O'Keeffe's Sky Above Clouds IV to John Chamberlain's Toy. What they realized was that, at one point, these accomplished artists were just like them—working in the same studios, taking the same shortcuts to class, maybe even learning from the same professors. 
SAIC alum Cheri Fakes (MA 2011) was one of the brains behind the treasure hunt. She explains that the idea stemmed from research for an Art Education course that looked into the relationship between SAIC students and the museum.
"The museum is touted as an amazing resource for students—and it definitely is," she says. "But our research showed that the student body as a whole has a difficult time identifying with the works in the museum's collection." 
Part of that student-museum disconnect derives from not knowing the extent to which SAIC alumni are represented in the museum's collection. As a step toward bolstering that connection, Fakes and two other SAIC students founded the Student Museum Coalition. The treasure hunt was the student group's first endeavor; documenting every alumni work in the museum was its next logical move. Headed by Fakes in the fall of 2010, the Alumni Special Project consisted of tracking more than 23,000 SAIC alumni and cross-referencing each name with the artists represented in the museum's permanent collection. The result? The identification of 1,873 works by 334 SAIC alumni—all of which are currently being tagged and labeled for the Art Institute's online database.
"This is something all SAIC students should know…they can look at these alumni in the museum and then see themselves in those who came before them," Fakes says.
Visiting the Art Institute museum? Search the online database for SAIC alumni at artic.edu/aic. Or print out your own SAIC alumni treasure hunt at saic.edu/treasurehunt.