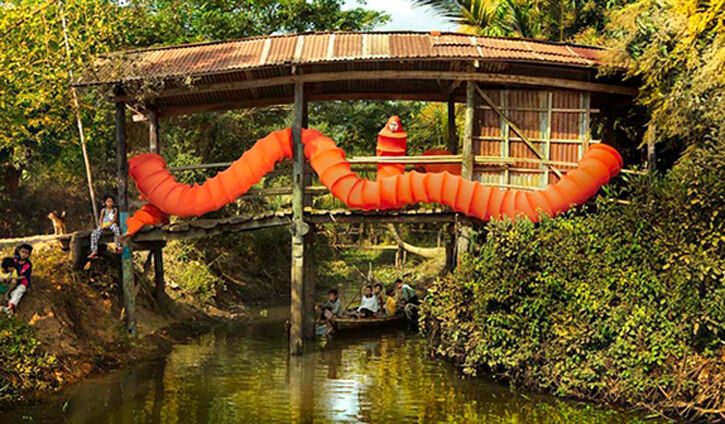 by Jac Kuntz (MA 2016)
The Buddhist Bug project is as peculiar as it is beautifully arresting. Imagine the reaction of a Cambodian rice farmer at the sight of this bright, saffron-colored creature, its accordion form spanning 40 meters, crawling along a dirt road in the countryside. A human face peers out from the head, silent and serene. Trailing behind it, a pair of feet.
It is a bizarre personification of artist Anida Yoeu Ali's (MFA 2010) conflicted identity. On the one hand: her heritage and belief as a Khmer Muslim woman; and, on the other: the context in which she finds herself: a homeland in which 96.9 percent of the population aligns itself with the Buddhist doctrine. Ever present are the polarized notions of belonging and displacement in her work. The artist likens the bug's long, accordion form to a bridge or a tunnel, connecting two places, two identities.
The project includes the initial performance of the traveling creature, the photos and videos that document it, and a re-performance in the gallery, all of which highly encourage audience participation. While Ali has received international attention for her performance work, her photo documentation holds equal weight. The bug's gaze confronts the viewer, staring right into, if not through, the camera in these ordinary environments and banal moments. Strangers and passersby cast a curious glance her way, but others carry about their tasks, quite ordinarily and unperturbed.
This notion of diasporic identity has been an overarching theme of Ali's work even prior to her graduate work at SAIC. Ali herself is a Cambodian refugee, who fled to America with her family in 1979. 2011 was a pivotal year for her; after completing her MFA, and after 30 years residing in the United States, Ali returned "home" to Cambodia with a Fulbright scholarship in performance art. During this year, she helped to found the media lab Studio Revolt with filmmaker Masahiro Sugano. Studio Revolt, based in the Cambodian capital of Phnom Penh, where Ali now resides, is both collaborative and interdisciplinary. It promotes projects of marginalized narratives, creative storytelling through which collaboration strives to dislodge the confining stigmas of Cambodian identity that portray a nation of "trauma and temples," poverty and piety.
With Studio Revolt, Ali recently embarked on an international tour titled, Generation Return: Art + Justice featuring her work with them and discussing her own solo body of works including The Buddhist Bug project. Exhibitions of The Buddhist Bug were hosted in Japan, Singapore, Cambodia, Korea, and the UK in 2014 alone.
This project has attracted a significant amount of attention. Ali is a finalist for this year's Hong Kong Sovereign Art Prize, was selected for the 2015 Asia Pacific Triennale, and has accepted a position as the McGill Distinguished Lecture and Visiting Assistant Professor of International Studies at Trinity College in Connecticut for the upcoming academic year. The Buddhist Bug was even recently featured on the BBC. This is not the first time her work has received attention from national news broadcasters, though. NPR brought in the artist in 2010, for its "Islamic Reform" series to talk about her installation 1700% Project that was vandalized in the Sullivan Galleries exhibition during the MFA Thesis exhibition. The graffiti attack exposed the exact anti-Islamic sentiment the project strived to speak out against. Faithful to her activism, Ali used the defacement to fuel critical dialogue on racial profiling, violence, and contemporary portrayal of the Middle Eastern religions in a post-9/11 era.
Anida Yoeu Ali's work speaks to religious identity, the plight of displacement, and the growing political conflict that ensues. As her most recent project, The Buddhist Bug is a symbolic fusion of these competing and shifting identities, representative not only of the Cambodian population, but the artist herself. In a contemporary era of globalization and artistic hybridity, Ali continues to use performance in public contexts, to expose chasms of identity and conflict that are awaiting the formation of a bridge.