Image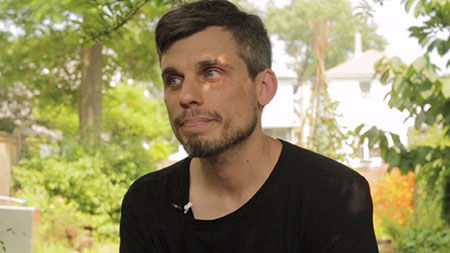 by Lucia Anaya (MA 2014)
Upon moving to Chicago from rural Illinois, Kevin Kaempf, an adjunct assistant professor in SAIC's Sculpture department, became aware of the congestion and lack of space that came from living in an urban environment. He saw a need for green space and a need to address wastefulness. So he began spreading the word to his friends and friends of friends: if they left their kitchen and yard waste on their front porch, he would collect it and use it to make compost. 
Riding his bicycle around Chicago's Logan Square neighborhood, he stopped at friend's homes, fetching buckets full of organic waste. He repeated the routine every Saturday for 10 months, until he had enough organic material to package into compost tea packs. "The idea with it was to imagine a small-scale program, something the city wasn't doing, as a way to imagine possibilities at the neighborhood level that citizens might be able to take up," says Kaempf. The project became known as Soil Starter: Community Composting Network. It was one of the projects established by People Powered, an organization Kaempf founded to integrate art, environmentalism, and communities. 
Now, with years of similar projects under his belt, Kaempf is gearing up for his most recent endeavor: co-directing a three-day symposium that will bring together artists, chefs, and growers around the subject he's grown quite familiar with: urban agriculture. From October 11–13, Rooting: Regional Networks, Global Concerns will feature workshops and lectures by local, regional, and international presenters. The symposium, held at various venues across Chicago, will address a series of environmental concerns including soil health, water conservation, advocacy, food production and distribution, and building sustainable communities. Kaempf says, "While some of the issues seem local, at times they're also quite global and so we're trying to look at similar concerns and then similar solutions people have created at the grassroots level." 

One of the presenters of the symposium is Akshay Raj Singh Rathore, an artist based in New Delhi who will share his experience working with growers and chefs in India. Co-director Deborah Boardman, an adjunct associate professor in SAIC's Painting and Drawing and Arts Administration and Policy departments, met Rathore during a residency program about a year ago and soon began conceptualizing an event that would address and connect growers, artists, and chefs across continents. Grouping these sets of individuals into teams, Rooting: Regional Networks, Global Concerns will promote collaboration by having each team prepare a meal for symposium participants. This, Kaempf says, "will help formalize conversations around shared concerns." 

Extending the conversation even further, Rooting: Regional Networks, Global Concerns will include an exhibition hosted at SAIC's Sullivan Galleries. The exhibition will run through October 12 and will include installations, interviews, and artwork from local artists as well as SAIC students and alumni. Francesca Dana (BFA 2015) is curating one of the featured projects—a series of works and resources by SAIC's Office of Sustainability, a student-run space and network organized to meet the needs of the growing population of artists working for social and environmental justice. A resource library, interactive green infrastructure maps, and a "hypothetical nonhierarchical administrative sustainability structure," will all be part of the exhibition. 

Dana explains, "We want to work with the school on multiple levels to catalyze and support conversations about the social responsibility of artists as cultural producers and teach students of their power on, off, and as a campus, while highlighting the incredible and world-changing work we're seeing from our peers, faculty, administrators, and friends in Chicago every day." In addition to creating and utilizing the space within the exhibition, the Office of Sustainability will also organize a series of workshops, discussions, screenings, and lectures addressing the work in the exhibition that spotlights student response to the extreme environmental, social, and economic changes facing communities worldwide.

The Rooting symposium and exhibition will create a platform for artists, growers, and chefs to promote sustainability among a variety of disciplines. And just the way Kaempf's Soil Starter imagined a small-scale program to discuss possibilities of neighborhood-level initiatives, so does Rooting by challenging participants to imagine grassroots solutions to solve environmental and sustainability issues.

Learn more at rootingchicago.org.