GFRY Studio: 2000 Watt Living (2008-2009)
Image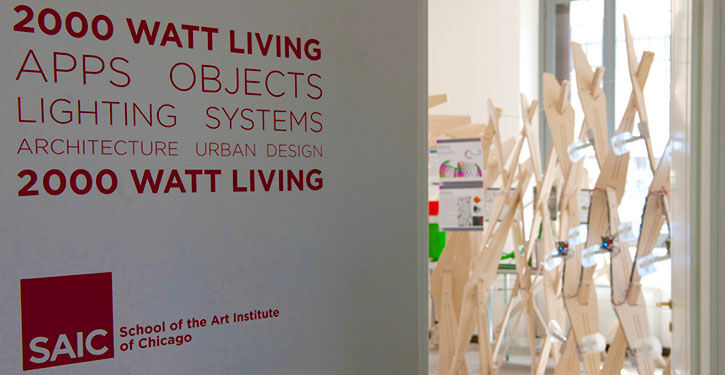 The United States has given the world notice that it can re-invent itself in the face of unprecedented challenges. Record un-employment and the collapse of its Industrial and financial base, compounded by its dependence on oil, have pushed the United States and its citizen designers to search for new solutions. Their desire to create and harvest new sources of locally generated energy in radically re-designed cities, and their resolve to personally spend less energy, have given shape to the projects of the 2008-2009 GFRY studio at the School of the Art Institute of Chicago, with generous funding from the Motorola Foundation.
Projects in the GFRY Design Studio attempt to develop the desire for more sustainable behavior, imagining an inspiring rhetoric through objects for new ways of living. New behaviors arrange themselves around these re-imagined lifestyles. The "2000 Watt Living" initiative imagines attractive new ways of using one sixth of the energy used by the average American. Aiming toward this goal, GFRY students have designed objects and urban systems that either reduce our energy consumption or generate their own electricity.
Image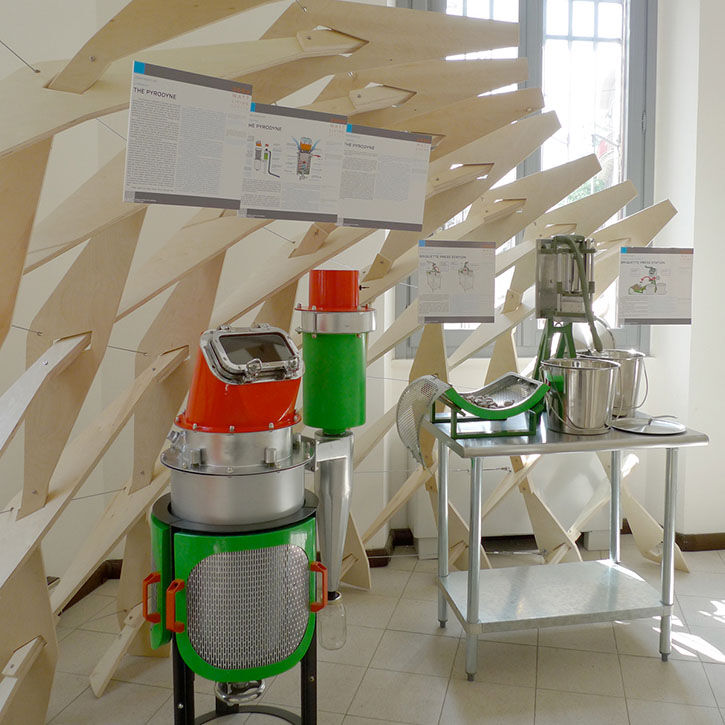 "Biomass Energy Appliances" by John Kinstler: With this suite of appliances, ordinary household garbage can be made into fuel to cook a meal, or generate electricity. The collection includes a "briquette press station," and a "pyrolysis station," which can produce enough syn-gas to run an electrical generator. For cooking, fuel briquettes would be dried on the pyrolysis station's integral drying racks, and be burned in a grill like standard charcoal. This prototype collection is optimized to use household paper and coffee waste, but it can also be tuned to accommodate other waste products. 
Image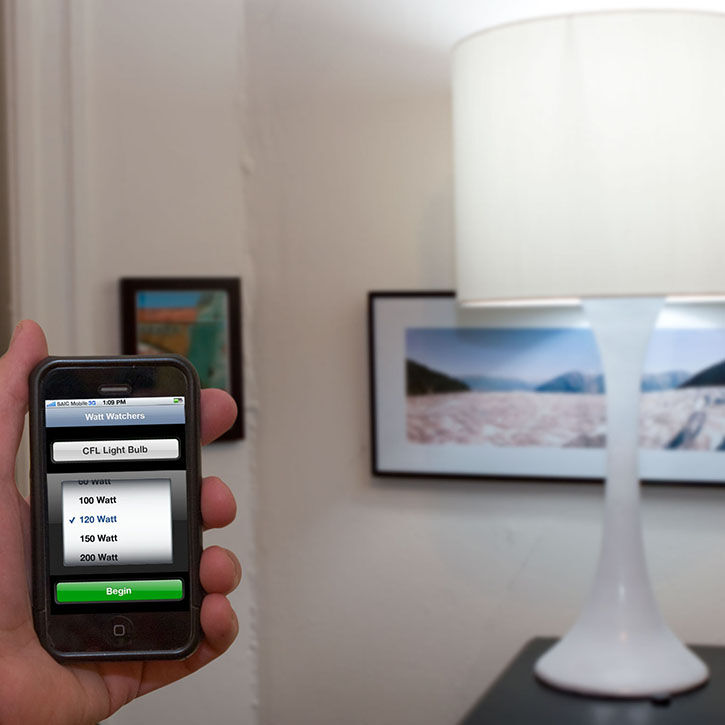 "iPhone Watt Watcher" by Daniel Sommer:  This iPhone App provides clearly measured choices for reducing your domestic electricity use at every turn. It makes learning about your good and bad choices easy and effective, giving you the power to change your behavior as quickly as you want to. Information from Underwriters Laboratories and Energy Star databases are used to personalize your appliance profile. After one day's training, presented with sensible choices you may  have  never considered, you can easily reduce your domestic energy expense by $10.00 per week. with enough iPhone Apps like this, your iPhone could quickly pay for itself.
Image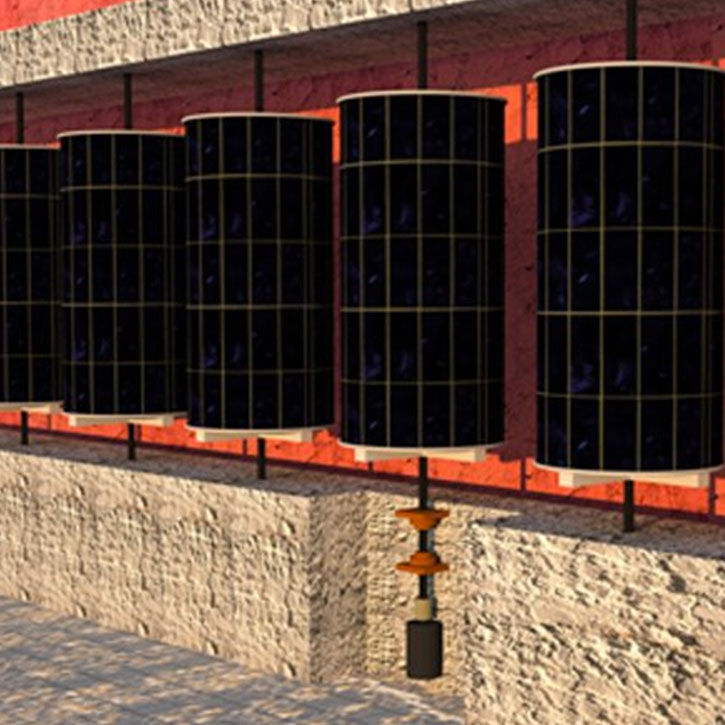 "Prayer Wheel Generator" by Taikkun Yang Li:  Tourists traditionally spin a multitude of prayer wheels in Tibet. Now that positive energy can be harvested along Tibetan streets, turned into electricity, and used to provide evening lighting along those streets and inside the adjacent homes. The prayer wheel generator is built on a base of used bicycle parts and a discarded surplus fan motor, making it ideal for use in the developing world. This invention supplements an inadequate and unreliable electrical grid with the power of electricity generated by tourism. 
Image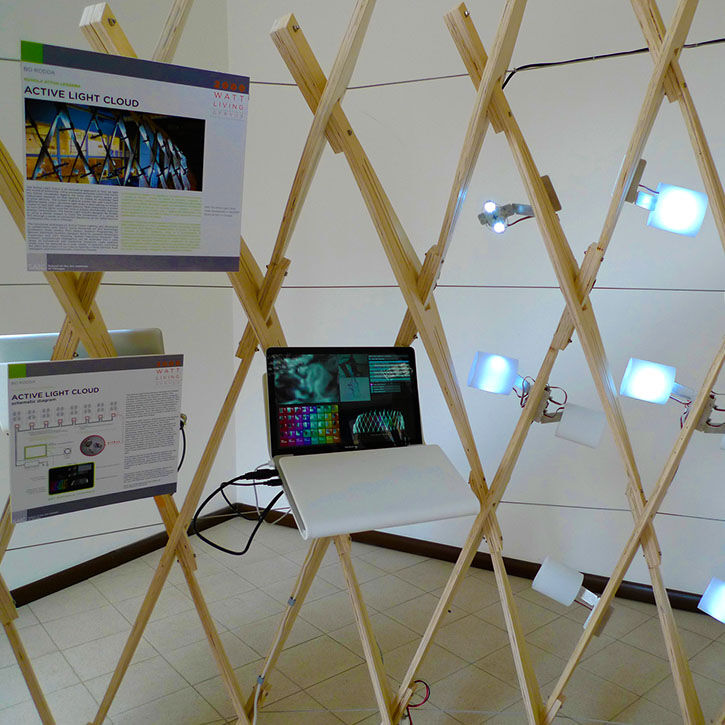 "Active Cloud Lighting" by Bo Rodda: This lighting system responds to your particular gestures, to provide task lighting,ambient lighting, and predictive lighting, using advanced infra-red video "blob-tracking" to follow your body while ignoring your background. You can throw the lighting down a dark hallway with a gesture before you start walking, bring the lighting clustering toward you with a gesture when you need to focus on some work, and send the lighting away into soft ambience when you gesture in that way.
Image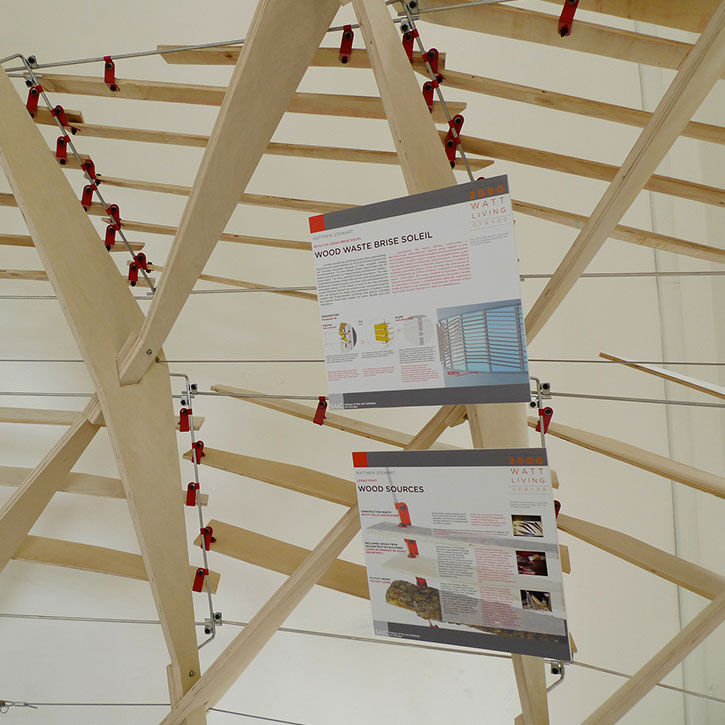 "Recycled Bris-Soleil" by Matt Stewart: The building construction industry leaves behind cut off and trimmed pieces that are normally discarded because of their unusable shapes and dimensions. This new designsystem takes those cast off pieces and uses them to make precisely oriented sun shades - bris-soleils - for every possible facade orientation. This new sustainable business model reduces the costs associated with construction waste by 8% and air conditioning by 20%. In today's climate of extreme and fluctuating energy costs, tis new business model makes a real difference.
Image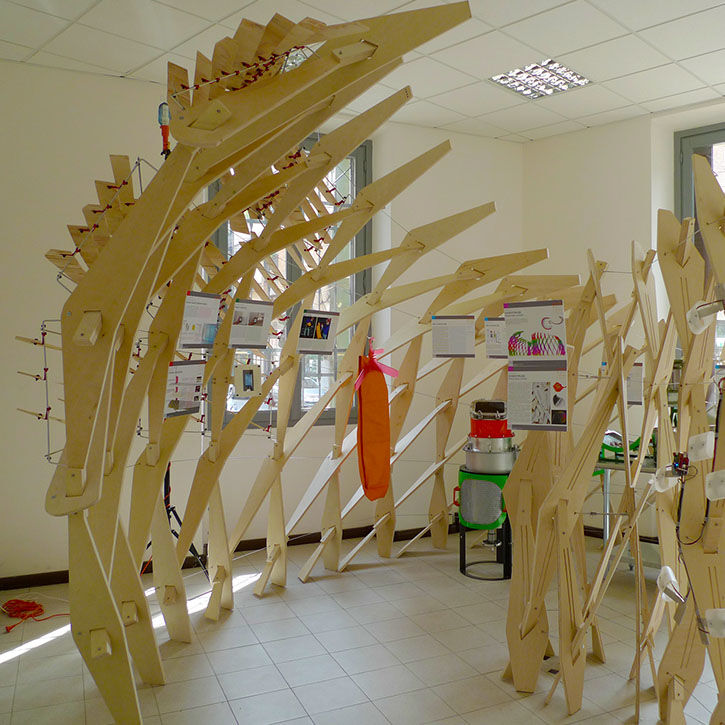 "Digeotrus" by Cara Ellis: Today's ultra-complex, organic, and curvy buildings require a more difficult yet highly rationalized geometric construction system. This new software toolkit can resolve any desired curvilinear form into any required construction panel size. Where Buckminster Fuller's earlier systems required similar equilateral triangles normally formed into regular spheres, this new system allows more fluid and organic shapes with a refined structural logic. The curves and swerves of the SAIC "2000 Watt Living" exhibition use Cara Ellis's new software protocols.
Image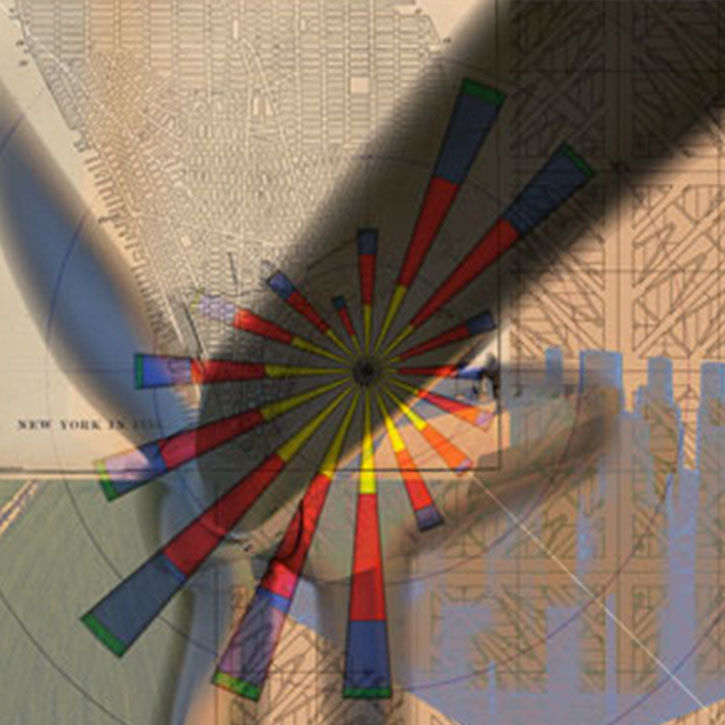 "Urban Wind Harvesting" by Thomas Meeker: Today's tall, dense cities create extreme and unpredictably swirling wind conditions, which limit the productive use of urban wind for local power generation.Thomas Meeker's project shows how to modify the shape of a city to provide more predictable  seasonable breezes, which can also be used to scour out polluted urban air, and power smaller distributed urban wind turbines. From Chicago, "the windy city," comes a proposal to use that wind more productively while reducing dependence on oil and gas deliveries.
Image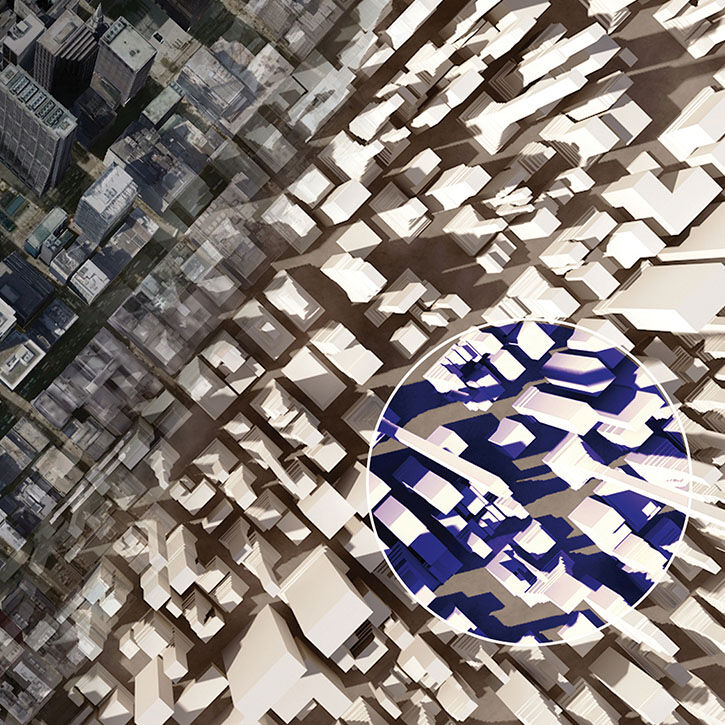 "Urban Sun and Permaculture" by Tuan Nguyen and Marcus Owens: shows how to adjust a city's zoning envelope to maximize the area that receives solar energy, which can be used for photo-voltaics to generate local energy for the city. Tuan has written a simple computer program that can scan any city form at any location on the earth, and carve away the parts that send out or receive excessive shadows, revealing the most energy-efficient form for that city to have when gathering energy from the sun falling on it. Amazingly, what results is not the flat, low density city of the Southwest, but a city that resembles Manhattan near Central Park, with thin towers on wider podiums. Marcus Ownes has further optimized this approach, by showing how to capture rain run off for urban permaculture - for both food and bio-mass energy production.
Image
"Deep Space Lighting" by Junghwan Chei: Many large 20th century urban buildings have deep plans that preclude the easy interior distribution of natural lighting from the perimeter. This new ceiling system is made of a continuous flexible and reflective membrane, and it can be stretched and reconfigured to precisely reflect both natural light and low power LED lighting in ambient and task lighting configurations.
Faculty: Anders Nereim and Carl Ray Miller
Students: John Kinstler, Daniel Sommer, Taikkun Yang Li, Bo Rodda, Matt Stewart, Cara Ellis, Thomas Meeker, Tuan Nguyen, Marcus Owens, and Junghwan Chei.
About GFRY:
In 2005, Motorola established the GFRY Design Studio at the School of the Art Institute of Chicago in memory of Chief Marketing Officer Geoffrey Frost to provide students with educational opportunities through innovative and collaborative projects in design and technology. Abbreviating Geoffrey's name to four letters reflects the strategy devised by Frost for Motorola's iconic devices such as the RAZR, PEBL, and SLVR.
GFRY is a collaborative, interdisciplinary design and fabrication studio that actively cooperates with industry to explore how new technologies, social forms, and materials can be integrated to produce innovative objects, media, environments, and experiences to meet the challenges of an increasingly complex world. The studio produces work for targeted public opportunities such as art, design, and technology expositions; design competitions; and topical research publications.
Each year, members of the SAIC faculty choose one noteworthy proposal on which to base the innovative efforts of the GFRY Studio. Participating in this prestigious atelier offers students a highly visible venue for the exhibition of work and the chance to be involved in the development of public work from concept through fabrication, installation, promotion, and review. Students are admitted to this special, two-semester course via an application reviewed by the faculty. The studio is part of the Department of Architecture, Interior Architecture, and Designed Objects, and encourages original, hands-on production of architecture and design projects using technology.