Image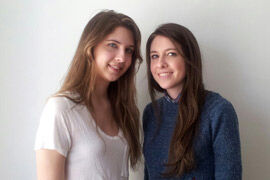 by Anjulie Rao (MA 2014)
Fashion 2013 is almost upon us. As we speak, SAIC fashion students are working their hearts out, creating looks that will surely define the next generation of fashion. On May 3, 2013, these cutting-edge looks will be exhibited during three professional runway shows in Millennium Park, culminating in THE WALK, SAIC's fashion show gala benefit that showcases SAIC student designs to fashion and art lovers from across the city.

Two SAIC alumni, Liz Patelski (BFA 2011) and Lisa Panza (BFA 2011) know the ins and outs of the glitz, glamor—and enormously hard work—that goes in to creating a series of successful garments for SAIC's annual fashion show.

Both women exhibited their final works at THE WALK 2011 under the bright lights of Millennium Park. They both describe the evening as being "intense and special," but for Patelski, the night was certainly a moment to remember. She was the winner of the coveted and prestigious Eunice W. Johnson Fellowship, a $25,000 award given to one student each year.

Though the two girls had worked together and formed a bond during their time at SAIC, it was not until after the show, and after receiving the award, that the two decided to collaborate on a new line of clothing which they named Remi Canarie (Remi, a character of Jack Kerouac's invention; Canarie, taken from Canaryville, Chicago's oldest neighborhood).

Remi Canarie features garments that are inspired from Chicago's history of union labor and a culture of Americana that follows. "We, like most artists, are inspired by whatever is in our moment—the immediate world around us. We started by looking at old meat-packing photos, which transformed into uniforms, in general," says Panza. "We wanted to create a voice that was representative of Chicago, as there are no [fashion] designers that are aesthetically highlighting what Chicago is."

The Johnson Fellowship allowed them the funds to begin this innovative, Chicago-centric line of menswear-inspired clothing. "Knowing I had financial stability, that's definitely what pushed me to start my own line. It's what I wanted to do, and it gave me the ability to do it… Ultimately, the money enabled us to start on a level that we wanted to start on," says Patelski. 

Their hard work at SAIC not only gained them the funds to begin their own line, but it also gave them the opportunity to hone their skills, develop a strong voice, and think creatively about all aspects of their work—including owning a business.

Panza states, "We don't know anything about owning a business, but the skills we learned at SAIC showed us how to think outside of the box, not to be close-minded." "That's the heart and soul of a business." Adds Patelski: "It is important to find out what you're trying to accomplish…SAIC gave us those tools."

And, with Fashion 2013 just a month away, the two women reflect fondly on their experience, and offer some wisdom to students who are gearing up for the event.

Patelski notes, nostalgically, "THE WALK is such a special evening, but you're so stressed and exhausted…Take the moment and enjoy the experience, because it's not going to happen again. It's a big deal to show your work in that way. Enjoy your night." 

Fashion 2013 is guaranteed to be an evening not to be missed. For the senior classes, who will be presenting four of their signature looks, it will be the pinnacle experience of their undergraduate careers. Panza offers some heartfelt advice to graduating students: "After graduation, pause for a minute. Think about what you want to do before you pick up and move to New York. Or, pick up and move to New York because that is what you want to do, not because it's what you feel like you shouldbe doing. Do what is based on your own passion." 
For more information or to buy tickets to The WALK 2013 or one of SAIC's Fashion 2013 shows, please visit www.saicfashion.org