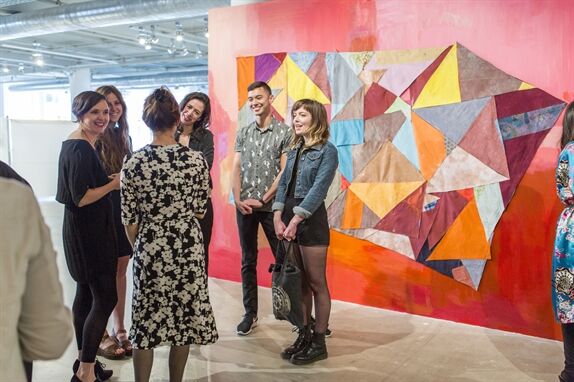 The 2014 Spring Undergraduate Exhibition and MFA Show continued a long tradition of graduating undergraduate and graduate students presenting work informed by their time at the school in a final, public exhibition.
Spring Undergraduate Exhibition
The Spring Undergraduate Exhibition, which ran from March 15 through April 2, drew more than 11,800 visitors to the space housing the works of 285 students completing their undergraduate degrees. On opening night, crowds eagerly waited in long lines to enter the show. While the range of work on display reflected a diversity of practices and talents within the student body, all were linked by hard work, dedication, and collaborative dialogue between artists and curators.
MFA Show
The 2014 MFA Show was one of the country's largest graduate thesis exhibitions. This year, 109 graduating MFA students worked with a team of three distinguished guest curators and 11 graduate curatorial assistants over the course of four months to present new and innovative work to more than 15,800 attendees. The curators and curatorial assistants visited the artists in their studios and encouraged group dialogues to shape a collaborative effort in imagining the exhibition, which was on display from April 26 to May 14. 

This year's guest curators were Naomi Beckwith, the Marilyn and Larry Fields Curator at the Museum of Contemporary, Chicago; Sarah Green, curator and host of the PBS series The Art Assignment; and Cortney Lederer (MA 2009), Director of Exhibitions and Community Initiatives at the Chicago Artist Coalition. They worked with a team of eleven graduate curatorial assistants including Catalina Acosta-Carrizosa (Dual MA 2015), Denise Bennett (Dual MA 2015), Cassie Carpenter (Dual MA 2015), Chiao-Ting Chueh (MA 2014), Meri Rose Ekberg (MA 2014), Ligia Herrera (Dual MA 2014), Kyle Riley (Dual MA 2015), Elisabeth Smith (Dual MA 2015), Brett Swinney (MA 2014), and Alda Tchochiev (Dual MA 2014).