Image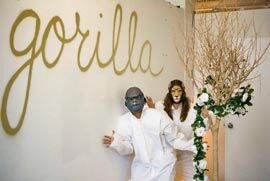 by Bridget Esangga
The collaborative duo known as Lion VS Gorilla is dedicated to building community through experiential art that is humorous, a little absurd, and incredibly generous to both the participants and the recipients of the proceeds. 

"Our shows are meant to invite the audience in," says Jimmy Bulosan (MA 2004), who along with Heather Phillips (MA 2004) makes up Lion VS Gorilla. "A lot of people shy away from art because it's seen as exclusionary rather than inclusionary. People feel happy after our shows. A lot of our satisfaction is when people come away feeling good…. That's one of our goals: to just make people happy."

Last year they held an all-neon exhibition with three DJs and a bouncy castle and donated part of the proceeds to pay the lab fee for an SAIC student wanting to work in the school's Light Lab. The idea began with a discussion about light art and the current trends in American art and expanded into neon's rise and decline as an art form. The pair discovered that there are very few art schools with neon labs for artists, and one of them is at SAIC. 

"As we were talking with current SAIC neon students and faculty, we decided that the best use of the donation would be to cover the lab fee for a student who wanted to take neon classes, but might be financially prohibited from doing so," says Phillips. "When I was a student at SAIC, I can remember shying away from classes with more significant lab fees, so I hope this gave a student the opportunity to learn a lot about neon and have fun with the medium."

Most recently, Bulosan and Phillips organized a neighborhood holiday complete with a parade of handmade floats as part of Version Festival 12 in Chicago's Bridgeport neighborhood. They didn't give money to the community, but they donated their time to bring people together from inside and out to celebrate the unique contributions Bridgeport makes to the city of Chicago. 

Residents rallied behind the holiday, and some even came away with the idea that it is something that will happen every year because Lion VS Gorilla had engaged Bridgeport in a meaningful way. They held activities in a nearby park that was seen as unsafe by the residents in an effort to change their perceptions. They showcased the social services provided by a local food pantry. Ironically, two outsiders created this feeling of community pride. "We don't live in Bridgeport. We like to bring an element of humor and absurdity to everything we do. That's something people connect with as well," says Bulosan.

According to Phillips, it was SAIC's Master Arts in Art Therapy program that showed the pair how art can bring people together. Bulosan says their collaborative practice wouldn't exist without the connections they made at the school with artists and organizations in the city. They both return for exhibitions and lectures, and Bulosan even teaches at SAIC.

"I visit different departments that I wasn't a part of when I was there. For Neon, our intent was to do an all-neon show. To expand on that, we asked 'what if we brought in movement and light?' That put us in touch with the Fashion department and a student making LED clothing," says Bulosan.

Phillips also remains connected to the school. She says, "SAIC is this great incubator of all kinds of creative talent and is one of the major engines of Chicago's creative community. Most of the openings and readings I attend have pretty strong SAIC representation, both in terms of artists and audiences. SAIC also has this way of generating networks of students and alums who collaborate and actively support each other's work."

In looking to the future of Lion VS Gorilla, discussions are underway for the next event. While nothing has been finalized, Bulosan assures something big is coming next.