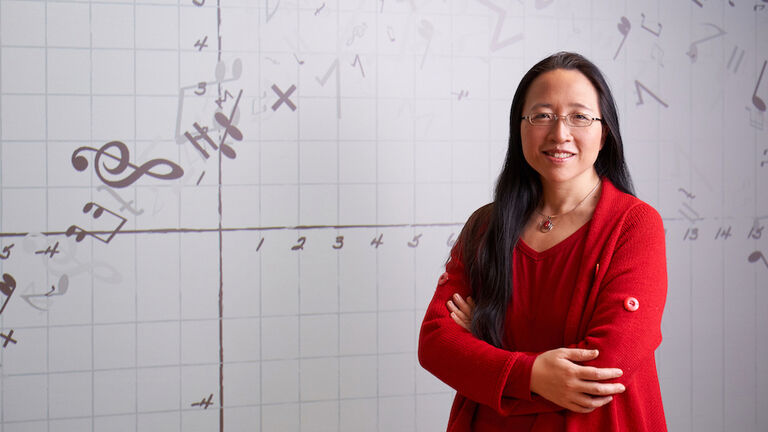 SAIC Scientist-in-Residence Eugenia Cheng and WFMT Combine Forces for New Series
SAIC's Scientist-in-Residence Eugenia Cheng has taught complex math concepts to art and design students; her humorous novel How to Bake Pi was featured in National Geographic and The Late Show with Stephen Colbert; she's performed recitals with PianoForte Studios and the Symphony Center; and Cheng was commissioned by Hotel EMC2, designing chalkboard installations commemorating German mathematician Emmy Noether. Now, Cheng is taking her talents to WFMT, Chicago's classical music radio station.
Appropriately debuting on March 14 (PI day), Math in Music is a web series featuring Cheng's innovative explanations of the interweaving between math and music. Not afraid to use bagels, Slinkies, and Play-Doh in the classroom to crack through her students' math phobias, Cheng enjoys the challenge of humanizing the often mysterious and intimidating world of math.
"Contrary to popular myth, math is not just about numbers, but about patterns, structures, and logic," explains Dr. Cheng. "And patterns and structures also pervade classical music. Logical analysis in math gives us a way to describe how music affects us emotionally, and to talk about our experience of music with other people."
The first season of Math in Music presents 11 five-minute episodes ranging from topics such as Bach's braid structure, how vowel sounds reflect unconscious math processing, and what the tritone is and why it's called "the devil in music." The program assumes no background knowledge in math or music — curiosity is enough. All episodes can be found on WFMT's site.