Image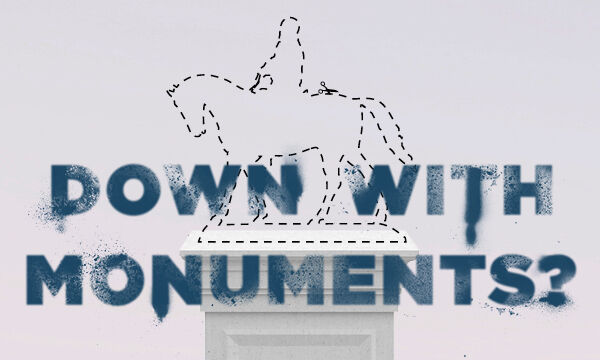 On the Making and Unmaking of Public Memory
Monday, October 23 | 4:30 p.m.
SAIC Ballroom, 112 S. Michigan Ave.
Relevant historical objects or relics of the past?
Recent confrontations over memorials have highlighted the true nature of monuments as acts of power. Proposals to take down, modify, or replace these statues confirm that monuments are as much about the present as they are about the past. But what is the best way to address these historical objects? Should out-of-date or potentially offensive monuments always be removed? Or are there ways that monuments can persist in their location but be contextualized by didactic exposition or artistic intervention so that they resonate with the present?
During this period when we are reconsidering how we make and unmake commemorative objects, the School of the Art Institute of Chicago (SAIC) and the University of Chicago are hosting a roundtable discussion to investigate how public life is tangled up with the histories of public art.
The panelists will take a historical and global perspective on the topic, presenting multiple examples for how people have responded to the tension between a changing politic and an inanimate symbol at different times and from different locations. The roundtable discussion will be followed by a moderated exchange among participants and members of the audience. Refreshments will be provided.
________________________________________________________________________
Speakers
Lucia Allais is Assistant Professor in the History and Theory of Architecture at Princeton University. Her work is situated at the intersection of architecture, preservation, politics, and technology in the modern period with a special focus on international institutions and global practices. Her book, Designs of Destruction, forthcoming from University of Chicago Press, is a history of monument survival and international bureaucracy in the 20th century. This work traces how monuments were protected from destruction—from the League of Nations in the 1930s, through the Allied Air Forces in World War II, and the 1972 World Heritage Convention—probing how building materiality and international ideologies combined to make "culture" a branch of international diplomacy, and prompting a forceful return of monumental architecture to the world stage. She has published a number of articles on related themes, including: "Integrities: The Salvage of Abu Simbel" (Grey Room 50), "The Design of the Nubian Desert" (Governing by Design, 2012), "Formless Keepers," (Formless Finder, 2013), and a translation and commentary Superstudio's "Salvages of Italian City Centers" (Log 22).
Romi Crawford is Associate Professor in the Visual and Critical Studies and Liberal Arts departments at SAIC. She is coauthor (with Abdul Alkalimat and Rebecca Zorach) of The Wall of Respect: Public Art and Black Liberation in 1960s Chicago (Northwestern University Press, 2017). In 2016 She founded the Museum of Vernacular Arts, a project-based platform for art forms that are part of everyday experience. Crawford was cocurator (with Lisa Lee) of the 2017 Open Engagement Conference, themed "Justice."
Patrick R. Crowley is Assistant Professor in the Department of Art History at the University of Chicago. Crowley specializes in the art and archaeology of the Roman world. In addition to traditional categories of Roman art such as sarcophagi and portraiture, his research interests include ancient aesthetics, theories of vision and representation, and phenomenological approaches to the matter of visual evidence, including the historical intersections among documentary photography, digital media, and the production of knowledge in classical archaeology. His research, which has appeared in Grey Room and West 86th, has been supported by the Getty Research Institute and the National Endowment for the Humanities. His current book project, provisionally titled "The Phantom Image: Visuality and the Supernatural in Ancient Rome," is the first major historical study of ghosts in the art and visual culture of classical antiquity.
Christine Mehring is Chair and Professor in the Department of Art History at the University of Chicago. She works on abstraction; postwar European art, especially the impact of World War II and the transformation from an international art world to a global one; the cross-overs between art and design, including public art. Mehring just completed a six-year collaboration to research and conserve Fluxus artist Wolf Vostell's Concrete Traffic (1970), a colossal public sculpture returned to the University of Chicago campus and is now at work on an edited volume concerning Vostell's use of concrete. She is also completing a book with IIT architectural historian Sean Keller on the art and architecture of the Munich Olympics.
W. J. T. Mitchell is Gaylord Donnelley Distinguished Service Professor of English and Art History at the University of Chicago and has been the editor of Critical Inquiry since 1978. Mitchell works on the history and theories of media, visual art, and literature, from the 18th century to the present. His work explores the relations of visual and verbal representations, and he has written and engaged in debates on public art, monuments, images of war, iconoclasm, and vandalism. Among his numerous books are Cloning Terror: The War of Images, 9/11 to the Present (Chicago, 2011), and Image Science: Iconology, Visual Culture and Media Aesthetics (Chicago, 2015).
Kirk Savage has been writing about public monuments and collective memory for more than 30 years. He is the author of Standing Soldiers, Kneeling Slaves: Race, War, and Monument in Nineteenth-Century America and more recently the editor of The Civil War in Art and Memory. He is a professor in the History of Art and Architecture at the University of Pittsburgh.
Mechtild Widrich is Assistant Professor in the Art History, Theory, and Criticism Department at SAIC and author of Performative Monuments: The Rematerialisation of Public Art (Manchester UP, 2014). Widrich's publications on monuments, commemoration, and public space discuss the monument boom of the 1990s, the role of economics, environment, activism, and of representation and have appeared in Art Journal, Grey Room, JSAH, Texte zur Kunst, and LOG, among others. She is currently finishing a manuscript on global art geographies, expanding today's understanding of site specificity. 
The views and opinions expressed in this event are the panelists' own and do not necessarily reflect those of the School of the Art Institute of Chicago.
Persons with disabilities requesting accommodations should visit saic.edu/access