Design Action: Homan Square
AIADO 4115 001 / HPRES 5115 001 
Faculty: Odile Compagnon, AIADO and Lynette Stuhlmacher, HPRES
Two teams are approaching the adaptive reuse of an abandoned building in North Lawndale in very different ways.
While both schemes are figuring out ways for the old building at 1309 South Komensky, to become a structure enabling young adults as they transition into living independently, the two scenarios offer differing strategies.
LINKS proposes a housing solution called NEThouse, linked to the development of a job training and career building network, which stems from the agricultural and food production curriculum that CCA academy has developed for the past 40 years. Located near PermaPark, the permaculture food forest that CCA Academy is building on 6 empty lots along Pulaski Road (pictured below), NEThouse could offer housing for 16 young people and the support of a coach house occupied by a resident artist/artisan/designer who would, in exchange for housing and the use of a communal studio/fieldhouse, provide skill building and networking to the young inhabitants of the main house.
To test their scenario, LINKS has planned their own networking event in the Homan Square classroom. They have invited architects, urban agriculture and culinary art specialists to meet with North Lawndale high school students and discuss career options and network building.
DnA's proposal is called UNDER one ROOF and presents a co-op housing system, where several North Lawndale organizations could partner in providing housing to the young people they have educated and mentored. DnA has identified North Lawndale non for profit organizations, which all have common goals yet diverse resources that could complement each other as the co-op develops into a strong community building facility. UNDER one ROOF takes advantage of the handsome existing brick building and makes it a tool to teach design and building science to high school students and young graduates and encourage them to appropriate the abandoned houses that dot some of the streets around their neighborhood. DnA is planning participative design sessions with North Lawndale high school students, for which they have designed playful yet practical activities to imagine the adaptive use of the 2 typical two-flat building.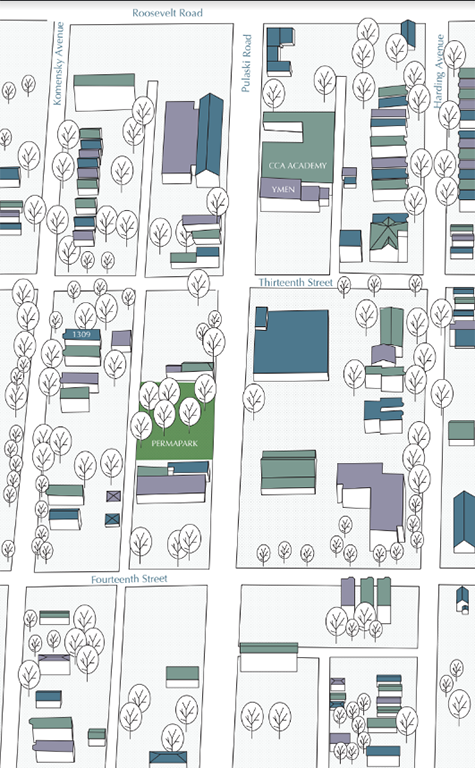 Both projects, NEThouse and UNDER one ROOF build upon the partnerships that SAIC has developed since 2015 in the North Lawndale and recognize the necessity to allow North Lawndale population to remain in their neighborhood and have access to affordable housing, as a way to build equity upon existing empty lots and abandoned buildings. Furthermore, the identification that the projects have made of organizations helping young people as agents for this equity building - and access to housing as an important factor of community strengthening - has been confirmed by many organizations, at the city, state and federal levels.
The 4 blocks located between Roosevelt Avenue and 14th street, between Komensky Avenue and Harding Avenue, with Pulaski Road as a spine and CCA Academy's PermaPark as a center, could form a powerful incubator, where housing is tied to career building and job networking.
The intersection of 13th Street and Pulaski Road deserves to be the site of North Lawndale's 150th anniversary landmark monument. Through it, the young people of North Lawndale can celebrate the neighborhood  that is theirs.
Image
This multidisciplinary studio builds upon previous analysis of housing developments in North Lawndale, including some in historic districts, and newly proposed strategies for the production of affordable housing in underserved neighborhoods, to collaborate with community organizations, schools, and businesses on a supportive housing program. Working on the design and renovation of an existing building, the studio will aim at answering the following question: how can designers work with local agents, social activists, artists, artisans and contractors to enable youths and help them take control of their own access to housing and family services?
Image