Image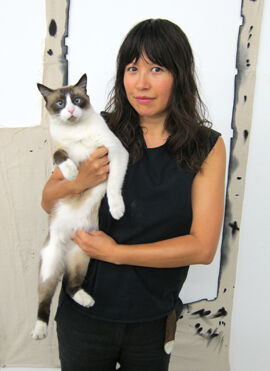 by Bridget Esangga
With her first major public art installation,The Character and Shape of Illuminated Things, on view in front of the Museum of Contemporary Art Chicago (MCA) and a special exhibition she curated of SAIC MFA students' work showing at EXPO Chicago, Amanda Ross-Ho (BFA 1998) is making her mark on Chicago's cultural landscape. 

The Los Angeles-based SAIC alum was invited by fellow alum Patricia Courson (BFA 2006) to curate the exhibition. 

"The challenge is to make a presentation that creates a thoughtful, noncommercial presentation within the context of an art fair, which whether you like it or not has a commercial intent," Ross-Ho explains. Her hope, she says, is that it will be a sophisticated exhibition where the MFA students included will gain exposure outside of the school community. 

She approached the task of curating in much the same way she approaches her own installation work. "'Curating' is a word that I would use to describe the way I think about putting together different groups of found objects," she says. 

Ross-Ho's own artwork is influenced by her time at SAIC. She not only earned her BFA in Chicago. She also grew up in the city, and her family lives here. Both of her parents attended SAIC, and that influenced her decision to attend school at SAIC. But more than that, she says the school "offered precisely what I needed at that point." What she needed was the freedom to cross disciplines, not bound to any one medium. 

SAIC allowed her to develop a broad vocabulary and shift media to solve the conceptual equations she presented for herself. "It was about problem solving for me. The work is still about that," she says. 

In her latest installation at the MCA, Ross-Ho re-created the objects in an image from an old photography manual she found in a thrift store. "I was really taken with this set of pictures and the way the objects were props or stand-ins for subject matter," she explains. The photographs in the manual illustrate how variable studio lighting can illuminate objects. 

Ross-Ho's piece uses the sun as a light source. As the sun moves, the lighting shifts, just like the photos in the manual. The photographers in this case are the tourists and passersby who photograph the objects. People are invited to send their images to illuminatedthings.mca@gmail.com, and the images are collected on an Instagram page. 

"I love harnessing that and the implications of making someone more aware of the fact that they're looking," says Ross-Ho. 

You can see The Character and Shape of Illuminated Things at the MCA through December. And the SAIC exhibition at EXPO Chicago runs this weekend, September 20–22 at Navy Pier.