Image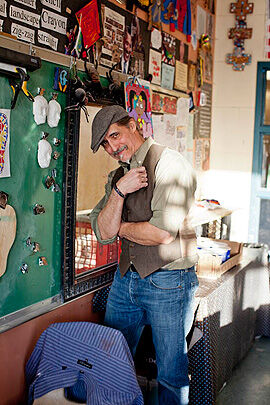 by Rachel Buckmaster (MA 2011)

Mathias "Spider" Schergen (BFA 1980) has become a fixture in the Cabrini Green community after spending 20 years teaching children at Jenner Academy of the Arts. Early in his career, Schergen created the name Spider (Mr. Spider to his students) in an inspired—and successful—attempt to connect with his students. 

"One mother told me that sometimes her kids get together and imitate me—they say all my phrases, they use all my gestures, they communicate with each other like they're me—that's a huge testament," says Schergen. 

Chicago's Cabrini Green neighborhood is a neighborhood in transition. It was home to high-rise housing projects of the same name, which became riddled with crime and gang activity until they were demolished in 2011, displacing many of the residents. According to the Chicago Public Schools website, 98 percent of the students at Jenner Fine Arts Academy are considered low income.
"I really feel it's important that a child be grounded in their experience of making art," Schergen says. "Children love learning how to do stuff. It's just a natural part of their empowerment as a child."

This emphasis on personal process is something he learned to value even more deeply while at SAIC. "The teachers who I flourished with the most were the ones who allowed me to move in that direction—nudged me, pushed me, gave me guidance—but saw in me that I had a self-directed, studio discipline… It really was a great fit," he says. 

Because of their shared experience, much of his classroom activity is in 3D, textural, hands-on work with mosaics, shadowboxes, and collages. 

Schergen's lifelong attraction to the complex and geometric urban landscape provides both an aesthetic foundation for his work and a relational inspiration for his pedagogy. In the same way he sculpts a work of art, he creates an environment where the structure of the space, the strategy of his lesson plans, and the functionality of an ever-changing group chemistry comprise the classroom experience.