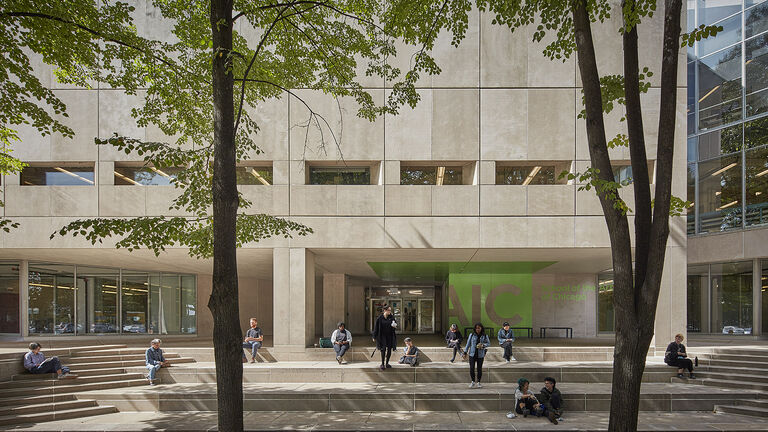 Celebrating our First-Generation Students at SAIC
November 8 is First-Generation Celebration Day! The School of the Art Institute of Chicago (SAIC) celebrates all community members who identify as being the first members of their family to attend college on this day, and every day.
First-generation college students bring a uniquely diverse set of experiences into their practices, which enriches the life of SAIC's classrooms and studios. Below, meet some of our own first-generation community members and learn how their college experiences have shaped who they are today.
 
Natalia Yarbrough, Undergraduate Student
Why was attending college important to you?
I am a passionate artist from the dynamic South Side of Chicago. I am a mom to a teenager who inspires me everyday. My artistic endeavors began in 2017 when I discovered my love for painting. In 2018, I embarked on a new adventure of instructing adult painting parties. Building on my experience, I spent the 2020–2021 school year teaching art to pre-K through eighth grade students. My dedication and talent led to my being accepted at SAIC in 2022, where I have continued to explore and expand my artistic horizons.
As my child approached adolescence, I started to think about what the next 10 years of our lives would look like. I quickly realized that I had no idea how to support my child through a college career, as I had dropped out to focus on the responsibilities of motherhood. Going back to school has given me the opportunity to explain the benefits of the college experience to my child so they can make an informed decision when graduating from high school. 
What made you want to attend college?
After spending a year teaching art at three separate elementary schools in 2020, I became abundantly aware of the need for creative expression during childhood development. I came back to school to gain the experience needed to advocate for the importance of art-making for children.
How have you felt supported by SAIC?
The most supportive aspect of my experience at SAIC has been the First-Generation Fellows program. When I applied to SAIC I was 28 years old, and by the time I started classes I was just shy of turning 30. I was anxious about what it would mean to be committing to school at this age. The First-Gen program connected me to peers that were also returning to school after decades, as well as an amazing pair of mentors. 
 
Joshua Rios, Assistant Professor, Adj. 
Why was graduating from college important to you?
I wanted a life that was creative, communal, and thoughtful; that invited discourse and reflection; and that involved making but also learning about the things others had made. I thought it might help me better understand the conditions and histories I was born into, which it did. It also helped me understand the conditions and histories of others, which feels more important these days.
How did college help your career and creative practice?
Graduating from college has brought me into a community of long-term learners, researchers, educators, and critical practitioners who see knowledge as something produced by everyone in a variety of ways and who understand the world less as an immutable given and more as something that changes and can be changed. I cannot imagine my practice without it, nor would I want to.
What advice would you give to current first-generation college students?
For all its benefits, higher education is rife with biases at the curricular, disciplinary, institutional, and interpersonal level. Refusing to recognize this fact helps biases' reproduction. Find folks who understand this reality and know that participating in something while strengthening your critique is an important step in rearranging the given arrangement. It can be a long and circuitous journey, which is much harder to sustain for first-generation students. The question is how to make life sustainable, not strictly in a financial sense, but in an intellectual, communal, and creative sense.
Felice Dublon, Acting Provost
How did college help your career?
My parents were German immigrants who escaped during World War II without high school degrees. They were determined that their only child would have the education that they were denied. A job after graduation never occurred to them, they just wanted me to get a degree. It thus never occurred to me that college would help my career. With double majors in political science and psychology and a minor in art history from the University of Illinois, I realized about two weeks before graduation that I had no idea what was next. I went on to get a masters in counseling psychology which led to a position in career planning at the University of Alabama at Birmingham and then a PhD in university administration from Florida State University.  At the time I realized I was doing what I really wanted to do: supporting, encouraging, advising students and leading teams of like minded individuals.
What's something that's unique to the first-generation college experience?
I think if my parents had been college educated they might have offered advice as to what I might expect, not only about life after graduation but what my days on a campus would look and feel like. I remember thinking that if I went to a large university, there would have to be someone there who could guide me. However, at times, I felt lost, scared, and uncertain about my future.  Looking back, of course, that makes perfect sense.
What advice would you give to current first-generation college students?  
SAIC is small enough that you can reach out to anyone and they will help you find a path. Compassion and belonging are so central to what we do; it's really okay to ask questions or seek advice about anything. I remain close to many alums and know they faced challenges throughout their lives. They prevailed because they took advantage of connecting to the caring faculty, staff, and students who surrounded them and never gave up.
 
Sidney Aldrich (BFA 2022), Alum and Academic Advisor 
Why was graduating from a four-year college important to you?
One of the biggest reasons why attending a four-year college was important to me was because I wanted to expand on my knowledge base. I wanted to give myself a chance to go somewhere where no one knew me and where I would have to learn to adapt and be open to new thoughts. So I transferred to SAIC.
How did college help your career?
As an academic advisor and an alum of SAIC, I feel more connected to our students and can understand what they may be experiencing. Having had diverse peers and caring instructors also helped me to expand on my critical and creative thinking skills. The ability to recommend instructors and knowing what to expect from numerous courses has been incredibly valuable.
What advice would you give to current first-generation college students?
As an alum who once stood in your shoes, I encourage you to embrace your journey with confidence. Your journey may be challenging, but your ability to adapt will be your greatest asset. Believe in your abilities, seek support, and never underestimate the power of your voice. You're capable of achieving incredible goals; let nothing hold you back.