Image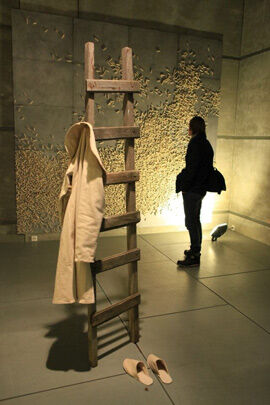 Liliya Lifánova (MFA 2010) is one of four recent SAIC graduates to receive a Fulbright award for 2011–12 and is currently in Russia using her award to create a performance piece based on notions of identity and border.

"Given that I am originally from a country that used to be a part of the former USSR, I was always very curious about Russia," she says. "I am ethnically Russian, but what does that mean? Moscow in particular interested me because it is the center of the art scene in Russia, and it was important that I experienced what it is like, what the main concerns of art in Moscow are, how the system is working, and whether what I do has any relevance here or even any relationship to it."

Born in the Republic of Kyrgyzstan, a former member of the Soviet Union, the artist earned her Bachelor of Fine Arts from the City University of New York, Brooklyn College before earning her MFA through SAIC's Department of Fiber and Material Studies. 

In her current work in Moscow, she created an installation from an old Russian army tent that she cut into pieces which she then archived on panels and stacked on the floor. The piece is meant to get the audience asking questions with the artist and to set up a condition of being in between with the materials serving as an anchor to the themes they imply.

"Our students and alumni are examining the role of the artist in the larger global context, exploring ways that artists and arts scholars can contribute to the dialogue around national and international issues. What better way to study this than by practicing their disciplines around the world?" says Elissa Tenny, SAIC Provost in a press release announcing the awards.

Lifánova is also currently a guest lecturer at the Institute of Contemporary Art in Moscow, and her work has been exhibited in Chicago, New York, Spain, and Russia. She credits her studies at SAIC with developing her work ethic and providing her with advisors who serve as professional role models. 

"I believe art is the mirror of our society, artists and designers are the bodies through which meaning is filtered, and the study of art is the study of humanity," says Lifánova.