Bill and Stephanie Sick Distinguished Visiting Professor
Amanda Williams
Just Practice Justice
by Bridget Esangga
Image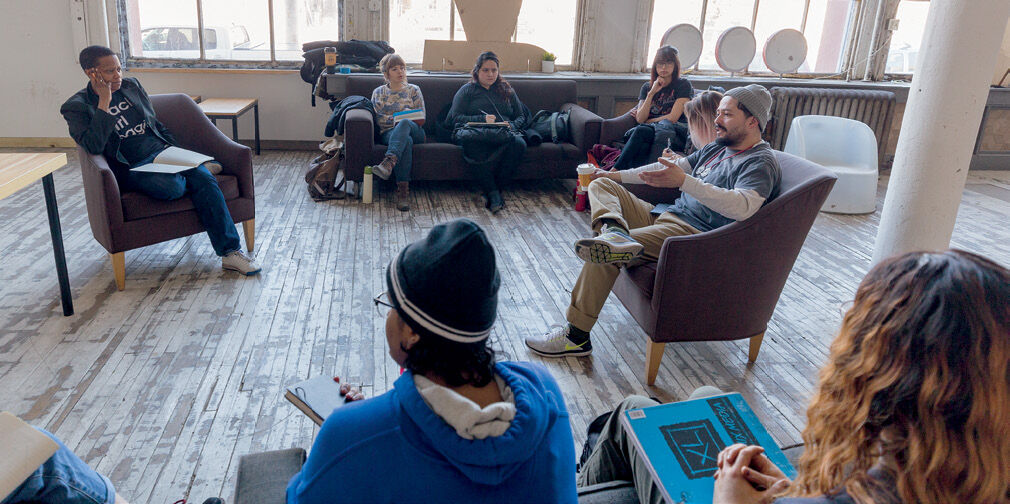 What does it mean to build public monuments in response to issues of justice and injustice? Last semester, SAIC students explored this question as part of the course Just Practice Justice, taught by visual artist and 2019 Bill and Stephanie Sick Distinguished Visiting Professor Amanda Williams and Juan Angel Chávez, assistant professor of Sculpture at SAIC. Established in 2006, the professorship brings an internationally renowned artist or designer to campus each year for a Visiting Artists Program lecture in the fall and to co-teach a course in the spring.
Williams imagined Just Practice Justice as an art studio with Chávez, a sculptor, in mind to teach with her. "This professorship seemed like a great opportunity to do something unexpected, not to teach an architecture studio just because I have a background in that, but to leverage an opportunity to work with people within the institution that I thought were grappling with similar questions of material and social value, and doing interesting work, but from an alternate lens—who would have me look at my own practice in a very different way," says Williams, who was recently tapped to design a monument in Brooklyn to Shirley Chisholm, the first African American to be elected to Congress, and has explored themes of justice and site throughout her work.
She and Chávez conceived the class as a nomadic studio where students traveled each week to a different site around the city that would expand and challenge definitions of justice. "You can't fully embrace people in the notion of the injustices and things that have happened throughout history in the United States without seeing them," says Chávez.For the second half of the semester, students selected a site of their own and developed a proposal following the process they learned from Williams and Chávez. Iraq-born Noora Badeen responded to her personal sense of injustice and powerlessness from ISIS' destruction of Assyrian artifacts during the war in Iraq. Without public monuments, she asks, "How can we explain our culture to the new generation who are now living in all parts of the world and struggle to understand our Assyrian history?" Another student, Yue Ren, imagined the sky as a site for her monument. She developed the idea of a clear flag that would frame the sky, symbolizing a safe space for community healing.
Williams says in the beginning, she was intrigued with the idea of how students would embody her process. "I'm pleased with the level of seriousness with which they've taken the idea. They each owned it for themselves…really absorbing it and presenting something new," she says.