Image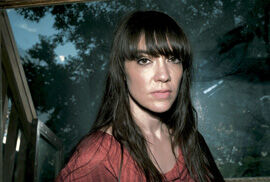 by Jeremy Ohmes 
When you listen to Azita Youssefi (BFA 1995), you hear an artist who refuses to stand still. Creatively, musically, even conversationally, the SAIC alum espouses ideas and sonic intonations that twist and turn, zig and zag, and altogether avoid getting too comfortable.
Over two decades, ten albums, and hundreds of performances, AZITA (as she is known in the music world) has swerved from post-punk deconstructionist, no wave revivalist, and avant improviser to jazz-tinted balladeer, cabaret contralto, off-kilter raconteur, and husky, heartfelt songstress. Her latest album, Year, is a perfect example of the musician's omnivorous and unpredictable flights of fancy.
Released in 2012 on indie label Drag City, Year consists of piano-based compositions that were originally written for a play of the same name, performed as a pseudo-Greek chorus at the Rhinoceros Theatre Festival. The songs are AZITA's poppiest to date, wondrous and warm ivory vignettes that point to the childlike whimsy of early Harry Nilsson and the loose-limbed charm of the Fiery Furnaces. All sung in a distinctive voice that threads the line between seedy nightclub seductions and ghostly lullabies.
The album came on the heels of 2011's Disturbing the Air, which featured a darker and doomier AZITA singing sparse torch songs to lost lovers and hopeless romantics. Before that, she released How Will You? (2009), a collection of band-aided folksier numbers; Life on the Fly (2004), which has the jazz-inflected strut of a lost Steely Dan record; and Enantiodromia (2003), her first foray into stripped-down piano balladry, but with hints of the dissonance that had made her an acid-tongued luminary in Chicago's noise rock underground.
Moving from Maryland to Chicago in 1989 to study drawing and sound at SAIC, Youssefi immersed herself in the city's experimental Now Wave scene, an avant-garde, atonal reawakening of the late-'70s/early-'80s No Wave movement. She formed the Scissor Girls in 1991 with a classmate from SAIC, and with Youssefi on bass and vocals, the group immediately turned heads with their extremely caustic and fractured punk deconstructions and highly theatrical performances. The Scissor Girls stormed the stage in everything from goggles and tutus to bubble wrap, caked-on makeup, and Catholic schoolgirl getups.
During this time, Youssefi also developed work in SAIC's Sound department, taking many of her courses with audio artist, curator, and professor Lou Mallozzi. She says, "I experimented with field recordings and tape manipulation, and created synthesizer pieces. I ended up pressing a record of the work that I had done over my last couple of years at SAIC, which then became part of my BFA show and entailed a Victorian photograph piece and the record of my sound work playing the whole time." This sound work was later re-released by Atavistic Records in 1997 as Music for Scattered Brains.
After the Scissor Girls broke up and before forming a new band in 1999—the equally anti-melodic Bride of No No—Youssefi revisited the classical piano lessons she had as a child. "There was a long period of downtime between Scissor Girls and Bride of No No," she explains. "My roommate at the time had a piano in the loft space we lived in and I went back to playing and composing on piano because it was there."
Now, after a dizzying career that has occupied extreme ends of the musical spectrum, AZITA is working on her next project—whatever that may be. She says, "When I'm writing, I wait for a critical mass to happen and then I say, 'I suppose this is where everything is going.'" And as always, wherever she goes is anybody's guess.
Check out AZITA performing solo and opening for Destroyer at Old Town School of Folk Music on November 7.