Artists, Animals, and Alumni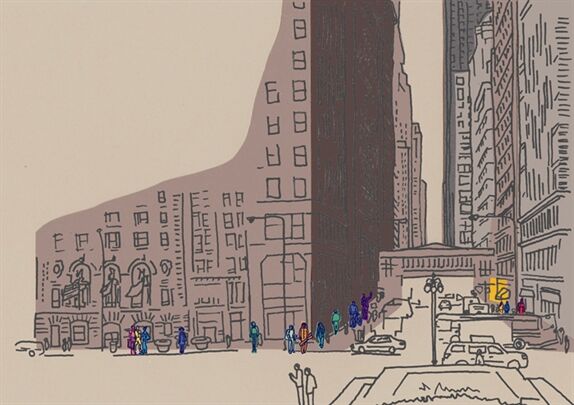 by Megan Karwacki
Giving back is second nature to Mollie Green (BFA 2000). Her stationery company, La Familia Green, prints its greeting cards on recycled paper and donates a portion of all sales to Chicago-area animal charities. Green also stays connected to SAIC by hiring students as production assistants and organizing SAIC in Chicago meet-ups for alumni in the area.
Growing up, Green thought that SAIC was the place to be for aspiring artists. She enrolled in Early College Program classes during high school, and loved attending art school downtown so much that SAIC was her top choice for college. 
Green's time at SAIC gave her many of the skills necessary to run her own stationery business. She started out taking classes in the Painting and Drawing department, and then branched out into Printmedia and multiples. Green studied under Sally Alatalo in the offset studio and as a Co-op intern at Alatalo's book press, Sara Ranchouse. 
"My Co-op experience added a practical side to my education," says Green. "It definitely steered me into what I do now." Green's Co-op experience continues today as a Co-op employer. Working with SAIC students and hearing about their experiences is a great reminder of her time on campus.
In addition to her support of Co-op, Green is a founding member of the SAIC in Chicago alumni chapter, which hosts gatherings for Chicagoland alumni to build their artist and professional networks. "I wanted to connect and network with other alums. I also kind of wanted that sort of traditional, collegiate alumni experience," she says. Green also recently contributed artwork for SAIC's Annual Fund, creating a cityscape inspired by her memories of commuting to SAIC as a student.
She says it is important for alumni to give back to SAIC, whether by giving with time and talents or a donation to the Annual Fund, because alumni are role models for today's students. "I designed for the Annual Fund because I believe in SAIC and I wanted to have a role in helping relieve some of the expense of paying for college," she says. 

SAIC in Chicago hosts quarterly meet ups that range from social gatherings to artist talks and gallery visits. Join the SAIC in Chicago group on Facebook for information about upcoming events in the Chicago area.