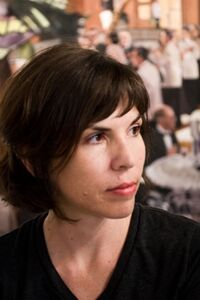 by Bridget Esangga
The transformation SAIC students experience often creates bonds that transcend time and place and carry into their lives as alumni. These connections are on display in SAIC/SF, an exhibition currently running at Bridge Red Studios in North Miami, Florida.

Curated by SAIC alum Kristen Thiele (BFA 1995), SAIC/SF will be open during Art Basel Miami Beach, December 4 through 7. Visitors to the international art show can drop by to see the work of local SAIC alumni John Bailly, Yanira Collado, William Cordova, Hugo Michel Hernandez, Peter Hosfeld, Brookhart Jonquil, Natalya Kochak, Juana Meneses, and Thiele. 

Thiele grew up in Miami and moved to Chicago in 1993 to attend SAIC as a transfer student. "I had visited a friend [in Chicago], and I wanted to cast my line out, and so I applied and got into the Art Institute. I had an amazing experience being there. I lived in Chicago for about eight years," she says.
During her time at SAIC Thiele formed a band called Motorhome with guitarist and fellow SAIC student Josiah Mazzaschi and drummer Laura Masura. The group released two albums and drew media attention from major Chicago publications. 

While her main focus at school was painting, she branched out and studied sound and video as well. After graduation, she worked as an apprentice to Steve Walters of Screwball Press printing posters for her own band as well as others.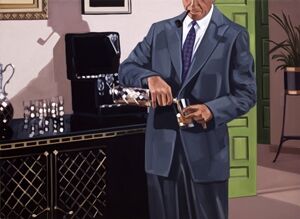 When Motorhome broke up, Thiele moved back to Miami and married photographer Francesco Casale with whom she shares a studio and curates shows at Bridge Red Studios, which is owned by her father.

"Miami has changed considerably since I left. It's become a real anchor for artists. Instead of people leaving to start their art career, there are a lot of people coming here," Thiele explains. "And it has a lot to do with Basel."

According to Thiele, the city has become a center for visual arts with galleries drawing crowds year round. Bridge Red Studios began showing artists in 2011 in a former studio space. Thiele says they show work that might not otherwise be seen by the local community—South Florida artists who have an established art making practice, but do not exhibit locally in a commercial gallery setting.

For SAIC/SF Thiele selected work from fellow SAIC alumni, many of whom she did not know during her time in Chicago but connected with back in Miami. "Everything is so connected, it's funny. My father's student was William Cordova who went to the art institute. He told me 'look out for this guy…. It will be hard for you not to notice him,'" says Thiele. "So I met William, and he has a studio in our building and is in the show." 
Thiele's own work today is nothing like what she was doing at SAIC. Still, she says the seed was planted back then. She paints cinematic scenes that evolved from the love of cinema and video she discovered in her film classes. She also credits the school with developing discipline in her practice. "I had some great teachers," she says.

You can see SAIC/SF at Bridge Red Studios through January 4