Public art has been the talk of the town in Chicago since Mayor Rahm Emanuel declared 2017 the "Year of Public Art." "Cities that are culturally alive and vibrant, are cities that are succeeding," Emanuel told DNAInfo. The Mayor has pledged to invest $1 million in new public murals, sculptures, and installations before the year's end. Known as the 50x50 Neighborhood Arts Project, the initiative aims to bring public works to all 50 of the city's wards. So far, a list of 24 projects across 35 wards has been announced, with many School of the Art Institute of Chicago (SAIC) alumni participating.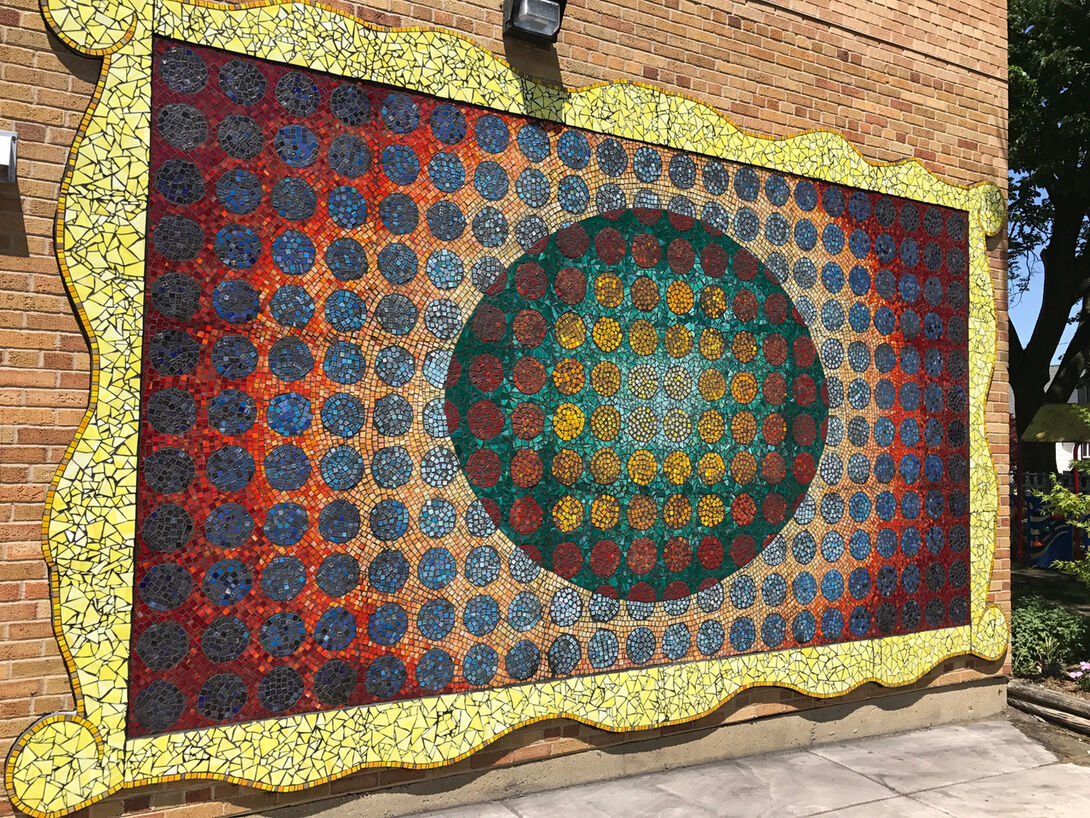 Chicago Mosaic School (CMS) staff, including Founding and Executive Director Karen Ami (MFA 1995), Arts Administrative Director Oona D'mello (BFA 2014), and founding faculty Andryea Natkin (BFA 1981) are working to create a new public mural for the 18th Ward, on Chicago's Southwest Side. CMS has long been dedicated to working with Chicago's youth, frequently collaborating with Chicago Public Schools to educate students on the tradition of mosaic arts. Most recently, CMS worked with Stock Elementary School students to create a unique mosaic for their school.
The host community will play a big role in the upcoming mural as well. "We are encouraging community participation prior to the design process so the people of the 18th ward feel connected to the art—doing their daily activities, driving home, taking their kids to the park or to a game. The unspoken interaction the ward will have with the piece will create a resonating relationship over time," says D'mello.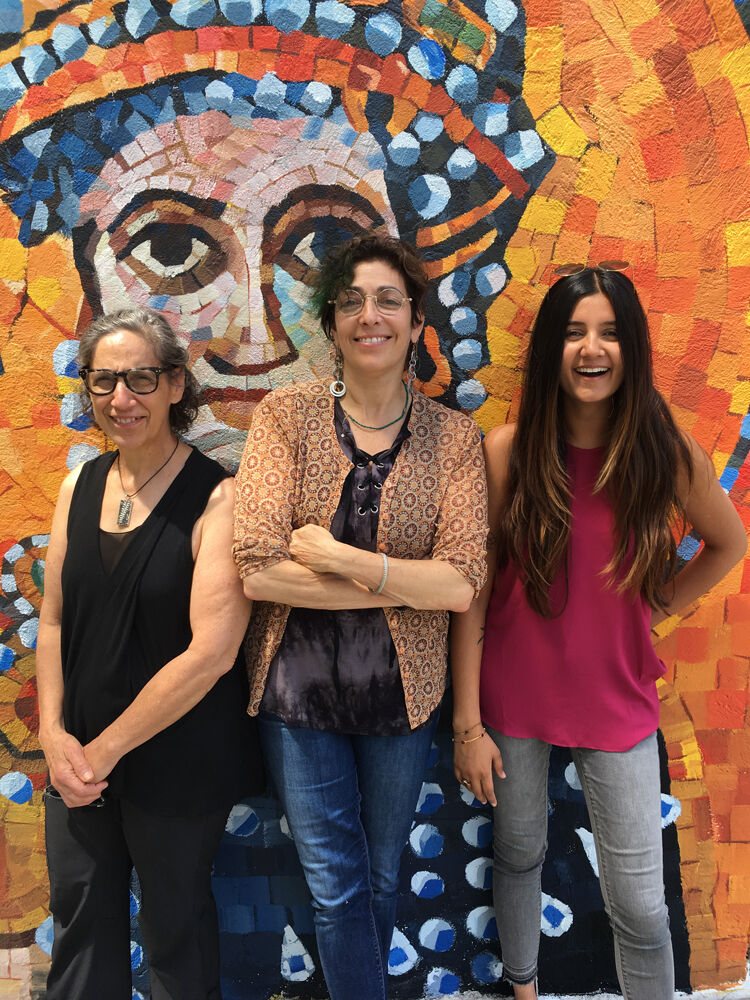 Other SAIC alumni participating in the 50x50 Neighborhood Arts Project include Mathew Wilson (MFA 1993) and Adam Brooks (MFA 1988) of Industry of the Ordinary; Alejandra Garcia Perez (BFA 2017) and Helen McElroy (MFA 2002) of Territory; Eric Garcia (MFA 2009) and Katia Perez Fuentes (BFA 2018) of El Paseo Community Garden; Elnaz Javanidizaji (MFA 2015) and Meera Rampalli (MA 2019) of Green Star Movement; Erik Debat (SAIC 1991–93); Erik Peterson (BFA 1999); Cheryl Pope (BFA 2003, MDes 2010); and Bernard Williams (SAIC 1981–84). 
Mathew Wilson (MFA 1993) and Adam Brooks (MFA 1988) of Industry of the Ordinary are set to create a new work for the city's 37th ward, which covers parts of Austin and Humboldt Park. In addition to a permanent installation, a durational performance titled History and Forgetting will take place at Silent Funny Space on September 16 from 2:00 to 10:00 p.m. The site-specific work, which involves a large flag constructed of ice and laid out to melt on the gallery floor, will incorporate the voices and stories of current and former workers from around the gallery's location. As the flag melts and fades to memory, Katinka Kleijn, of the Chicago Symphony Orchestra, will play an accompanying requiem. Alum Lindsey French (MFA 2013) will document Industry of the Ordinary's and Kleijn's presence in the space, using data collection, interpretation, and other technologies.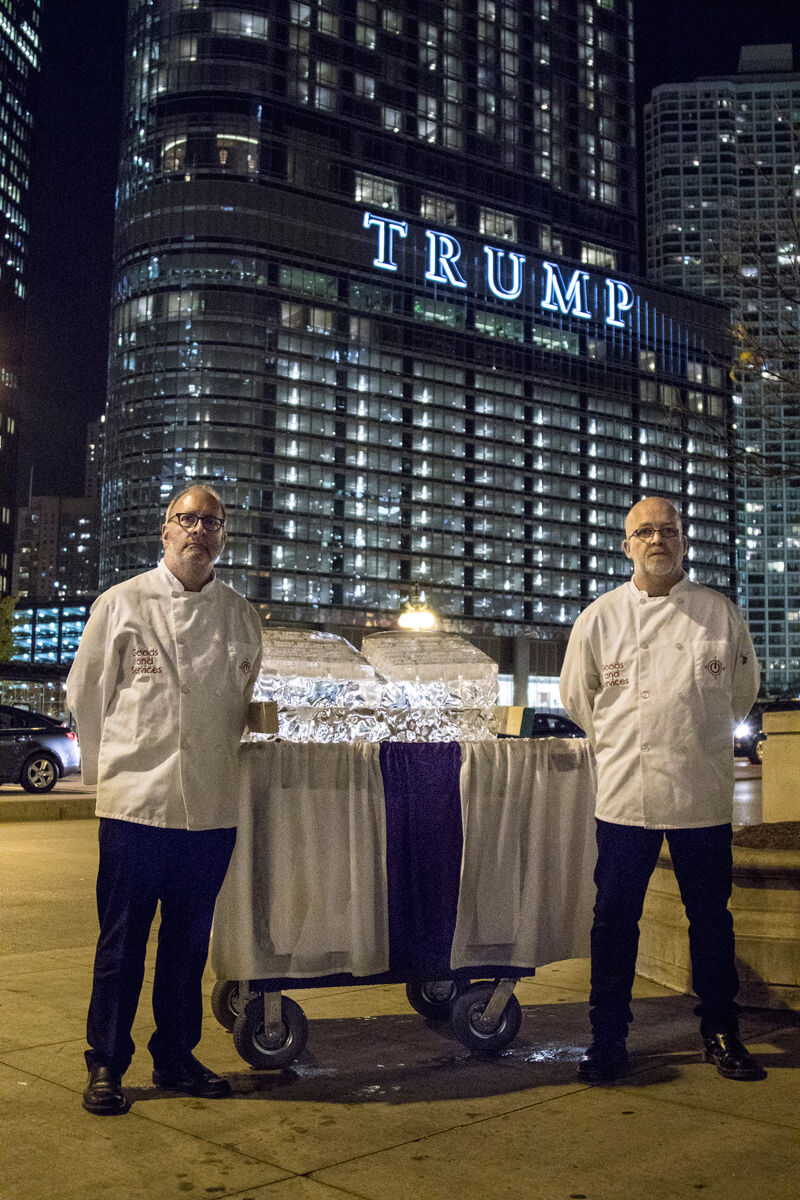 Cheryl Pope (BFA 2003, MDes 2010), who teaches in the School's Fashion Design department, was selected by Alderman Harry Osterman to create work for the city's 48th ward—an area that encompasses Edgewater, Andersonville, and parts of Uptown. Osterman was already familiar with Pope's work and is excited for the artist to begin working with the community's youth and senior citizens to highlight the defining characteristics of his ward: diversity, safety, and respect for youth, explains Pope. The work is slated for the interior and exterior walls of a Chicago Park District building, with the opening to occur sometime in October, during the month-long Public Arts Festival.
In regard to the significance of the 50x50 initiative, Pope told DNAinfo: "I'm really looking forward to this project…for the people of the city to tell their stories of what Chicago is really about." The new public artworks will surely be great additions to the city's cultural landscape. The diverse communities of Chicago are an inspiration to the artists living and working in this vibrant city, and the ambitious scope of this most recent public art project represents an opportunity to unite those artists and residents in a meaningful way.