Art on the Edge of Extinction
Image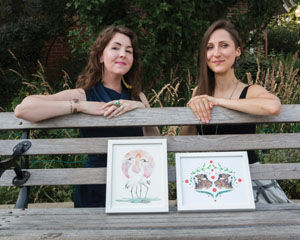 by Lucia Anaya (MA 2014)
Two weeks into their graduate studies at SAIC, Molly Schafer (MFA 2006) and Jenny Kendler (MFA 2006) discovered their shared love of nature and drawing. Combining their passions, the self-described "nature nerds" began collaborating on several art projects, creating work that brought awareness to various environmental issues impacting the globe. It wasn't until 2009, however, that Schafer and Kendler realized the real and direct impact their art could make. Linking their love for art and environmental conservation, they launched the Endangered Species Print Project (ESPP)—an initiative that creates limited-edition art prints to raise money for organizations that work to ensure the survival of endangered species. 

The project works with artists across the country, producing prints of an animal or plant that is in danger of becoming extinct. The number of prints available corresponds with the remaining number of animal or plant populations in the world— a feature Schafer says helps point out how low these populations really are. "We wanted to highlight the low numbers as well as the variety of flora and fauna that are critically endangered. When people hear 'endangered species' they think panda bears and tigers; sadly the scope of creatures is incredibly broad." 

One of ESPP's featured animals is the Seychelles Sheath-tailed bat. At last count, there were only 37 Seychelles Sheath-tailed bats left in the wild; therefore, only 37 limited-edition prints were created. "This was designed for maximum impact and it works," says Schafer. So far, ESPP has raised close to $11,000 selling the prints through its website, with all of the proceeds going to 15 endangered species conservation organizations, including the Marmot Recovery Foundation, Nature Protection Trust of Seychelles, and Project Golden Frog. 

In fact, all of the work done for ESPP is done through its website—from collaborating with the 13 artists involved in the project to collecting information on critically endangered species. This is Schafer and Kendler's way of bringing art into a public space and away from the white walls of a gallery in order to help spread the project's message more directly. "I believe it is hugely important to show work outside of the gallery. Speaking from experience, the audience for my work has grown exponentially as I've moved out of the gallery," says Schafer. 

The approach has allowed ESPP to receive recognition in several publications and blogs like Right Whale Research News, Pikalan, ReadyMade, and Orion, as well as give Schafer and Kendler an opportunity to be part of the Endangered Species Condom Project, a project that received two Addy Awards and was featured in the New York Times. 

Yet even with these accomplishments, the ultimate goal of ESPP is to use art as a form of activism, applying its power to help raise awareness for the endangered species population and promote biodiversity. Kendler says, "We both agree that our world would be significantly impoverished should we choose to ignore the fates of the other beings with which we share it [and] I think we always knew art could be a powerful motivator for change."

Learn more about ESPP at endangeredspeciesprintproject.com.