The Art of Administration
Image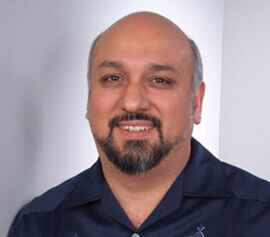 by Brandi Kulakowski (Dual MA 2012)
Cesáreo Moreno (MFA 1992) embarked on his journey at the National Museum of Mexican Art while a graduate student at SAIC, when he installed an altar for the museum's annual Día de Los Muertos (Day of the Dead) exhibition. Soon, he was being paid to travel with the exhibit The Art of the Other Mexico to oversee the installation of the show in seven cities. Twenty years later, he is the museum's Chief Curator and Visual Arts Director, making strides in challenging preconceptions of the Mexican community. In our conversation, Moreno reminisces about his first installation and tells us what's in store for the museum's 25th-anniversary celebration. 
What did you study at the School of the Art Institute of Chicago (SAIC)?
When I was at the School of the Art Institute of Chicago (SAIC), I was in the Painting and Drawing department, but after a couple of semesters in that department, I started to, probably like a lot of other artists, explore all the different departments that were available there. That really opened up my eyes and my world. I spent most of my time in the wood and metal shops. When I did the altar for Día de Los Muertos, I had taken a neon-bending class, a short video class, and used my wood shop skills, and I built this altar that had all those components.
What was the first exhibition you installed after Día de Los Muertos?
I volunteered to install Mexico: La Visión del Cosmos—Three Thousand Years of Creativity. It was the first time I ever held an ancient artifact in my hand. It was a small ceramic piece. I'll never forget; I put the gloves on, and I thought, "Wow, this is wild. I am walking around with a 500-year-old ceramic piece." When I was walking it over to the display case I was staring at it and saw a tiny fingerprint in the bottom of the pot. I remember that moment being intense and surreal. No one even looks at the bottom of that pot! I thought here's a little message from somebody who lived so long ago and has nothing in common with me other than we are both holding this pot. It sent a shiver up my spine. That moment is when I thought this whole museum idea is so cool—saving, collecting, and preserving objects. That fingerprint is probably the most meaningless part of that ceramic urn, but it was the hook that linked me. 
You've discussed community as a concept rather than something that is regional. Can you expand on that?
The word community is very loaded; it is a word that has so much meaning in different ways to different people, just like the word culture does, just like the word curator does. I feel the community we serve and try to represent in this museum doesn't just live in the United States. Artists from Los Angeles to San Antonio are certainly included, but so are artists who live in Oaxaca or in Toronto. The idea of community for me has to do with what it means to be Mexican, regardless of whether or not someone speaks Spanish, or whether they know all the music played on Spanish–language radio. Our community is extremely diverse, and includes a recent immigrant who just arrived from Mexico who cannot speak English or somebody who is studying Latino studies at the University of Notre Dame. 
What's next for the National Museum of Mexican Art?
We are celebrating our 25th anniversary in 2012. For the first time ever we will have all four galleries displaying different exhibits from the permanent collection. That's really a big deal. When I started working here 20 years ago, the museum really didn't have a lot of objects. For the most part it had works on paper, and almost all of them were gifts from artists who understood what we were trying to do. Nowadays we receive collections from as far away as Los Angeles, Toronto, and different collectors in Mexico who see us as the place they want to deposit their collection after their children, of course, turn it down. Now we have more than 7,000 objects in our collection ranging from ancient to contemporary. For the first time we will be displaying four separate exhibits, four separate themes, and all the work is from our permanent collection. That, for us, is a real celebration of where we've come in 25 years.