Alum Jeffrey Gibson Honors Land, Trees, and Sky at Institute of Contemporary Art San Francisco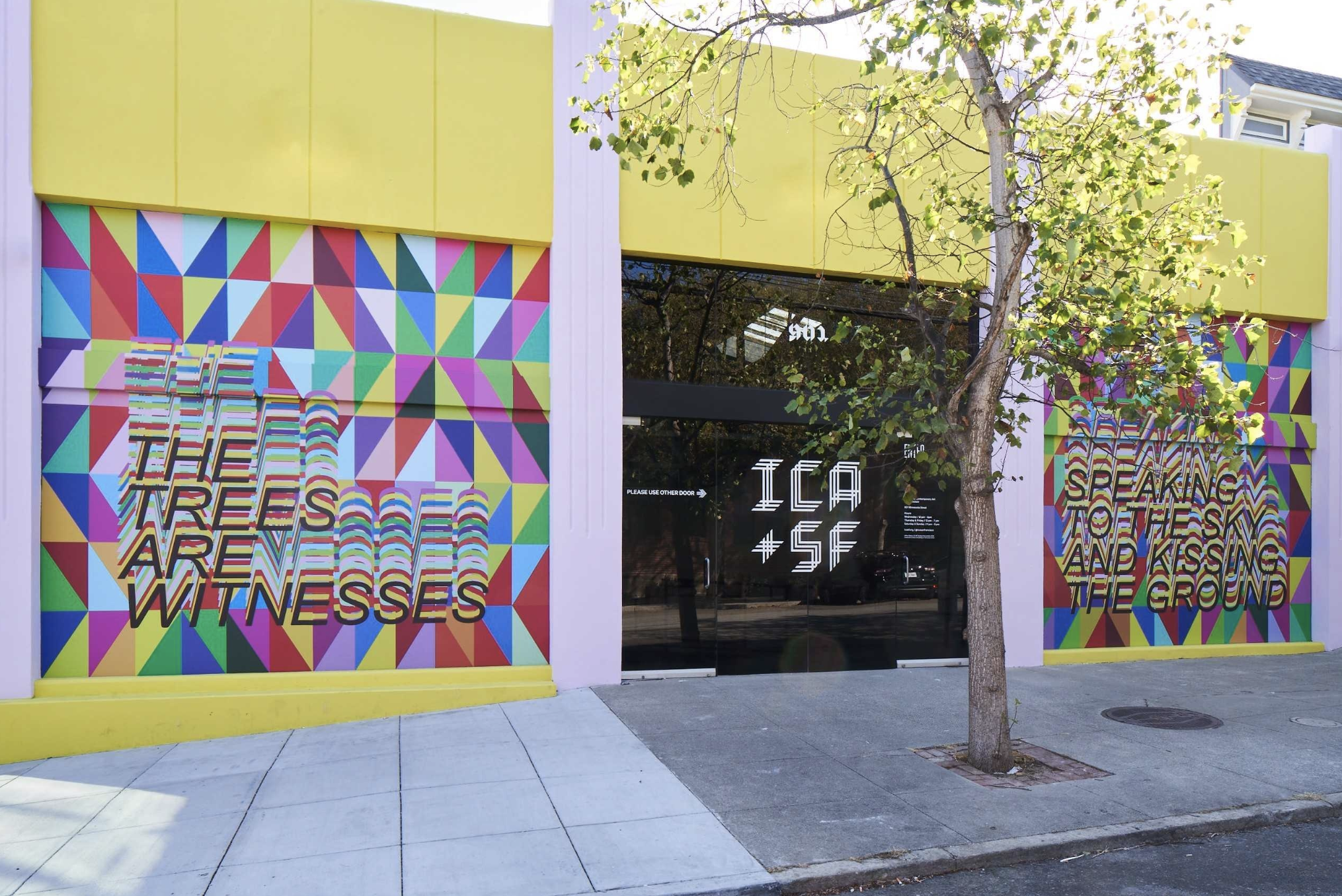 by Nadya Kelly (MA 2023)
Before setting foot inside of the Institute of Contemporary Art San Francisco (ICA SF), visitors are greeted by striking stained glass windows and kaleidoscopic patterns that wrap the institution's facade.
On either side of the building, multicolored text directs attention to the surrounding environment with messages that read "THE TREES ARE WITNESSES" and "SPEAKING TO THE SKY AND KISSING THE GROUND." Open through March 23, alum Jeffrey Gibson's (BFA 1995) latest exhibition THIS BURNING WORLD takes over the museum's interior and exterior.
In THIS BURNING WORLD, the artist expands his practice to incorporate multiple mediums. It features the premiere of Gibson's first-ever video work. Accompanied by a soundtrack composed by Indigenous performer Joan Henry, the 20-minute film is projected across two large screens and showcases the seasons of the artist's New York Hudson Valley home. Beneath the video, openings in the floor reveal the soil underneath ICA SF, which represents the artist's intention to directly honor the land previously walked by the region's Native Americans.
"I believe in land acknowledgments, but I'm also interested in the history of the land itself, beyond the Indigenous history of the land, from a geologic perspective," Gibson told Financial Times. "When we remove the cement, [...] the earth is grey, and not fertile, because it's something living that has been suffocated."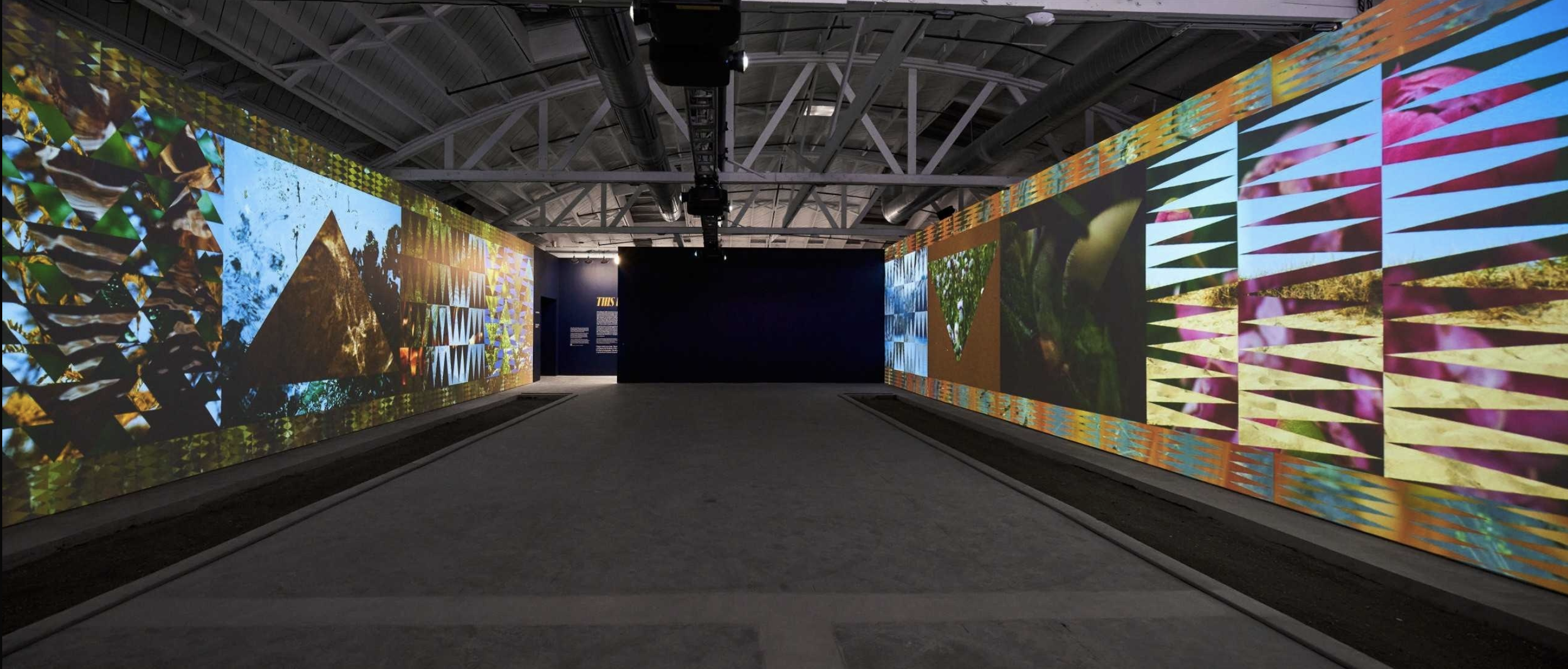 As an artist of Choctaw-Cherokee heritage, Gibson is known for infusing traditional Native American art with contemporary artistic references. Working primarily in painting and sculpture, some of the Colorado artist's most notable works are his rawhide painting series, where he applied oil and acrylic paint to wooden panels covered in rawhide; his beaded punch bags made to hang from the ceiling; and his Totems series featuring sculptures made out of found objects such as mannequins, plastic flowers, flower pots, toys, and cowboy boots. In 2019, Gibson showed his artwork at the Whitney Biennial. The same year, he was named a MacArthur "Genius" fellow—one of the highest honors in the world. He has exhibited internationally throughout his career, including the Smithsonian Institution in Washington, D.C, the Museu d'Art Contemporani de Barcelona in Spain, and Massachusetts Museum of Contemporary Art.
According to ICA SF director Alison Gass, Gibson's latest exhibit is perhaps the artist's most ambitious project to date.
Our treatment of the natural world—as well as the natural world's response to us—centers Gibson's art practice, especially as it relates to Indigenous culture. THIS BURNING WORLD not only explores the complicated relationships between humans and nature, but asks visitors to examine the personal ways they can acknowledge the land they stand on.
THIS BURNING WORLD will remain open at the Institute of Contemporary Art San Francisco through March, 23. ■
{{[http://www.saic.edu/news/alums]ALUMS}} {{[http://www.saic.edu/news/artconnectsus]ART CONNECTS US}}