Alum Bryn Jackson Helps Organize Community Meal for Food Justice
By Ben Kim Paplham (MFA 2021)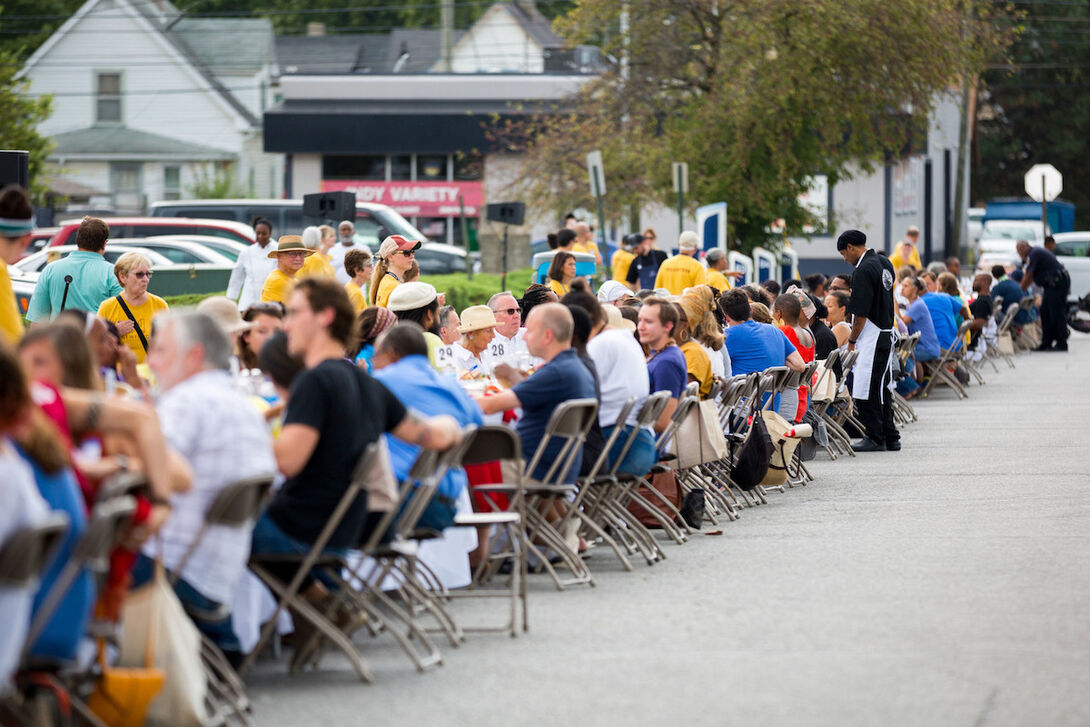 Sharing a meal with a stranger is radical in its simplicity. Breaking bread with one person builds a relationship, but with multiple people—all sitting at one, continuous table, sharing food and conversation—it creates a community.
Last fall, 250 artists, business owners, gardeners, community members, and activists gathered in the Butler-Tarkington neighborhood of Indianapolis for At the Crossroads: A Community Meal. They came together not only to eat, but to discuss social justice issues their city was facing. The project was spearheaded by School of the Art Institute of Chicago (SAIC) alum Bryn Jackson (MFA 2015) and artist Seitu Jones, who were brought together by their shared belief that the art world needs to instigate these sorts of conversations. 
"Museums at large are having to look inward, to acknowledge their ties to colonialist histories and practice," Jackson explained. "[We need] to actually do the work to build community on a foundation of equity and mutual understanding."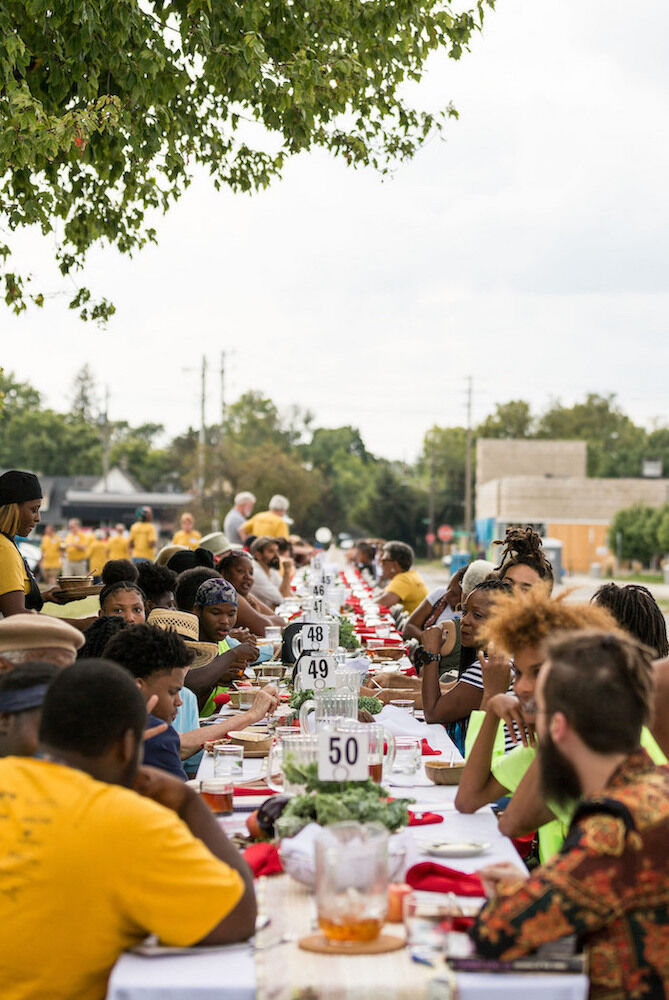 Jackson and Jones met at the 2017 ArtPrize international art competition in Grand Rapids, Michigan, where Jones was presenting his submission for the festival: The HeARTside Community Meal, in which 250 community members gathered to share a locally-grown meal and engage in conversation about food access and resource allocation. That year, Jones won the competition's $200,000 grand prize.
Jackson knew that he needed to bring this project to his hometown of Indianapolis. After receiving his graduate degree from SAIC, Jackson began work as assistant curator of audience engagement and performance at Newfields.
Shortly after ArtPrize, Newfields received a grant to create an annual Harvest Festival, which was designed to bring together chefs, brewers, distillers, artists, and artisans to celebrate fall. Jackson, alongside his colleague Tariq Robinson, pushed for the Community Meal project to be included to, as Jackson explained, "ensure that this festival celebrating food would acknowledge the inequities of access and aim to take corrective action through creative collaboration."
At the Crossroads: A Community Meal prepared a menu that would incorporate tastes from multiple local chefs, including Corey McDaniel, locally known as "The Food Architect." Newfields also commissioned a 423-foot long quilted table runner titled redLINES from local artist and organizer LaShawnda Crowe Storm, as well as original poems to bless the community by poets Januarie York and Synergy. These works were incorporated with the purpose of encouraging dialogue centered on the history of racist housing and environmental policies that have contributed to the prevalence of food deserts in the city.
Museums at large are having to look inward, to acknowledge their ties to colonialist histories and practice."

Bryn Jackson
In the end, community members from diverse backgrounds and neighborhoods discussed issues such as housing segregation, access to healthy food at grocery stores, and more.
"What stood out the most to me," Jackson described, "was seeing all of our partners and volunteers setting up the table and preparing for guests to arrive. Doing this kind of work can, at times, come with a sense of being alone. But seeing more than 100 staff, board members, donors, community gardeners, organizers, activists, and artists come together to serve the community, to participate in this conversation, and to imagine a more equitable future was really encouraging."
Jones, who attended and spoke at the event, explained the power of the project, saying, "Part of it is about really listening, deep listening, and being open to being challenged, to being critiqued, and really being in sincere conversation with someone."
A second Community Meal was scheduled for the fall of 2020, but due to the COVID pandemic, Newfields redirected the funds toward local community programs to help provide fresh food to members of the community.