Image
View the Post-Bacc Fashion, Body and Garment Program Brochure
Interested in learning more?
Click around the pages of this website for information on admissions and curriculum requirements, faculty, students and alumni, and more.
by Sammi Skolmoski (MFA 2016)
Gabriel Magliaro (BFA 2003), the president and founder of Chicago's acclaimed Half Acre Beer Company, studied photography, visual communication design, and writing as an undergraduate at SAIC. But he didn't realize how valuable his art school education would become to running his business until he began setting up his brewery. 

"Having a BFA helped me to think creatively about what we do here," Magliaro says, "to always come at this process creatively."

As he speaks, Magliaro is standing in a warehouse in Chicago's Bowmanville neighborhood. This is Half Acre's expansion into a larger brewing facility, offices, and what will become the company's long-awaited taproom/restaurant. Nearby, the space that will house the kitchen currently serves as a woodshop where the restaurant's custom wood decor and furniture are being fabricated.

"There's a huge amount of space for creativity and personal expression within how you feel about beer," Magliaro says. As a leader, he hopes that all employees approach their roles creatively, and he likes to keep inherently artistic positions like illustration and web design in house. Personally, Magliaro has found that merging his fine art practice with that of owning and running a brewery "has really been seamless."

He adds, "Half Acre is a way for me to invest in all those same creative processes, but just through a different spotlight."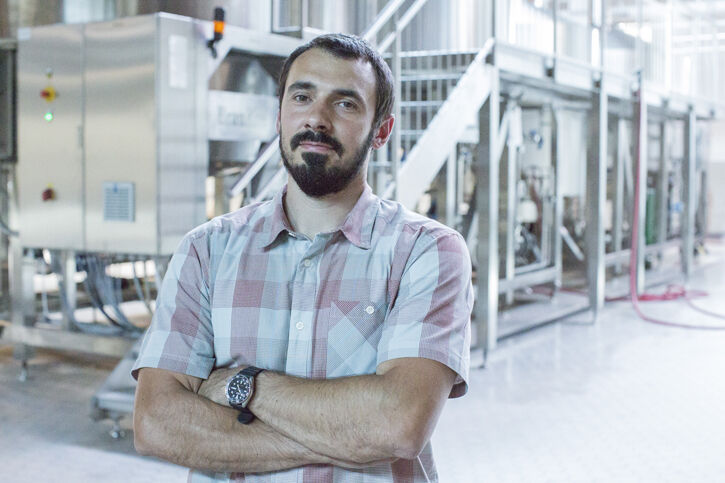 Magliaro hails from the East Coast, but was living in Colorado amid a robust brewing scene before moving to Chicago to attend SAIC in 1999. After graduation, he worked in a photo studio in New York before returning to Chicago to start brewing beer—without a brewery and without the means to build one.

"I've always been a maker of things," he says, adding that there wasn't much of a craft brew scene in Chicago at the time in 2006. "I wanted to take advantage of that and try to throw my hat in the ring. I didn't have much to lose, so I just took a swing and decided to start a beer company."

"So far it's gone ok," he adds with a smile. Today Half Acre brews six year-round and 20 seasonal beers, as well as numerous collaborative and one-off beers that have a history of selling out within a few hours. The popular Daisy Cutter Pale Ale won the Chicago Reader's "Best Local Brew" award from 2011–13, and Half Acre consistently places first or second in the "Best Local Brewery" category as well.

Currently Half Acre is producing a 150th Anniversary beer for SAIC's 2015–16 celebration. Magliaro says it will be a "hop-forward," unique Kolsch made from European noble hops—a social beer good for outdoor, end-of-summer, session drinking.

Magliaro adds that, even though the beer is for his alma mater, this process is special for the whole brewery. "Ultimately, beer has been a tool for Half Acre to get closer to things that interest us," he says. "The design process, the art community—all of those are near and dear to us. So this was an obvious thing we all wanted to do."

Half Acre's SAIC 150th Anniversary beer will be available during Alumni Week at SAIC's 150th Anniversary Alumni Block Party on Saturday, September 19. Half Acre will also have the beer for sale at their taproom while supplies last after the block party.