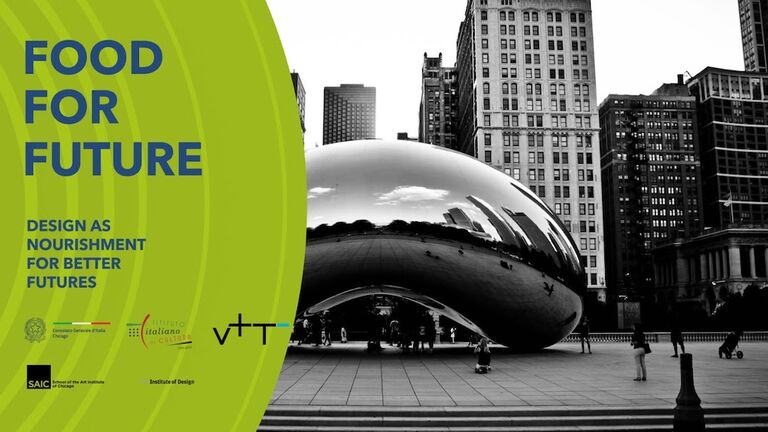 AIADO Students Contribute to "Italian Design Day 2020"
Italian Design Day is an international initiative to bring together 100 organizations, or "Design Ambassadors," in 100 cities, all dedicated to highlighting the best of Italian design and foster cultural ties between Italy and the rest of the world. In their 4th year, the theme for the 2020 edition was Drawing the Future. Development, Innovation, Sustainability, Beauty.
The underlying theme took inspiration from the words of the late Italian modernist artist Enzo Mari: "Humans will never cease to eat, as they will never cease to create."
Ten students from the School of the Art Institute of Chicago (SAIC) and the IIT Institute of Design (ID) were selected to design solutions for a new, beneficial synergy between people and the instruments we use for food. The Chicago-based project, Signs for Food Future: design as nourishment for better futures, joined different disciplines to envision how design, art, and technology can create a more sustainable future. The students representing SAIC included: Afnan Alamoudi, Rio Chen, Bona Chun, Rayce Quintana, and Rahma Shahid. 
"Food is an essential part of anyone's identity, especially when you're connecting to other people and trying to explain who you are," says Shahid in a promotion video published by the Italian Cultural Institute of Chicago.
Led by Design Ambassadors Gianni Veneziano and Luciana Di Virgilio, the selected students participated in a workshop between January to March. Unfortunately, due to COVID-19, the workshop had to be suspended. Instead, Signs for Food Future remotely convened later to create a documentary video, released on November 22, to reflect on the initial workshop, their design concepts, and how the pandemic wrought an even greater need on the issues their project addresses.
"It became more of an important discussion to understand how we can manage world hunger," explains Shahid. "We need to understand how we can manage essential things around us. And I think this was a first lesson, especially for those who the government is responsible for."
The Italian Design Day was presented by the Ministry of Foreign Affairs and Cultural Cooperation, which positions design at the center of its promotional campaign "Vivere all'Italiana" (Italian Living). Fabiola Tosi (MA 2017), the current Exhibits Project Manager at the Peggy Notebaert Nature Museum, curated the Chicago chapter of Drawing the Future. The 4th Edition of Italian Design Day in Chicago was organized by the Consulate General of Italy in Chicago, the Italian Cultural Institute in Chicago, SAIC, and ID.