In the Museum with Peggy Macnamara
Winslow Homer, The End of Day, Adirondacks
by Zoya Brumberg (MA 2015)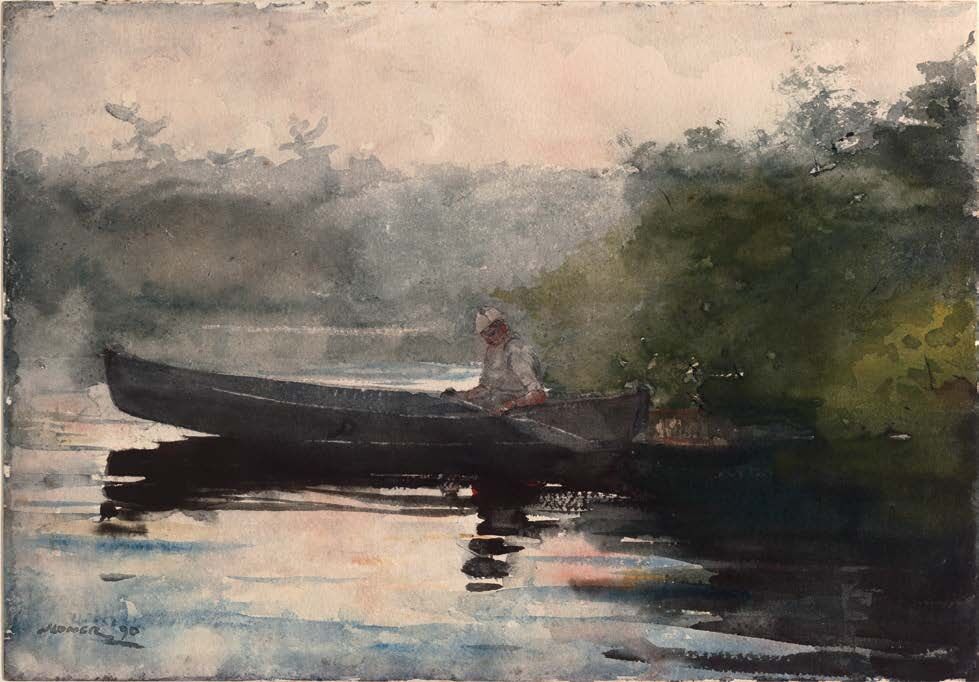 Ghosts of graphite lines and half-erased blots of unsure color surround the pensive canoer as he floats upon the water. Echoes of redacted marks tell a story beyond that which is painted—a story of landscape, light, and contemplative image-making. Every mark upon the paper discloses Winslow Homer's arduous process of capturing a scene from life and all the uncertainties behind it.
For Professor Peggy Macnamara (Visual Communication Design), the apparent traces visible beyond the forefront of End of the Day, Adirondacks (1890) are far more than marks of character; they are exemplary tools for teaching the underrated art of watercolor painting. Macnamara's students often come to her Scientific Illustration course believing "the myth of watercolor is that once you lay it down, you can't change anything." Guiding her students through Adirondacks and other Homer originals is one of the ways that Macnamara challenges her students' preconceived notions of the limits of watercolor painting. The visibility of Homer's layers and edits of the painting can be broken down and emulated, giving students the opportunity to study the craft of watercolor through seeing and doing simultaneously.
Homer was a master of the watercolor painting, but his Adirondacks is anything but immaculate. It shows the necessity for process—the core of what Macnamara aims to teach her students through her classes. She says her courses are about "observing reality, laying down what's in front of you, not thinking so much about the result as the experience of making the painting."
Students at SAIC can become so overwhelmed by developing their concepts that they cannot find the time to simply make. Macnamara's courses offer a respite from the intellectual labor of art making by giving students a space to focus purely on their craft, which proves to be invaluable for them as they continue to develop their bodies of work. While some students do go on to work in scientific illustration, others—including a sizable contingent of Art Therapy graduate students—are able to develop their technical skills while experiencing the therapeutic effects of drawing from life. "They get to have a moment of peace where they're not thinking the whole time, and then through this process, they'll come to some better understanding of what they want to do," says Macnamara.